Bowl by Gwyneth Paltrow
Not only has the talented Gwyneth Paltrow won an Academy Award, a Golden Globe Award, and two Screen Actors Guild Awards, she is also evidently quite good at making ceramics! Who knew? Ms. Paltrow made this rather lovely little bowl 24 years ago when she was just a teenager, demonstrating above all a fine command of glazing technique. Her choice and application of colors, and her restraint in leaving the foot of the vessel unglazed, suggest an uncommon level of exactitude and patience (most kids are somewhat lacking in these last two qualities, and that is why glazing is the aspect of pottery-making which young people don't generally excel in).



In all, a most fascinating and unusual decorative object.



Signed: "GWYNETH P. '87"



Provenance: Blythe Danner (Gwyneth Paltrow's mom); this piece was purchased at a garage sale in which Ms. Danner participated.
See Item Details
+
Bowl by Gwyneth Paltrow
| | |
| --- | --- |
| MATERIALS AND TECHNIQUES: | Ceramic |
| MATERIALS NOTES: | Glazed ceramic |
| CONDITION: | Excellent condition. |
| | |
| --- | --- |
| DEALER LOCATION: | Los Angeles, CA |
| NUMBER OF ITEMS: | 1 |
| REFERENCE NUMBER: | U1105258091559 |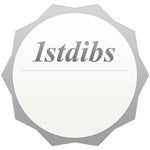 With 1stdibs, you can always collect with confidence.
We think you may also like