About
A seemingly unique 18 piece Queensland mother-of-pearl shell dessert service, silver mounted by Wang Hing, Hong Kong, circa 1900 with a dated contemporary correspondence, 6th October 1910 (see attached).

In the 19th century the Queensland government exhibited at major international and Australian exhibition, mother-of-pearl shell trophies. See attached.

Countless exhibits of shells, corals and sponges record the harvesting of the sea's riches. Most valuable was the pearl-shell to be found in the waters of the Torres Strait, promising 'a veritable jeweller 's shop' of wealth. From the 1860s pearl-shell was harvested for export to London for button manufacture and 'divers artistic uses'.

At the Sydney and Melbourne exhibitions of 1879-1881 Queensland showed trophies of 2 tons of pearl-shells and admonished visitors to dismiss any 'tales' of the exhaustibility of its shell stocks.

These 'tales' had some substance, however, for soon afterwards the Pearl-shell and Béche-de-mer Fisheries Act of 1881 was passed to regulate the rapidly growing pearl-shell industry. The value of shell exports had reached almost 70,000 GBP annually by 1886 when Queensland showed its next pearl-shell trophy at the Colonial and Indian Exhibition. This kiosk-type trophy was covered in crimson plush decorated with hundreds of pearl-shells, while inside the
kiosk was a case containing pearls, painted pearl-shells and pearl-shells made into 'novel' table ornaments.

Most conspicuous of Queensland's trophies at the Melbourne exhibition of 1888-89 was a 'marine' trophy from Burns, Philp and Company of Thursday Island, the colony's largest exporter of pearl-shell. This trophy, made of 6 tons of pearl-shells piled nearly 20 feet high on a base of clams and corals, won a silver medal. More intensive harvesting by the schooner system (of large fleets with a mother schooner) led to such rapid decline in shell stocks that Queensland's 'Pearl King' James Clark had to move his fleet north to the Dutch-controlled waters of Aru in 1905.

Meanwhile at the Queensland International Exhibition Clark put on a show of 'priceless' pearls and a 'grotto' made of 4 tons of pearl shells. Finally at Glasgow in 1901 Queensland showed its grandest-ever pearl-shell trophy, another kiosk festooned with white nautilus and green-tipped snail shells as well as gleaming pearl-shells, all illuminated in rainbow colours. 'No illustration can satisfactorily convey an IDEA of the scene', raved the Scots Pictorial.217 Of course, exhibition-goers were unaware that Queensland's pearl-shell stocks were now so depleted that the trochus shell would soon become the mainstay of its shell exports.

Nobody could make this service today, because the mother-of-pearl source has been destroyed, and we live in the world of the plastic mother-of-pearl shell button!

Each plate is a different size and shape as they are all made from a natural pearl shell. The measures given are the maximum.
 
Details
7.87 in. H

x

14.96 in. W

x

8.27 in. D

20 cm H

x

38 cm W

x

21 cm D
1stdibs seller since 2016
Located in Chudleigh, Tasmania
More from this Seller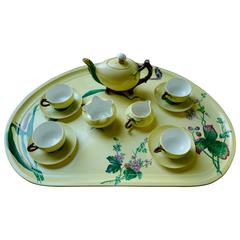 Minton Majolica Eight-Piece Tea Set of the Famous 'Mushroom and Coconut' Design
Minton Majolica Eight-Piece Tea Set of the Famous ...
Minton
Majolica, Pottery
This Majolica 'mushroom and coconut' tea set by Minton is an extremely rare design and even rarer is finding a complete set with its original tray! Majolica is a 14th-15th century I...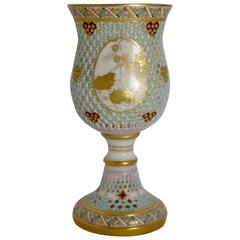 Royal Worcester Reticulated, Double-Walled Goblet
Royal Worcester Reticulated, Double-Walled Goblet
George Owen
Gold, Enamel, Porcelain
This exquisite goblet, probably by George Owen (also known as the greatest of all reticulators) is designed with an entirely pierced body and stem in a pale-blue honeycomb pattern dotte...