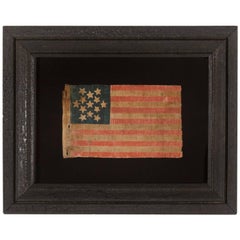 13 Stars Arranged in 6-Pointed Great Star/ Star of David Pattern
Want more images or videos?

Request additional images or videos from the seller
1 of 5
13 Stars Arranged in 6-Pointed Great Star/ Star of David Pattern
About
13 STARS ARRANGED IN 6-POINTED GREAT STAR / STAR OF DAVID PATTERN, A RARE AND PARTICULARLY EARLY EXAMPLE AMONG PARADE FLAGS IN THIS STAR COUNT, PROBABLY MADE FOR POLITICAL CAMPAIGNING, CA 1848-1860: Printed on coarse, glazed cotton, this 13 star American parade flag is one of just four known examples in this approximate size and in this rare style. Its stars are arranged in a six-pointed version of what is known as the "Great Star" or "Great Luminary" pattern, distinguished by one large star made out of smaller ones. Though the reason behind the decision to select this particular design is not known, several explanations are plausible. One is that it mimics the arrangement of stars found on the Great Seal of the United States, which appears within the cloud-like formation above the American eagle. This can be most ready viewed on the flag of the President of the United States or the back of the U.S. one dollar bill. In present times, one might identify the design as the Star of David, though this symbol, also known as the Shield of David, was not in widespread use by members of the Jewish faith until the 20th century. It could be that the star configuration draws a connection between this particular flag and a historical example of the Revolutionary War era. No 18th century flags are presently known to have survived with this pattern, however, and I know of none that are illustrated in period paintings or drawings. It may be that the source was simply lost to time, but whatever the case may be, one may note that it does represent the most logical manner by which 13 stars may be arranged in a star-shaped pattern. All surviving 19th century flags with this star design are extremely scarce, but this one is particularly rare. Other 13 star parade flags are known with the same six-pointed Great Star, but they are significantly smaller size post-date this example, which was probably made sometime between the late 1840's and 1860, the latter date coinciding with Abraham Lincoln's first campaign. One other parade flag known that is similar in design and scale was found in Elmira New York and is overprinted with black text that reads "Lincoln & Hamlin." Two others are presently known in the same size, which, like this flag, have no overprinted text. Prior to the Civil War there was very little private use of the American flag. Most pre-war examples seem to have been employed in political rallies. That is the most likely purpose of this particular flag. One of the others survives on its original wooden staff, which has a square shape instead of the round dowels most typically encountered. Square and otherwise crude staffs are an early trait and, in addition to the manner of printing, fabric and colors, help to date this particular variety. 13 star flags have been flown throughout our nation's history for a variety of purposes. They were hoisted at patriotic events, including Lafayette's visit in 1825-26, the celebration of the nation's centennial in 1876, and the sesquicentennial in 1926. They were displayed during the Civil War, to reference past struggles for American liberty and victory over oppression, and were used by 19th century politicians in political campaigning for the same reason. The U.S. Navy used the 13 star count on small boats until 1916, because it was easier to discern fewer stars at a distance on a small flag. Commercial flag-makers mirrored this practice and some private ships flew 13 star flags during the same period as the Navy. The use of yachting ensigns with a wreath of 13 stars, surrounding a fouled anchor, which allowed pleasure boats to bypass customs between 1848 and 1980, persists today without an official purpose. Mounting: The black-painted American molding dates between 1830 and 1860. This is a pressure mount between U.V. protective acrylic and 100% cotton, black in color, which was been washed to reduce excess dye. An acid-free agent was added to the wash to further set the dye and the fabric was heat-treated for the same purpose. Condition: There is significant soiling throughout. There is moderate fading of the red-orange stripes and there is minor fabric breakdown and loss. Many of my clients prefer early flags to show their age and history of use. The flag presents beautifully and the extreme rarity of this example well-warrants its condition. Frame Size (H x L): 12.75" x 16" Flag Size (H x L): 5" x 8.25"
Details
Dimensions

Height: 16 in (40.64 cm)

Width: 12.75 in (32.39 cm)

Depth: 2 in (5.08 cm)

Place of Origin

Period

Date of Manufacture

Condition

Seller Location

Reference Number

Seller: 13j-1417

1stDibs: LU84979380353
Located in York County, PA
These prestigious sellers are industry leaders and represent the highest echelon for item quality and design.
Established in 1991
1stDibs seller since 2008
57 sales on 1stDibs
Typical response time: 6 hours
More From This Seller
View All
34 Star American flag, Updated to 39 Stars, with Stars in a Great Star Pattern

Located in York County, PA

34 STARS IN A WHIMSICAL RENDITION OF THE GREAT STAR PATTERN, ON A CIVIL WAR PERIOD FLAG WITH A CORNFLOWER BLUE CANTON, UPDATED TO 39 STARS IN 1876 34 star American national flag with additional stars added and one of the most stunning graphic designs I have ever seen in early flag-making. The original pattern was comprised of a circle of 5 large stars, and triangular arms made of smaller stars. These are noticeable pointy and bent like the arms of a starfish. Made of cotton, the stars are hand-sewn and double-appliquéd to a fantastic, cornflower blue canton, a color common to

Civil War uniforms

...

Category

Antique 1870s American Political and Patriotic Memorabilia

34 Stars in a "Great Star" Pattern, Kansas Statehood, ca 1861-63

Located in York County, PA

34 Stars in a "GREAT STAR" Pattern on a Brilliant, Royal Blue Canton, Opening Two Years of the Civil War, 1861-63, Kansas Statehood: 34 star parade flag, printed on silk. The star...

Category

Antique Late 19th Century American Political and Patriotic Memorabilia

36 Star Antique Flag, Nevada Statehood, with Stars in the "Great Star" Pattern

Located in York County, PA

36 STARS IN THE "GREAT STAR" OR "GREAT LUMINARY" PATTERN, ON A MERINO WOOL FLAG OF THE CIVIL WAR ERA WITH BEAUTIFUL SCARLET AND ROYAL BLUE COLOR AND WITH ITS CANTON RESTING ON THE "WAR STRIPE," REFLECTS NEVADA STATEHOOD, 1864-67 36 star antique American flag of the Civil War era, with some rare, desirable, and beautiful features. The most obvious of these is the configuration of the stars. These are arranged in what is known as the "Great Star" or "Great Luminary" pattern, a star made out of stars, which is one of the most graphic and desired geometric designs among flag enthusiasts. Nevada entered the Union as the 36th state on October 31st, Halloween, in 1864. Ushered in by Abraham Lincoln just eight days before the presidential election that resulted in his second term, the territory's wealth in silver was attractive to a nation struggling with the debts of war and so increased support for the Republican ticket. The 36th star was officially added on July 4th, 1865, but since the flag makers generally cared very little about official star counts, the production of 36 star flags began much earlier. The makers of printed flags are known to have begun adding the 36th star as early as July of 1864, several months before the addition of Nevada actually occurred. This was a common practice during the late 19th century and is reflective of both the nation's desire for Westward Expansion and the hope of flag-makers to bring new star counts to market before their competitors. The 36 star flag was officially replaced by the 37 star flag in 1867, following the addition of Nebraska. Great Stars come in many forms. This particular example has a single center star, surrounded by a pentagon of 5 stars, set inside its star-shaped perimeter. Note how the Great Star is positioned with two points up instead of one and so is effectively upside-down with respect to modern convention. Unlike the current flag, versions of the Stars & Stripes made during the 19th century and prior often displayed stars that were varied or completely random in their rotation on a vertical axis. Note how the feature draws attention and is unusual to the eye, in addition to being visually appealing. Another interesting trait can be seen in the fact that the canton rests on a red stripe. When this scarce condition occurs, some flag historians have referred to it as the "blood stripe" or the "war stripe", suggesting the flag was constructed in this manner when the nation was at war. In actuality, the placement probably occurred more often by accident. Not everyone knew where the canton was traditionally positioned, and because there was no official specification until 1912, there was no official placement. Whatever the case may be with regarding the reason, the war stripe feature is highly coveted by collectors. The stars of the flag are hand-sewn, made of cotton, and are double-appliquéd (applied to both sides). The canton and stripes of the flag are made of fine merino wool. These are beautiful, luxurious fabrics with strong royal blue and scarlet color. Every seam was joined with a row of hand-stitching, then finished with a row of treadle stitching. Instead of employing the selvage edge of the red fabric, the top and bottom edges of the flag were turned under and seamed by hand and the fly end was seamed in the same fashion. There is a narrow binding along the hoist, treadle-sewn and made of cotton. Along this five cotton tabs were affixed, each with a tiny brass ring, which suggests that the flag was probably affixed to a wooden staff with twine or ribbon and hand-carried. The name of "Stow" is inscribed along the hoist. This would be the name of a former owner. In the field of

early American flags

...

Category

Antique 1860s American Political and Patriotic Memorabilia

13 Star American Flag with Hand-Sewn Stars in the 3rd Maryland Pattern

Located in York County, PA

13 hand sewn stars in a circular version of what is known as the 3rd Maryland pattern, with an especially large center star, a flag with especially tiny scale among those with pieced-and-sewn construction, exceptionally rare, made circa 1890: 13 star flags have been flown throughout our nation's history for a variety of purposes. They were hoisted at patriotic events, including Lafayette's visit in 1824-25, the celebration of the centennial of American independence in 1876, and the sesquicentennial in 1926. They were displayed during the Civil War, to reference past struggles for American liberty and victory over oppression, and were used by 19th century politicians while campaigning for the same reason. As the number of stars grew with the addition of new states, it became more and more difficult to fit their full complement on a small flag. The stars would, by necessity, have to become smaller, which made it more and more difficult to view them from a distance as individual objects. The fear was that too many of them close together would become as one white mass and distort the ability to identify American ships on the open seas. Keeping the count low allowed for better visibility. For this reason the U.S. Navy flew 13 star flags on small boats. Some private ship owners mirrored this practice and flew 13 star flags during the same period as the Navy. Flag experts disagree about the precisely when the Navy began to revert to 13 stars and other low counts. Some feel that the use of 13 star flags never stopped, which seems to be supported by depictions of ships in period artwork. This was, of course, the original number of stars on the first American national flag, by way of the First Flag Act of 1777, and equal to the number of original colonies that became states. Any American flag that has previously been official remains so according to the flag acts, so it remains perfectly acceptable to fly 13 star flags today by way of congressional law. Since there was no official star configuration until the 20th century (1912 specifically, beginning with the 48 star count), the stars on 13 star flags may appear in any one of a host of configurations. Some of these are more rare and desirable than others. The stars of this particular flag are arranged in what has come to be known as the "3rd Maryland Pattern." This configuration, whether oval or circular, is appreciated both for its visual appeal and the scarcity of its use. a circular wreath of 12 with a single star in the center. The name comes from a flag that resides at the Maryland State Capitol in Annapolis, long thought to have been present with General Daniel Morgan at the Battle of Cowpens in 1781. According to legend, the flag was supposed to have been carried by Color Sergeant William Batchelor of the 3rd Maryland Light Infantry and was donated to the State of Maryland by Batchelor's descendants. The story was disproved in the 1970's, however, following an examination by the late flag expert Grace Rogers Cooper of the Smithsonian, who discovered that the Cowpens flag was, at the earliest, of

Mexican War

...

Category

Antique 1890s American Political and Patriotic Memorabilia

13 Star Antique American Flag with Hand-Sewn Stars in 5-3-5 Pattern, ca 1861-65

Located in York County, PA

Antique American flag with 13 hand-sewn stars in an extremely rare lineal configuration of 5-3-5, probably made with the intent of use by local militia or private outfitting of a vol...

Category

Antique 1860s American Political and Patriotic Memorabilia

34 Star Flag with Stars in a Rare Pattern, Huge Center Star, Kansas Statehood

Located in York County, PA

34 STARS IN A VERY RARE PATTERN THAT FEATURES A HUGE CENTER STAR IN THE MIDST OF A LINEAL STAR PATTERN, ONE-OF-A-KIND AMONG KNOWN EXAMPLES, CIVIL WAR PERIOD, 1861-63, KANSAS STATEHOOD Early flags are collected for many reasons, but one of the primary factors can be found in the mere fact that they looked so very different in early America than they do today. Because there was no official star configuration for the American national flag until 1912, their design was left to the whims of the flag-maker. Artist's liberty and creative expression led to a host of various star patterns. Among these are not only rows and columns of stars, but circular formations, star-shaped formations, and all manner of other arrangements that span from the common and benign to the exceptionally rare and whimsical. One of the earliest concepts in the layout of the stars was to feature a large one in the center of the blue canton amidst an otherwise lineal configuration. Because so few flags survive from the first fifty years following our independence, scant few examples exist with this feature, but it can be seen on the only known 17-star, 17-stripe flag (1803-1812), for example, that has so-far been discovered, as well as a fragment of the another flag that was found alongside it. It can also be seen on a rare, 24-star example (1821-1836), as well as a particular early, 13-star flag that probably pre-dates 1830 and might be 18th century. In the case of printed parade flags, like this one, I can think of only two examples, each of which survives as the only known flag in its respective style. Neither of these has thus far been documented in any text. This is one of those two, exceptionally

rare flags

...

Category

Antique 1860s American Political and Patriotic Memorabilia
You May Also Like
34-Star Civil War American Flag, Antique Great Star Pattern, circa 1861

Located in Colorado Springs, CO

The stars of this extremely rare, Civil War-era flag are arranged in what is sometimes called the "Great Flower" pattern, a large star made out of smaller stars -- named as such beca...

Category

Antique 1860s American Political and Patriotic Memorabilia

39-Star Antique American Flag with 'Whimsical' Star Pattern, 1889

Located in Colorado Springs, CO

This is a 39-star unofficial American flag, handmade and printed on cotton. The flag dates to 1889 and has a unique history, thanks to its rare star-count. The flag's canton is prin...

Category

Antique 1880s American Political and Patriotic Memorabilia

38-Star Medallion Pattern Flag, Celebrating Colorado Statehood

Located in Colorado Springs, CO

This is a striking printed 38-star American flag. The 38-star flag celebrated the addition of Colorado to the Union. This flag features a triple medallion star pattern, with three ri...

Category

Antique 1870s American Historical Memorabilia

46-Star American Flag Printed in Drum Star Configuration

Located in Colorado Springs, CO

This is an original 46-Star American parade flag, celebrating Oklahoma statehood. Each star on the flag's canton represents a state in the Union at the time. The official flag design would update every July 4th, to include any new states added to the Union in the past year. Oklahoma, the 46th state, entered the Union on November 16, 1907. As such, this 46–star flag was the official flag of the United States from July 4, 1908, until July 4, 1912. The silk flag has a dark blue canton with 46 white printed stars. The stars are printed in an 7-8-8-8-8-7 row configuration, or "Drum design." The flag design is completed with 13 alternating red and white stripes, each stripe representing one of the original thirteen colonies. The land that comprises Oklahoma today was added to the United States as part of the Louisiana Purchase of 1803. Throughout the 19th century, the U.S. government relocated Indian tribes from the southeastern United States to the area, and by 1900, over 30 Indian tribes had been moved to what was originally called the Indian Territories. At the same time, ranchers in Texas began to move into the area in search of new pasture lands. Although stipulations in the Indian Relocation Act agreed that the land would forever be Indian Territory, the promise of fertile farmland trumped the government's promise of sovereignty. On April 22, 1889, they opened the land to settlement by homesteaders, creating a land run in which settlers, called "Boomers," were allowed to cross the Texas or Arkansas border at a particular hour to claim homesteads. Settlers who illegally crossed the border earlier to stake prime land were called "sooners," which eventually became the state's nickname. Wagons and the Santa Fe railroad carried cartloads of men and women to blank town sites and building plots, creating ten thousand-people communities in a matter of days. The following year, the region was further divided into Indian Territory and

Oklahoma Territory

...

Category

Vintage 1910s American Political and Patriotic Memorabilia

Antique 13-Star Patriotic Sash by Louis E. Stilz & Bros., Early 20th Century

Located in Colorado Springs, CO

Presented is an original patriotic sash from the early 20th century, featuring 13 stars against a bright blue field. This sash features appliqued silver stars on a blue canton, red a...

Category

Early 20th Century American Historical Memorabilia

36-Star American Flag, Hand-Cut and Sewn, Civil War Era with Rare Pattern

Located in Colorado Springs, CO

This a 36-star medallion American flag, with a magnificent and rare star pattern and campaign connection. 36 stars celebrate the addition of Nevada to the Union and officially flew f...

Category

Antique 1860s American Historical Memorabilia

$27,000 Sale Price

20% Off