Items Similar to Cala Conta Black Dog - large scale Mediterranean beach scene (artist framed)
Want more images or videos?

Request additional images or videos from the seller
1 of 9
Massimo Vitali

Cala Conta Black Dog - large scale Mediterranean beach scene (artist framed)

2016
About the Item
large format photograph by Italian photographer Massimo Vitali, renowned for his grand scale topographical observations of the rites and rituals of modern leisure Cala Conta Black Dog (2016) 61.25" x 80.95" 155.60 cm x 205.60 cm limited edition of 6 + 2AP signed, titled and dated verso original archival photography print with diasec (acrylic glass) face mount in contemporary white gallery frame Each limited edition original photograph is printed in Italy under artist supervision in strictly limited edition (6 + 2AP) , signed/titled/dated upon final inspection and expertly framed at renowned European art framing facility Disclaimer of authenticity: although it is possible to acquire (small size) single page offset prints from the book "A Portfolio of Landscapes and Figures" (published by Steidl) in the secondary market, the artist studio strongly dissuades collectors from purchasing these single page prints outside of the context and authenticity of the complete portfolio. Artist bio: Massimo Vitali was born in Como, Italy, in 1944. He studied photography at the London College of Printing, in the 1970s initially working as a photojournalist, but at the beginning of the 80s a growing mistrust in the belief, that photography had an absolute capacity to reproduce the subtleties of reality, led to a change in his career path. He worked in cinematography for film and television before beginning a fine art practice in 1995. Over the next two decades, Vitali's large scale works would become recognizable for his highly detailed, epic scale panoramas, sociopolitical observations of the natural habitat of humankind at leisure. His iconic series of beach panoramas, captured from a distance with an elevated large format camera platform, began in the light of drastic political changes in Italy. Drawing inspiration from Renaissance and Old Flemish masters, in which the central space is fully exploited and the urban or natural landscape becomes the background, Vitali's photographs grasp the viewer by capturing highly detailed observances of the recreational habitats of modern civilization. Vitali's work has been collected in six monographs: Beach and Disco, Natural Habitats, Landscapes With Figures, Swimming Pools, Short Stories and the just released Entering A New World. Additionally, his work is represented in the world's major museums, including the Centro de Arte Reina Sofia in Madrid, the Guggenheim Museum in New York, the Museum of Contemporary Art in Denver, the Fond National Art Contemporaine in Paris, the Centre Pompidou in Paris, the Musée National d'Art Moderne in Paris, the Fondation Cartier in Paris and the Museo Luigi Pecci in Prato. Massimo Vitali lives and works in Lucca (Italy) and in Berlin (Germany). __________________________ SOLO EXHIBITIONS 2020 Human Constellations Museo Ettore Fico, Turin 2019 Massimo Vitali: Short Stories Mazzoleni, London 2018 Coastal Colonies Spiral, Tokyo 2017 'Disturbed Coastal Systems' Benrubi Gallery (New York, USA) 2016 'Landscapes with Figures' Guido & Schoen Arte Contemponania (Genoa, Italy) 2016 'Massimo Vitali' Crown Gallery (Knokke-Zoute, Belgium) 2016 'Massimo Vitali' Ronchini Gallery (London, UK) 2015 'New Prints' Hilger Next (Vienna, Austria) 2014 'Massimo Vitali' Studio La Citta (Verona, Italy) 2014 'Into The White' Erich Lindenberg Art Foundation (Porza, Switzerland) 2014 'Sempre più pallide. Towards Achrome' Palazzo Tadea (Spilimbergo, Italy) 2013 'Between Normalities' Bonni Benrubi Gallery (New York, USA) 2012 'Fotografia Europea' Reggio Emilia, Italy 2012 'PhotoMed' Sanary Sur Mer, France 2011 'Arcadian Remains' Bonni Benrubi Gallery (New York, USA) 2011 'Massimo Vitali' Brancolini Grimaldi (Florence, Italy & London, UK) 2011 'Massimo Vitali' Baro Galeria (Sao Paulo, Brazil) 2011 'Massimo Vital, Natural Habitats LOOK 3' Festival of the Photographers (Charlottesville, USA) 2010 'A Touch of Summer' Galerie Ernst Hilger at Brot Kunsthalle (Vienna, Austria) 2010 'Massimo Vitali' M&B Gallery (Los Angeles, USA) 2010 'In/Out' Centro de Arte Santa Monica (Barcelona, Spain) 2009 'Massimo Vitali: Landscape with Figures 2' Bonni Benrubi Gallery (New York, USA) 2009 'Human Landscapes' Dogenhaus Galerie' (Leipzig, Germany) 2009 'Disturbances of Reality Hilger Contemporary (Vienna, Austria) 2009 'Massimo Vitali' FOAM Museum (Amsterdam, The Netherlands) 2009 'Vintage Green' Core Club (New York, USA) 2008 'Massimo Vitali' Bonni Benrubi Gallery (New York, USA) 2008 'Massimo Vitali with Mike Figgis: Piazza di Spagna' Somerset House (London, UK) 2008 'Massimo Vitali' Galeria Senda (Barcelona, Spain) 2008 'New Photographs: Massimo Vitali' Crown Gallery (Brussels, Belgium) 2008 'Massimo Vitali' M&B Fine Art (Los Angeles, USA) 2007 'Vistas: Massimo Vitali' ArtCore Gallery (Toronto, Canada) 2007 'Massimo Vitali Jackson Fine Art (Atlanta, USA) 2007 'Old Concepts, New Works' The Columns (Seoul, South Korea) 2006 'Massimo Vitali: New Work' MBFA (Los Angeles, USA) 2006 'Massimo Vitali' Hilger Contemporary (Vienna, Austria) 2006 'Massimo Vitali' M&B Gallery (Los Angeles, USA) 2006 'A New Series of American Beaches' Brancolini Grimaldi Art Contemporanea (Rome, Italy) 2006 'Playa, Discotecas y Supermercados' Galeria Senda (Barcelona, Spain) 2006 Rencontres Internationales de la Photo Arles, France 2005 'Massimo Vitali: New Work' Bonni Benrubi Gallery (New York, USA) 2005 'Fotografien 1995 - 2005: Vitali' Lentos Kuntsmuseum (Linz, Austria) 2005 'Massimo Vitali' La Fabrica (Madrid, Spain) 2004 'Massimo Vitali' Aula de Cultura BBK (Bilbao, Spain) 2004 'Massimo Vitali' Centro per L'Arte Contemporanea Luigi Pecca (Prato, Italy) 2004 'Massimo Vitali' Galerie Hilger (Vienna, Austria) 2004 'Landscape with Figures' Bonni Benrubi Gallery (New York, USA) 2004 'In Light' MB Fine Art (Los Angeles, USA) 2003 'La Cour d'Ecole' Cinametique de Corse (Porto Vecchio, Italy) 2003 'La Cour d'Ecole' Cite Pietramarina (Ville di Pietrabugno, France) 2002 'Public Places Public Lives' The Photographers Gallery (London, UK) 2001 'La Cour d'Ecole' Centre Cultural Una Volta (Bastia, Corsica) 1999 Rencontres Internationales de La Photo Arles, France 1995 'Spiagge Italiane' Galerie ConsArc (Chiasso, Switzerland) 1994 'East German Panoramas' Historisches Archiv der Stadt Koeln (Cologne, Germany) __________________ SELECTED GROUP EXHIBITIONS 2017 La Sono Persona Centro Internazionale di Fotografia (Palermo, Italy) 2017 'Contemporary Life' Guidi Schoen Contemporenea (Geneva, Italy) 2017 'Domenica' Marcello Farabegoli Projects @ The Italian Embassy Metternich Palace (Vienna, Austria) 2017 'Due South' The Delaware Contemporary (Delaware, USA) 2016 'Panorama' Musée d'Art de la Province d'Hainaut (Charleroi, Belgium) 2016 'Extraordinary Visions' L'Italiaci Guarda, MAXXI (Rome, Italy) 2015 'Com'è Viva la Città 1913-2014' Villa Omo e Como (Como, Italy) 2015 'Antropia' Eduardo Secci Contemporary (Firenzi, Italy) 2015 'Photo London' Somerset House (London, UK) 2014 'Miami Projects' Benrubi Gallery (Miami, USA) 2014 'Paris Photo' Grand Palais (Paris, France) 2014 'De Rerum Natura' Studio La City (Verona, Italy) 2013 'Birds Eye View' Westport Arts Center (Westport, USA) 2013 Looking to Learn/ Learning to Look' 25 Years of Galleria Clairefontaine (Luxembourg) 2012 'L'insouciance' La Maison Guerlain (Paris, France) 2012 'Summer Show' Bracolini Grimaldi (London, UK) 2012 'Add Anni '70 Arte A Milano 1969-1980 Palazzo Reale (Milan, Italy) 2012 'The Deep Element: Photography at The Beach' Corcoran Gallery of Art (Washington, USA) 2012 'Shared Spaces' Photo Espana, Royal Botanical Gardens (Madrid, Spain) 2011 'Panorama Sur Les 20 ans d'une Collection Centre Mediterranean de la Photographie' Corsica, France 2010 'Il Paesaggio Italiano in Fotografia, 1950-2000' CRAF (Pordenone, Italy) 2010 'Human Rites' Bass Museum (Florida, USA) 2010 'The Definition of Self' Design Sight (Tokyo, Japan) 2009 'Kalidoscope d'Italie' Centre National de l'Audiovisual' (Luxembourg) 2009 'Italian Genius Now' Museo D'Arte Contemporanea (Rome, Italy) 2009 'Nature Nation' Museum of the Seam (Jerusalem, Israel) 2008 'The Good Life' Yancey Richardson Gallery (New York, USA) 2008 'Human/Nature: Recent European Photography Nelson-Atkins Museum (Kansas City, USA) 2007 'Summer' Neuhoff Edelman Gallery (New York, USA) 2007 'The Painters of Modern Day Life' Centre Georges Pompidou (Paris, France) 2006 'Aura of The Photograph' The Samuel P Harn Museum of Art, University of Florida (Gainsville, USA) 2006 'London UBS Collection' Tate Modern (London, UK) 2006 'The Age of Metamorphosis, European Art Highlights' Centro Pecci (Prato, Italy) 2006 'Image d'un Territoire' Centre Cultural Français des Damas (Syria) 2006 'Different Realities' Crown Gallery (Brussels, Belgium) 2006 'Image d'un Territoire' Les Chateau d'Eau (Toulouse, France) 2005 'Europe in Art' National Museum of Contemporary Art (Buccarest, Romania) 2005 'Come la Neve al Mare' Guidi & Schoen (Genova, Italy) 2003 'Vacant Communities' Fondazione Adriano Olivetti (Rome, Italy) 2003 'L'idea di Paesaggio Nella Fotografia Italiana dal 1850' Galleria Civica (Modena, Italy) 2003 'Melting Pop' Palazzo delle Papesse Centro d'Arte Contemporanea (Siena, Italy) 2003 'Painting Pictures' Kunstmuseum (Wolfsburg, Germany) ________________ Edition EKTAlux is pleased to announce the representation of Italian photographer Massimo Vitali Update (September 2020) in light of recent evolution of latest photo printing technologies, Massimo Vitali now offers the option to choose between two artwork sizes within the edition 6 + 2AP 79in x 105in / 200cm x 265cm 60in x 75in / 150cm x 190cm
Creator:

Creation Year:

Dimensions:

Height: 61.25 in (155.58 cm)

Width: 80.95 in (205.62 cm)

Depth: 2.55 in (6.48 cm)

Medium:

Movement & Style:

Period:

Condition:

Gallery Location:

Reference Number:

Seller: Edition EKTAlux - VITALI Cala Conta Black Dog

1stDibs: LU24225003311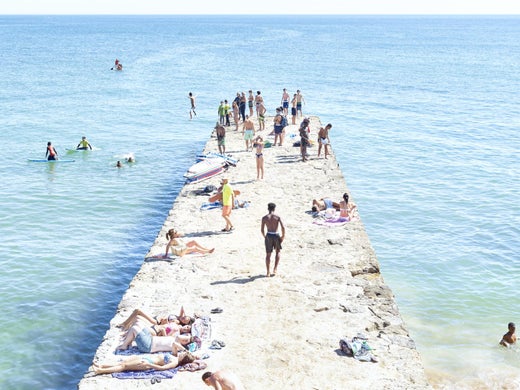 Shop All Massimo Vitali
Massimo Vitali
Massimo Vitali was born in Como, Italy, in 1944. He studied photography at the London College of Printing, in the 1970s initially working as a photojournalist, but at the beginning of the 1980s, a growing mistrust in the belief that photography had an absolute capacity to reproduce the subtleties of reality led to a change in his career path.
Vitali worked in cinematography for film and television before beginning a fine art practice in 1995. Over the next two decades, he would gain recognition for his highly detailed, epic-scale panoramas — sociopolitical observations of the natural habitat of humankind at leisure. Vitali's iconic series of beach panoramas, captured from a distance with an elevated large-format camera platform, began in the light of drastic political changes in Italy.
Drawing inspiration from Renaissance and Old Flemish masters, in which the central space is fully exploited and the urban or natural landscape becomes the background, Vitali's large-scale photographs grasp the viewer by capturing highly detailed observances of the recreational habitats of modern civilization.
Vitali's work has been collected in six monographs: Beach and Disco, Natural Habitats, Landscapes With Figures, Swimming Pools, Short Stories and, in 2020, Entering A New World.
Additionally, Vitali's work is represented in the world's major museums, including the Museo Nacional Centro de Arte Reina Sofía in Madrid, the Guggenheim Museum in New York, the Museum of Contemporary Art in Denver, the Fonds national d'art contemporain in Paris, the Centre Pompidou in Paris, the Musée National d'Art Moderne in Paris, the Fondation Cartier in Paris and the Museo Luigi Pecci in Prato.
Vitali lives and works in Lucca (Italy) and in Berlin (Germany).
Find a collection of original Massimo Vitali photography on 1stDibs.
(Biography provided by Edition EKTAlux)
Shipping & Returns
Shipping

Retrieving quote...

Ships From:

Dusseldorf, Germany

A return for this item may be initiated within 7 days of delivery.
1stDibs Buyer Protection Guaranteed
If your item arrives not as described, we'll work with you and the seller to make it right.
Learn More
Located in San Francisco, CA
These expertly vetted sellers are highly rated and consistently exceed customer expectations.
Established in 2014
1stDibs seller since 2015
162 sales on 1stDibs
Typical response time: 1 hour
More From This Seller
View All
Lampedusa (framed) - large scale photograph of Mediterranean summer beach scene

Located in San Francisco, CA

Large format photograph of a summer beach scene on the Mediterranean island of Lampedusa, from an earlier body of works (2012) by iconic Italian photographer Massimo Vitali, renowned...

Category

21st Century and Contemporary Contemporary Color Photography

Materials

Plexiglass, Wood, Photographic Film, Archival Paper, Photographic Paper

Praia do Moinho Handstand - large scale Massimo Vitali beach scene (framed)

Located in San Francisco, CA

iconic large format beach photograph by Italian photographer Massimo Vitali, renowned for his grand scale topographical observations of the rites and rituals of modern leisure Praia...

Category

21st Century and Contemporary Contemporary Color Photography

Materials

Wood, Archival Paper, Plexiglass, Photographic Film, Photographic Paper

Pan di Zucchero - large scale photo of Mediterranean beach scene (framed)

Located in San Francisco, CA

*temporary listing price reduction due to currency exchange rate large format photograph by iconic Italian photographer Massimo Vitali, renowned for his grand scale topographical observations of the rites and rituals of modern leisure

Pan di Zucchero

...

Category

21st Century and Contemporary Contemporary Color Photography

Materials

Photographic Paper, Wood, Archival Paper, Plexiglass, Photographic Film

Porto Miggiano Colony - large scale Mediterranean beach scene (artist framed)

Located in San Francisco, CA

large scale photograph of iconic summer beach scene in Puglia by Italian photographer Massimo Vitali, renowned for his grand scale topographical observations of the rites and rituals of modern leisure

Porto Miggiano

...

Category

21st Century and Contemporary Contemporary Color Photography

Materials

Plexiglass, Wood, Photographic Film, Archival Paper, Photographic Paper

Manarola Multi Jump (framed) large scale photograph of Mediterranean beach scene

Located in San Francisco, CA

large format photograph of summer beach scene along Cinque Terre coast by iconic Italian photographer Massimo Vitali, renowned for his grand scale topographical observations of the r...

Category

21st Century and Contemporary Contemporary Color Photography

Materials

Plexiglass, Wood, Photographic Film, Archival Paper, Photographic Paper

Gulpiyuri - large scale landscape photograph by Massimo Vitali (artist framed)

Located in San Francisco, CA

large format photograph of Gulpiyuri, a flooded sinkhole with inland beach in Northern Spain, by iconic Italian photographer Massimo Vitali, renowned for his grand scale topographica...

Category

21st Century and Contemporary Contemporary Color Photography

Materials

Plexiglass, Wood, Photographic Film, Archival Paper, Photographic Paper
You May Also Like
Glitter Little Gems, Naif Giclée, Pastel Palette, Miami Art Deco Inspiration

Located in Barcelona, ES

"Sexy Miami Futuristic Cocktail Lounge" is a series of photographs by Ryan Rivadeneyra inspired by the Art Deco colors of Miami that show beautiful objects and textures arranged meti...

Category

2010s Art Deco Landscape Prints

Materials

Photographic Film, Archival Ink, Photographic Paper, C Print, Digital, G...

Calm Water Blue Tones Diptych of Japanese Zen Pond Ripples, Feng Shui Cyanotype

Located in Barcelona, ES

This is an exclusive handprinted limited edition cyanotype. This diptych is titled "Japanese Zen Pond Ripples", and shows ripples of water from a calming pond. Details: + Title: Ja...

Category

2010s Abstract Landscape Prints

Materials

Photographic Film, Emulsion, Watercolor, C Print, Color, Engraving, Lith...

Congregation - Landscape Photography, Birds

Located in AIX-EN-PROVENCE, FR

Archival pigment print on hahnemühle Fine Art Paper. Contemporary Photography, Photomontages, Birds, Landscape Photography. Work Title : "Congregation" Artist : Suzanne Moxhay The wo...

Category

21st Century and Contemporary Contemporary Color Photography

Materials

Archival Paper, Archival Pigment

Animal Landscape Large Photograph Nature Tiger India Forest Wildlife Night

Located in Norfolk, GB

Aditya Dicky Singh Untitled Photograph on fine-art Hahnemuhle archival paper 44" x 65" unframed (112cm x 165cm) 2017 Edition 3/8 A certificate of Authenticity will be provided b...

Category

2010s Contemporary Color Photography

Materials

Archival Ink, Archival Paper

Sunset Taj Mahal Orange golden light atmospheric Nature Landscape India Palace

Located in Norfolk, GB

Aditya Dicky Singh, Untitled, photograph on fine-art Hahnemuhle archival paper 28" x 42" unframed (71cm x 107cm) 2022 Edition 1/10 A certificate of Authenticity will be provided ...

Category

2010s Contemporary Color Photography

Materials

Archival Ink, Archival Paper

Ray of Light, Ho Chi Minh City - Color Photography of Trees

Located in Cambridge, GB

'Ray of Light', part of Richard Heeps Vietnam series 'This is Not America', this unusual photograph of trees has a spiritual quality. This artwork is a limited edition of 25, gloss...

Category

2010s Contemporary Color Photography

Materials

Photographic Paper, C Print, Color, Silver Gelatin