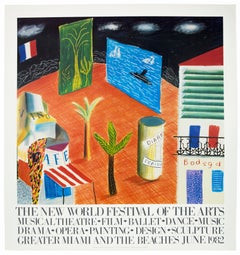 Vintage David Hockney Poster Miami New World Festival of Arts 1982 palm trees
Design Credit: Samantha Todhunter Design Ltd., Photo Credit: Oliver Clarke.

Dimensions: H 38 in. x W 36 in.

Design Credit: Lucy Harris Studio, Photo Credit: Francesco Bertocci.

Dimensions: H 38 in. x W 36 in.

Design Credit: Timothy Godbold, Photo Credit: Karl Simone.

Dimensions: H 38 in. x W 36 in.

Want more images or videos?

Request additional images or videos from the seller
1 of 7
Vintage David Hockney Poster Miami New World Festival of Arts 1982 palm trees

1982
About
This vintage David Hockney poster features whimsical imagery and rich, bright color. Palm trees, boats in the ocean, a cafe, and a bodega with an elaborate iron-wrought balcony sit atop a crosshatched orange ground. In 1980, Miami hosted what the New York Times called "one of the world's more ambitious, more expensive and surely one of the riskiest arts festivals of all time." The New World Festival for the Arts ran for three weeks, from June 4 to 26, and put on 200 live performances of contemporary drama, opera, music and dance. Featured on the poster for the Festival is David Hockney's 1980 crayon drawing "Detail from the Zanzibar with Postcards and Kiosk," which pictured one of his set designs for the Poulenc opera "Les Mamelles de Tiresias". At the bottom of the poster, black text printed in a serif font reads: The New World Festival of the Arts, Musical Theatre, Film, Ballet, Dance, Music, Drama, Opera, Painting, Design, Sculpture, Greater Miami and the Beaches June 1982. This vintage poster was designed by the artist in our studio and comes directly from our Petersburg Press archive. It is not pre-owned. Catalogue reference: Hockney Posters by Brian Baggott: No. 80; Off the Wall: Hockney Posters No. 106.
Details
Creation Year

Dimensions

Height: 38 in (96.52 cm)

Width: 36 in (91.44 cm)

Medium

Movement & Style

After

David Hockney

(1937, British)

Period

Condition

This poster is from the archive of the publisher. It is not previously owned.

Gallery Location

Reference Number
These expertly vetted sellers are 1stDibs' most experienced sellers and are rated highest by our customers.
Established in 1968
1stDibs seller since 2019
242 sales on 1stDibs
Typical response time: 2 hours
More From This Seller
View All
Vintage David Hockney Poster Miami New World Festival of Arts 1982 palm trees

Located in New York, NY

This vintage David Hockney poster features whimsical imagery and rich, bright color. Palm trees, boats in the ocean, a cafe, and a bodega with an elaborate iron-wrought balcony sit a...

Category

1980s Realist Figurative Prints

The Tower had one Window (Six Fairy Tales from the Brothers Grimm) David Hockney

Located in New York, NY

Perhaps the most famous story from the Grimm Brothers, Rapunzel spins the tale of a beautiful young princess locked away by an evil sorceress. Captured in this scene is the moment a King's son came across the tower and fell in love with her sweet singing, beseeching her: 'Rapunzel, Rapunzel, Let down your hair to me.' Though the sorcerer banishes Rapunzel and maims the prince, they are of course ultimately reunited to live happily together. This print pictures Rapunzel's tower prison with her cascading hair nearly reaching the forest floor. Hockney's tight crosshatching enhances the menacing form of the tower, contrasted with the dense, soft grass and the elegant gesture of her hair. Sheet from "Rapunzel" story (from Six Fairy Tales from the Brothers Grimm) Text printed letterpress and "The Tower Had One Window" etching and aquatint on W S Hodgkinson paper watermarked "DH" and "PP" Etching 13.5 x 6.25 in. / 34 x15.7 cm Paper 17.5 x 12.25 in. / 45 x 31 cm Unsigned: apart from the published edition of 400 books and 100 portfolios. This is one of eleven images recently found in our archive which we have decided to make available. There is one only of each image. This print from our publisher's archives is one of thirty-nine etchings from David Hockney's 1969 "Six Fairy Tales from the Brothers Grimm". Hockney worked on this series with Paul Cornwall-Jones at Petersburg Press over the course of a year. 400 books and 100 portfolios plus artist's proofs were printed. The artist illustrated six stories: 'The Little Sea Hare', 'Fundevogel', 'Rapunzel', 'The Boy who left Home to learn Fear', 'Old Rinkrank' and 'Rumpelstilzchen'. According to Hockney, "They're fascinating, the little stories, told in a very, very simple, direct, straightforward language and style, it was this simplicity that attracted me. They cover quite a strange range of experience, from the magical to the moral." He was inspired by earlier illustrators of the tales, including Arthur Rackham and Edmund Dulac, but Hockney reimagined the stories for a modern audience. The frontispiece for the project pictures Catherina Dorothea Viehmann, the elderly German woman who recounted fairy tales to the Grimm brothers when they were in their late twenties. In Hockney's words: "The stories weren't written by the Brothers Grimm…they came across this woman called Catherina Dorothea Viehmann, who told 20 stories to them in this simple language, and they were so moved by them that they wrote them down word for word as she spoke." Hockney drew the German woman in the style of Dürer, formally posed yet naturalistic against an impeccably crosshatched swath of grey. Hockney wrote about the surreal plots contained in the Brothers Grimm tales: "…the stories really are quite mad, when you think of it, and quite strange. In modern times, it's like the story of a couple moving into a house, and in the next door's garden they see this lettuce growing: and the wife develops this craving for the lettuce that she just must have and climbs over to pinch it, and the old woman who lives in the house next door says well, you can have the lettuce if you give me your child, and they agree to it. And if you put it into terms like this and imagine them in their semi-detached house agreeing to it all, it seems incredible." Hockney enhanced this unbelievable quality with his illustrations which traverse inky, dense areas of intense crosshatching and minimalist line work. Rather than serving as direct interpretations of the plot, the images capture moments and feelings. Some portray the magic yet mundane -- Rapunzel's tiny face gazing placidly at a well-tended garden, or project danger and unease as in The Haunted Castle, with its citadel perched atop craggy rocks, dramatically lit against a dark sky. Hockney's sense of humor comes through in Cold Water About to Hit the Prince, in which a man tucked into bed stares straight at a rush of water drawn with a splash (this technique is likely Spit Bite, and the resultant bold spattered brushstroke contrasts beautifully with the rest of the carefully crosshatched image). A Wooded Landscape, with its lush textures, conveys the bucolic setting of a fairy tale and the potential danger hidden within the woods -- the viewer is left to wonder who lives on the hilltop in that diminutive cabin. These etchings defy the conventions of beautiful

fairy tale illustrations

...

Category

1960s Modern Landscape Prints

Materials

Etching, Aquatint

Rapunzel, Rapunzel let down your Hair (Six Fairy Tales from the Brothers Grimm)

Located in New York, NY

Sheet from "Rapunzel" story (from Six Fairy Tales from the Brothers Grimm) Text printed letterpress and "Rapunzel, Rapunzel let down your Hair" etching and aquatint on W S Hodgkinson paper watermarked "DH" and "PP" Etching 10.5 × 9.85 in. / 26.7 × 25 cm Paper 17.5 x 12.25 in. / 45 x 31 cm Unsigned: apart from the published edition of 400 books and 100 portfolios. This is one of eleven images recently found in our archive which we have decided to make available. There is one only of each image. Perhaps the most famous story from the Grimm Brothers, Rapunzel spins the tale of a beautiful young princess locked away by an evil sorceress. Captured in this scene is the moment a King's son came across the tower and fell in love with her sweet singing, beseeching her: 'Rapunzel, Rapunzel, Let down your hair to me.' Though the sorcerer banishes Rapunzel and maims the prince, they are of course ultimately reunited to live happily together. Hockney illustrates this scene with incredible texture detail: layers of aquatint defining the soft forest floor, delicate hatching on the horse's haunch, the tower's tight crosshatching, and of course the lyrical gesture of Rapunzel's hair which cascades from the upper right corner. This print from our publisher's archives is one of thirty-nine etchings from David Hockney's 1969 "Six Fairy Tales from the Brothers Grimm". Hockney worked on this series with Paul Cornwall-Jones at Petersburg Press over the course of a year. 400 books and 100 portfolios plus artist's proofs were printed. The artist illustrated six stories: 'The Little Sea Hare', 'Fundevogel', 'Rapunzel', 'The Boy who left Home to learn Fear', 'Old Rinkrank' and 'Rumpelstilzchen'. According to Hockney, "They're fascinating, the little stories, told in a very, very simple, direct, straightforward language and style, it was this simplicity that attracted me. They cover quite a strange range of experience, from the magical to the moral." He was inspired by earlier illustrators of the tales, including Arthur Rackham and Edmund Dulac, but Hockney reimagined the stories for a modern audience. The frontispiece for the project pictures Catherina Dorothea Viehmann, the elderly German woman who recounted fairy tales to the Grimm brothers when they were in their late twenties. In Hockney's words: "The stories weren't written by the Brothers Grimm…they came across this woman called Catherina Dorothea Viehmann, who told 20 stories to them in this simple language, and they were so moved by them that they wrote them down word for word as she spoke." Hockney drew the German woman in the style of Dürer, formally posed yet naturalistic against an impeccably crosshatched swath of grey. Hockney wrote about the surreal plots contained in the Brothers Grimm tales: "…the stories really are quite mad, when you think of it, and quite strange. In modern times, it's like the story of a couple moving into a house, and in the next door's garden they see this lettuce growing: and the wife develops this craving for the lettuce that she just must have and climbs over to pinch it, and the old woman who lives in the house next door says well, you can have the lettuce if you give me your child, and they agree to it. And if you put it into terms like this and imagine them in their semi-detached house agreeing to it all, it seems incredible." Hockney enhanced this unbelievable quality with his illustrations which traverse inky, dense areas of intense crosshatching and minimalist line work. Rather than serving as direct interpretations of the plot, the images capture moments and feelings. Some portray the magic yet mundane -- Rapunzel's tiny face gazing placidly at a well-tended garden, or project danger and unease as in The Haunted Castle, with its citadel perched atop craggy rocks, dramatically lit against a dark sky. Hockney's sense of humor comes through in Cold Water About to Hit the Prince, in which a man tucked into bed stares straight at a rush of water drawn with a splash (this technique is likely Spit Bite, and the resultant bold spattered brushstroke contrasts beautifully with the rest of the carefully crosshatched image). A Wooded Landscape, with its lush textures, conveys the bucolic setting of a fairy tale and the potential danger hidden within the woods -- the viewer is left to wonder who lives on the hilltop in that diminutive cabin. These etchings defy the conventions of beautiful

fairy tale illustrations

...

Category

1960s Modern Landscape Prints

Materials

Etching, Aquatint

Catherina Dorothea Viehman (Six Fairy Tales from the Brothers Grimm) Hockney

Located in New York, NY

Catherina Dorothea Viehman (from Six Fairy Tales from the

Brothers Grimm

) Etching and aquatint on W S Hodgkinson paper watermarked "DH" and "PP" Pape...

Category

1960s Modern Figurative Prints

Materials

Aquatint, Etching

The Haunted Castle (Six Fairy Tales from the Brothers Grimm) David Hockney

Located in New York, NY

The Haunted Castle (from Six Fairy Tales from the Brothers Grimm) Etching and aquatint on W S Hodgkinson paper watermarked "DH" and "PP" Paper 17.5 x 12.25 in. / 45 x 31 cm Plate 14 ...

Category

1960s Modern Figurative Prints

Vintage Hockney Tate Poster, Celia in Black Dress with white flowers and rainbow

Located in New York, NY

The poster features David Hockney's 1972 drawing Celia in a Black Dress. Viewed through elegantly drooping tulip stems, Celia Birtwell stares dreamily ahead. With one hand paused in ...

Category

1980s Realist Portrait Prints