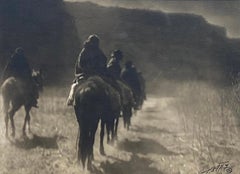 The Vanishing Race
Want more images or videos?
Request additional images or videos from the seller
1 of 13
About
Edward Curtis (American, 1868-1952) "The Vanishing Race" 1904 Platinum Border Print Signed Lower Right in Pen Image Size: 5 5/8 x 7 1/2 inches Site: 10 x 12 inches Framed: 17.75 x 19.75 inches In 1907 The New York Herald dubbed a planned photographic book series by Edward Sheriff Curtis as the, "Most gigantic undertaking in the making of books since the King James edition of the Bible." Pulitzer Prize and National Book Award recipient Timothy Egan called The North American Indian, "The greatest photographic achievement of all time." Curtis, the West's greatest Indian photographer, had a profound effect on how whites viewed the many Native American cultures. He also instilled a sense of pride for Indians in their heritage. The quintessential searcher, Curtis was born on February 19, 1868 in Whitewater, Wisconsin, a son of an itinerant minister, and early on took an interest in photography. He built his first camera by modifying a slide projector with two wooden boxes, one fitting into the other. In 1873 the family relocated to La Seuer County, Minnesota. At age nineteen, Curtis moved with his family and settled on a claim of land in Sydney, Washington, a small village on Puget Sound across the bay from Seattle, Washington. In 1892 he married Clara Phillips. They would eventually go through a bitter divorce. Over the following years, Curtis bought an interest in a photo studio in Seattle. Within three years, he was the most sought-after society portrait photographer in the Emerald City. His fame rapidly spread, and President Theodore Roosevelt invited him to photograph his family. Roosevelt had thousands of photographs taken of him, but the one Curtis snapped was his favorite. Whenever possible, Curtis spent time photographing the nearby Suquamish Indians and became known as the "Shadow Catcher." One of his favorite subjects was Princess Angeline, daughter of Chief Sealth, after whom Seattle was named. Ironically, Seattle prohibited Indians from entering the city, with the exception of Princess Angeline. In the summer of 1900, George Bird Grinnell invited Curtis to witness firsthand the Blackfeet Sun Dance outside Browning, Montana. "Their humanity has been forgotten," Grinnell said, explaining the stereotypes of either virtuous savage or victim who turned to vices. The Piegans, aka Blackfeet, were gathered to worship the Great Mystery. Curtis later recalled, "It is wild, terrifying and elaborately mystifying. The first time I witnessed it I sat in the hallowed lodge with my friend George Bird Grinnell, who was called the 'Father of the Blackfoot people.'" Inspired, Curtis wrote, "I don't know how many tribes there are west of the Missouri…maybe a hundred. But I want to make them live forever—in sort of history photographs." At the suggestion of Theodore Roosevelt, Curtis solicited John Pierpont Morgan who promised to loan him $15,000 a year for five years. In return, Curtis would author twenty volumes of text, each volume illustrated with approximately seventy-five small prints and each was accompanied by a portfolio of about thirty-five large photogravures. The first volume was published in 1907. George Bird Grinnell commented, "The results which Curtis gets with his camera stirs one as one is stirred by a great painting." In time, Curtis crisscrossed North America by train 125 times, promoting his Indian photographs by giving lectures accompanied with hand-colored lantern slides and presenting exhibitions. The first feature-length film on Native Americans, In the Land of the Head Hunters (1914), was his creation. Besides being a photographer, Curtis was an author, ethnographer, and a pioneering environmentalist. Papers from coast to coast often featured him on the front page. He even sold-out Carnegie Hall. But the start of WW I ended his notoriety. Still, he carried on with his grand work. The final volume of The North American Indian was published in 1930, by which time the Morgan family had contributed almost $400,000 ($10 million in today's dollars)—about one- quarter of the total cost of the entire project. In the end, it required thirty years and over 40,000 photographs of eighty tribes along with 10,000 wax cylinder recordings of indigenous languages and music by Curtis to complete his mission. Each of the twenty volume sets contained 2,234 original photographic reproductions (the twenty books contained a total of 1,511 photogravures and the twenty portfolios a total of 723 photogravures), 2.5 million words of enlightening anthropologic text by Curtis, and numerous transcriptions of language and music. Initially, 500 set were proposed, but only 214 sets were subscribed. At the time Curtis completed his project in 1930 during the Great Depression, the public had moved on. In 1935 the Morgan family sold all the assets of the North American Indian, Inc. to Charles Lauriat Books of Boston for $1,000. Lauriat would assemble approximately 60 more sets. Combining the original and Lauriat sets, an estimated 272 sets in total were produced, but some were subsequently broken up, and the images sold separately. Today, at least 220 sets of The North American Indian are intact, and approximately ninety percent of these are in institutional collections. Less than twenty are held privately. Importantly, the sets were not numbered chronologically, and only the early sets were signed by Roosevelt in volume one. According to a leading expert on Curtis, Christopher Cardozo, "Because they compromise approximately 98 percent of his extant vintage work, Curtis is known almost exclusively through his photogravure prints, commonly referred to as 'gravures.' These hand-pulled photoengravings were produced by master engravers and printers in Boston primarily for inclusion in The North American Indian. Photogravure is essentially a marriage of photography and engraving wherein the photographic image is chemically etched into the surface of a copper-clad engraving plate." Master prints, those non-photogravure prints made by Curtis, include: gold-toned printing-out paper prints, platinum prints (the highest form of photographic printing), toned gelatin silver prints, and hand-colored prints. Still, some of his most collectible photographs are the Curt-tone or orotone. Curtis did not create the process but eventually was considered its master. The orotone was a positive image on glass, while most photographic prints are a positive image on paper. Curtis goldtone expert Robert W. Kapoun wrote, "When viewed next to a paper print, the Curt-Tone/goldtone/orotone truly has a three dimensional quality that transcends our normal perception of a photograph." Curtis explained, "The ordinary photographic print, however good, lacks depth and transparency, or more strictly speaking, translucency. We all know how beautiful are the stones and pebbles in the limpid brook of the forest where the water absorbs the blue of the sky and the green of the foliage, yet when we take the same iridescent pebbles from the water and dry them they are dull and lifeless, so it is with the ordinary photographic print, but in the Curt-Tones all the transparency is retained and they are full of life and sparkle as an opal. " The goldtones were always sold with frames, most commonly in the "batwing style" either created or commissioned by Curtis. Curtis's personal, unique Stickley Brothers (Grand Rapids, Michigan) oak book cabinet made specially to display a complete set of The North American Indian is a poignant reminder of the untold story of a close friendship between two famous people, which spanned decades. There was no man in America who loved the Indians more than Curtis. Likewise, there was no woman in America who loved the Indians more than Marah Ellis Ryan (1866-1934). Ryan was born in Butler County, Pennsylvania and became a noted author and Indian activist. The two most likely met around 1906 when they were trekking through the Southwest, especially in the land of the Navajo and Hopi. In March 1907 Ellis published Indian Love Letters about the Hopi, decorated with an illustration of a Curtis photograph on the frontispiece. Two years later she published The Flute of the Gods with twenty-four illustrations of Curtis photographs. In 1922 the two teamed up again along with others to establish the Indian Welfare League headquartered in the Southwest Museum in Los Angeles. In a Southwest Museum leaflet published that year Ryan who was the chairman of publicity wrote, "The primary object of the League is to encourage all efforts which make for the permanent good of the American Indian." United States citizenship for Native American followed in 1924. The New York Times wrote in her obituary on July 11, 1934, "Mrs. Ryan went to live among the Hopi Indians twenty-five years ago and claimed to be the only white woman ever admitted to the secret religious rites." When Curtis was penniless in the early 1930's, she gifted to her dear friend her set of the The North American Indian along with her Stickley Brothers cabinet, custom made in 1909 to hold them. Amazingly, he was so self-sacrificing that he didn't even have his own set at this time. After he died, his set, #106, was eventually purchased in 1993 from the family by the University of Oregon library. The cabinet was owned by his daughter Beth Curtis Magnuson (1896-1973) from 1935 until her death. It remained in the Curtis family until 1980. Curtis died at his daughter Beth's home on October 19, 1952 in Los Angeles—poor and unremembered. It is hard to image that there was any artist of the American West who was more dedicated than him. His unparalleled work is still appreciated today with more books written about him by far than any other Western American photographer. Pulitzer Prize- winning Kiowa author N. Scott Momaday wrote, "Never before have we seen the Indians of North America so close to the origins of their humanity, their sense of themselves in the world, their innate dignity and self-possessions." From 2021 to 2023, thanks to the visionary Tim Peterson, the Western Spirit: Scottsdale's Museum of the West in Scottsdale, Arizona held the finest and most extensive exhibition ever on Curtis. The show was based primarily on Peterson's stunning collection, and many consider it the most significant exhibition ever on Western American art.
Details
Creator:

Creation Year:

Dimensions:

Height: 17.75 in (45.09 cm)

Width: 19.75 in (50.17 cm)

Medium:

Period:

Condition:

Gallery Location:

Reference Number:
These experienced sellers undergo a comprehensive evaluation by our team of in-house experts.
Established in 1970
1stDibs seller since 2017
134 sales on 1stDibs
Typical response time: 21 hours
More From This Seller
View All
Bareback Act, Old Hippodrome

Located in Missouri, MO

Bareback Act, Old Hippodrome By Gifford Beal (1879-1956) Signed Lower Right Unframed: 6.5" x 9.5" Framed: 17.5" x 20" Gifford Beal, painter, etcher, muralist, and teacher, was born in New York City in 1879. The son of landscape painter William Reynolds Beal, Gifford Beal began studying at William Merritt Chase's Shinnecock School of Art (the first established school of plein air painting in America) at the age of thirteen, when he accompanied his older brother, Reynolds, to summer classes. He remained a pupil of Chase's for ten years also studying with him in New York City at the artist's private studio in the Tenth Street Studio Building. Later at his father's behest, he attended Princeton University from 1896 to 1900 while still continuing his lessons with Chase. Upon graduation from Princeton he took classes at the Art Students' League, studying with impressionist landscape painter Henry Ward Ranger and Boston academic painter Frank Vincent DuMond. He ended up as President of the Art Students League for fourteen years, "a distinction unsurpassed by any other artist." His student days were spent entirely in this country. "Given the opportunity to visit Paris en route to England in 1908, he chose to avoid it" he stated, "I didn't trust myself with the delightful life in ParisIt all sounded so fascinating and easy and loose." His subjects were predominately American, and it has been said stylistically "his art is completely American." Gifford achieved early recognition in the New York Art World. He became an associate member of the National Academy of Design in 1908 and was elected to full status of academician in 1914. He was known for garden parties, circuses, landscapes, streets, coasts, flowers and marines. This diversity in subject matter created "no typical or characteristic style to his work." Beal's style was highly influenced by Chase and Childe Hassam, a long time friend of the Beal family who used to travel "about the countryside with Beal in a

car sketching

...

Category

20th Century American Modern Animal Prints

Le Christ a l'Horloge, Paris

Located in Missouri, MO

Marc Chagall "Le Christ a l'Horloge, Paris" (Christ in the Clock) 1957 (M. 196) Color Lithograph on Arches Wove Paper Signed in Pencil "Marc Chagall" Lower Right Initialed "H.C." (Hors Commerce) Lower Left, aside from numbered edition of 90 *Floated in Gold Frame with Linen Matting, UV Plexiglass Sheet Size: 18 3/4 x 14 3/4 inches (47.5 cm x 38 cm) Image Size: 9 3/4 x 8 1/2 inches Framed Size: 28.5 x 24.25 inches Marc Chagall was a man of keen intelligence, a shrewd observer of the contemporary scene, with a great sympathy for human suffering. He was born on July 7, 1887 in Vitebsk, Russia; his original name was Moishe Shagal (Segal), but when he became a foremost member of the Ecole de Paris, he adopted French citizenship and the French spelling of his name. Vitebsk was a good-sized Russian town of over 60,000, not a shtetl. His father supported a wife and eight children as a worker in a herring-pickling plant. Sheltered by the Jewish commandment against graven images, the young Chagall never saw so much as a drawing until, one day, he watched a schoolmate copying a magazine illustration. He was ridiculed for his astonishment, but he began copying and improvising from magazines. Both Chagall's parents reluctantly agreed to let him study with Yehuda Pen, a Jewish artist in Vitebsk. Later, in 1906, they allowed their son to study in St. Petersburg, where he was exposed to Russian Iconography and folk art. At that time, Jews could leave the Pale only for business and employment and were required to carry a permit. Chagall, who was in St. Petersburg without a permit, was imprisoned briefly. His first wife, Bella Rosenfeld, was a product of a rich cultivated and intellectual group of Jews in Vitebsk. Chagall was made commissar for the arts for the area, charged with directing its cultural life and establishing an art school. Russian folklore, peasant life and landscapes persisted in his work all his life. In 1910 a rich patron, a lawyer named Vinaver, staked him to a crucial trip to Paris, where young artists were revolutionizing art. He also sent him a handsome allowance of 125 francs (in those days about $24) each month. Chagall rejected cubism, fauvism and futurism, but remained in Paris. He found a studio near Montparnasse in a famous twelve-sided wooden structure divided into wedge-shaped rooms. Chaim Soutine, a fellow Russian Jew, and Modigliani lived on the same floor. To Chagall's astonishment, he found himself heralded as one of the fathers of surrealism. In 1923, a delegation of Max Ernst, Paul Eluard and Gala (later Salvador Dali's wife) actually knelt before Chagall, begging him to join their ranks. He refused. To understand Chagall's work, it is necessary to know that he was born a Hasidic Jew, heir to mysticism and a world of the spirit, steeped in Jewish lore and reared in the Yiddish language. The Hasidim had a special feeling for animals, which they tried not to overburden. In the mysterious world of Kabbala and fantastic ancient legends of Chagall's youth, the imaginary was as important as the real. His extraordinary use of color also grew out of his dream world; he did not use color realistically, but for emotional effect and to serve the needs of his design. Most of his favorite themes, though superficially light and trivial, mask dark and somber thoughts. The circus he views as a mirror of life; the crucifixion as a tragic theme, used as a parallel to the historic Jewish condition, but he is perhaps best known for the rapturous lovers he painted all his life. His love of music is a theme that runs through his paintings. After a brief period in Berlin, Chagall, Bella and their young daughter, Ida, moved to Paris and in 1937 they assumed French citizenship. When France fell, Chagall accepted an invitation from the Museum of Modern Art to immigrate to the United States. He was arrested and imprisoned in Marseilles for a short time, but was still able to immigrate with his family. The Nazi onslaught caught Chagall in Vichy, France, preoccupied with his work. He was loath to leave; his friend Varian Fry rescued him from a police roundup of Jews in Marseille, and packed him, his family and 3500 lbs. of his art works on board a transatlantic ship. The day before he arrived in New York City, June 23, 1941, the Nazis attacked Russia. The United States provided a wartime haven and a climate of liberty for Chagall. In America he spent the war years designing large backdrops for the Ballet. Bella died suddenly in the United States of a viral infection in September 1944 while summering in upstate New York. He rushed her to a hospital in the Adirondacks, where, hampered by his fragmentary English, they were turned away with the excuse that the hour was too late. The next day she died. He waited for three years after the war before returning to France. With him went a slender married English girl, Virginia Haggard MacNeil; Chagall fell in love with her and they had a son, David. After seven years she ran off with an indigent photographer. It was an immense blow to Chagall's ego, but soon after, he met Valentine Brodsky, a Russian divorcee designing millinery in London (he called her Fava). She cared for him during the days of his immense fame and glory. They returned to France, to a home and studio in rustic Vence. Chagall loved the country and every day walked through the orchards, terraces, etc. before he went to work. Chagall died on March 28, 1985 in the south of France. His heirs negotiated an arrangement with the French state allowing them to pay most of their inheritance taxes in works of art. The heirs owed about $30 million to the French government; roughly $23 million of that amount was deemed payable in artworks. Chagall's daughter, Ida and his widow approved the arrangement. Written and submitted by Jean Ershler Schatz, artist and researcher from Laguna Woods, California. Sources: Hannah Grad Goodman in Homage to Chagall in Hadassah Magazine, June 1985 Jack Kroll in Newsweek, April 8, 1985 Andrea Jolles in National Jewish Monthly Magazine, May 1985

Michael Gibson

...

Category

1950s Modern Figurative Prints

Bird's Eye View

Located in Missouri, MO

Ronnie Cutrone (1948-2013) "Bird's Eye View" c. 1980s Color Lithograph Ed. 222/250 Signed, Numbered and Titled Image Size: 17 x 23.5 inches Framed Size: approx. 24 x 30 inches. Ronnie Cutrone, a figurehead of the Pop and Post-Pop art scenes, was Andy Warhol's assistant at the Factory atop the Decker Building from 1972-1980, and worked closely with Roy Lichtenstein, combining stylistic elements of both. Cutrone's large-scale paintings of American cartoon icons, like Mickey Mouse, Felix the Cat, and Woody Woodpecker further reinvented kitsch and popular media in terms of fine art. Executed in fluorescent monochromatic colors with the finesse of mass-produced silkscreen and prints, Cutrone's works are the reverse of tromp-l'oeil; they use fine art media (watercolor, pastel, crayon - on high-quality paper) to celebrate, rather than hide, the artifice of their subjects. "Everything is cartoon for me", Cutrone is noted for saying, even "

ancient manuscripts

...

Category

Late 20th Century Pop Art Figurative Prints

Two Snowy Owls

Located in Missouri, MO

Color Lithograph Image Size: 30 x 19 inches Framed Size: 40.25 x 29.75 inches Edition 392/950 Artist Signed and Numbered Artist and naturalist

Roger Tory Peterson

...

Category

Late 20th Century Naturalistic Animal Prints

One of Their Pets (Two Farm Boys and Cow at the Watering Hole)

Located in Missouri, MO

One of Their Pets (Two Farm Boys and Cow at The Watering Hole) By Joseph Vorst (1897-1947) Signed Lower Right Edition 1/50 Lower Left Unframed: 8.5" x 11" Framed: 16" x 18.5" German-born Joseph Vorst came from Essen (born June 19, 1897). His teacher was the leading German impressionist Max Liebermann (1847-1935), who was the champion of French impressionism in Berlin. He had traveled to Barbizon and Paris to see paintings by Manet first hand, including In the Conservatory, which made its way to Berlin. Later Vorst's home town of Essen would acquire a collection of modern art in 1921, which became the Museum Folkwang, one of the earliest of its kind. Most likely to escape the Nazis, Vorst made his way to Missouri; we know that he was a member of the American Artists Congress and he signed the famous "Call" in 1936 at the group's first congress, the left-wing organization that stood up to combat fascism. Surely he would have known

Joe Jones

...

Category

Early 20th Century American Realist Landscape Prints

Hurry Sundown

Located in Missouri, MO

Billy Schenck (American, b. 1947) Hurry Sundown, 1985 Edition 19/60 Serigraph 21 x 38 inches Signed, Titled, Dated, and Numbered Lower Margin Billy Schenck is a contemporary artist ...

Category

1980s Pop Art Landscape Prints
You May Also Like
Casa Rosa

Located in New York, NY

ABOUT THIS PIECE: My artistic journey on Burano Island has been a captivating exploration of its vibrant character. While initially drawn to its clotheslines and colourful walls in s...

Category

2010s Animal Prints

Materials

Photographic Paper

Captain

Located in New York, NY

ABOUT THIS PIECE: My artistic journey on Burano Island has been a captivating exploration of its vibrant character. While initially drawn to its clotheslines and colourful walls in s...

Category

2010s Animal Prints

Materials

Photographic Paper

Vilhelmina Fjallen, Vilhelminafjällen Sverige original vintage travel poster

Located in Spokane, WA

Vilhelmina Fjallen. Vilhelminafjällen Sverige. Original Scandinavian vintage poster lithograph. Mounted on acid-free archival linen. A city located on the edge of Lapland in t...

Category

1950s American Impressionist Animal Prints

Original "Wonderful Copenhagen" vintage travel poster

Located in Spokane, WA

Original vintage poster:

WONDERFUL COPENHAGEN

created by the artist Viggo Vagnby. This antique poster is archival linen backed, in excellent co...

Category

1950s American Modern Animal Prints

Original "At The Front! Enlist Now" British vintage poster

Located in Spokane, WA

Origiinal WW1 poster: AT THE FRONT! Every fit Briton should join our brave men at the front. Enlist NOW. . Artist: Lionel Edwards. Original, Mint, Linen-backed original World War 1 rare stone lithographic poster. At the front! Every fit Briton should join our brave men at the front. Enlist now / printed by E.S. & A. Robinson Ltd., Bristol. London: Parliamentary Recruiting Committee, [1915]. Poster showing cavalry in battle, with horses reacting to an explosion in the foreground. Until March 2, 1916, when the Military Service Act introduced conscription, Great Britain's World War I army was comprised entirely of volunteers. Many of the most famous

wartime posters

...

Category

1910s American Realist Figurative Prints

'Tom and Jerry, the New Adventures' vintage cartoon movie poster

Located in Spokane, WA

Original cartoon movie poster: Les Nouvelles Adventures de Tom et Jerry. TOM and JERRY Artist: Roger Soubie. Linen-backed poster with the original theater release fold marks restored during linen backing. MGM As the mouse and cat battle it out with a steaming iron,

mouse trap

...

Category

1950s American Modern Animal Prints