About
Elizabeth Catlett (1915 - 2012) forged a singular artistic career as a sculptor and printmaker. During the course of her long life, Catlett was profoundly influenced by a broad array of artistic genres and traditions, including the Harlem Renaissance, European Modernism, African art, American Regionalism, the Chicago Renaissance, Pre-Columbian art, Mexican Muralism and Post-Revolution Populism, and the Black Arts Movement. Rather than simply emulating or reacting to these diverse influences, Catlett synthesized disparate visual idioms to develop a highly-individual style. Catlett's work was also profoundly shaped by a lifelong engagement with social and political concerns. While avoiding overt didacticism, Catlett developed a remarkable facility in using pared-down forms to convey powerful messages regarding the topics that mattered to her most: freedom, race and ethnicity, feminism and maternalism. Ultimately, Catlett rejected any distinction between the aesthetic and sociopolitical elements of her work. "I believe that art should come from the people and be for the people," she commented in 1952. "I believe that art is important to the extent that it grows out of and affects the society of its time." Catlett studied at Howard University, principally under the direction of James Porter. She had won a scholarship competition to attend the Carnegie Institute of Technology but was rejected after the Institute learned she was black. After graduation, she served as a public school art teacher in Durham, North Carolina, where she also worked with Thurgood Marshall on a campaign against racial disparities in teacher salaries. Catlett subsequently studied art at the University of Iowa under the mentorship of the painter Grant Wood and became the first student ever to receive an MFA. Her thesis project sculpture, "Mother and Child", was awarded first prize at the 1941 American Negro Exposition in Chicago. After a period in New York when she studied under the Russian sculptor Ossip Zadkine and taught at the radically progressive George Washington Carver School in Harlem, Catlett moved to Mexico in 1946. She joined the Taller de Gráfica Popular artist collective in Mexico City. She also studied sculpture at the Esmeralda Escuela de Pintura y Escultura with ceramicist Francisco Zuñiga and wood sculptor José L. Ruíz. In 1959, Catlett became head of the department of sculpture at the Universidad Nacional Autónoma de Mexico and subsequently chair of the art department. Elizabeth Catlett's work is in the permanent collections of numerous museums and institutions, including the Museum of Modern Art, the Metropolitan Museum of Art, the Library of Congress, Carnegie Mellon University, the University of Iowa, the Schomburg Center for Research in Black Culture, and the Palacio de Bellas Artes in Mexico. Lowery Stokes Sims writes of Catlett's depiction of women: "Catlett's commitment to the female form has been commented on many times. Invariably it is a celebration of people of the peasant and working class. Her women are characterized by sturdy, voluptuous physiques that invite comparisons with the well-known female presences that predominate the oeuvre of the Mexican sculpture Francisco Zuñiga... In Catlett's oeuvre, the female form is never gratuitously eroticized, but rather analyzed and defined for its manifestation of fecundity and strength" (June Kelly Gallery, Elizabeth Catlett: Sculpture, exhibition catalogue, New York, 1993, p. 5). "Triangular Woman" was exhibited at "Elizabeth Catlett: Wake Up in Glory" at Burning in Water New York. The show, which ran from 28 November 2017 - 3 February 2018, displayed sculptural works Catlett created between 1946 and 2010.
Details
Creator

Creation Year

Dimensions

Height: 25 in. (63.5 cm)

Width: 13 in. (33.02 cm)

Depth: 19 in. (48.26 cm)

Medium

Movement & Style

Period

Condition

Gallery Location

Reference Number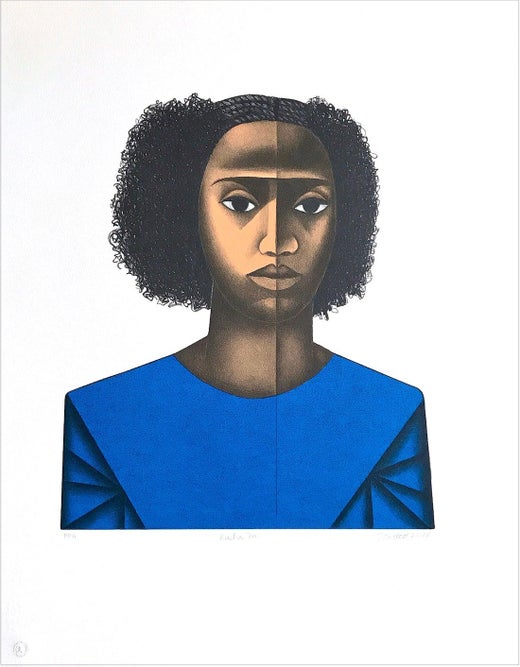 Shop All Elizabeth Catlett
About the Artist
Elizabeth Catlett
Promoting social change was Elizabeth Catlett's prime motivation as an artist. The granddaughter of enslaved people, Catlett was born in Washington, D.C., in 1915 and spent her adult life driven to create sculptures, prints and paintings that would reach, celebrate and uplift those who were barely visible in art.
"I have always wanted my art to service Black people — to reflect us, to relate to us, to stimulate us, to make us aware of our potential," Catlett said of her work in the 1978 book Art: African American. She studied art history, drawing and other disciplines at Howard University, and as an MFA student at the University of Iowa, her mentor, the painter Grant Wood, advised her to "take as her subject what she knew best." As she later told an interviewer, "The thing that I knew the most about was Black women, because I am one, and I lived with them all my life, so that's what I started working with."
The centerpiece of Catlett's spring 1940 thesis project, Negro Mother and Child — a figure of a Black mother embracing her child, carved from Indiana limestone — was awarded first place for sculpture at the American Negro Exposition in Chicago held that year.
Catlett taught art at Dillard University in New Orleans — where she battled discrimination daily — and met her first husband, artist Charles White, while living in Chicago. She resigned from Dillard in 1942 and moved to New York City. There Catlett befriended painter Jacob Lawrence and studied lithography and other media at the Art Students League. Inspired by her studies with Ossip Zadkine, she began to incorporate abstract forms into her wood and stone sculptures.
In 1946, a grant supported her travel to Mexico to study its murals and graphic art. As Catlett had experienced the barbaric and deeply destructive system of racial segregation that the Jim Crow laws enforced in the United States, Mexico felt like a welcome escape. She would make the country her home and create much of her work there, divorcing White and marrying painter and printmaker Francisco Mora of the Taller de Gráfica Popular (People's Graphic Workshop), or TGP, in 1947. She collaborated with TGP, a graphic arts workshop dedicated to social issues located in Mexico City, on a number of works, including one of her best-known linoleum cut prints, Sharecropper (1952). The heroic depiction of an anonymous farm worker was intended to draw attention to the plight of Black tenant farmers who were ruthlessly exploited by the era's white landowners.
Another iconic work of Catlett's is Black Unity (1968), a raised fist sculpted from cedar, smooth and gleaming, with one side taking the form of two faces that resemble carved African masks. In the same year, the raised fist, a powerful symbol of the Civil Rights struggle and emblem of the Black Power movement, had been immortalized by two Black American athletes, John Carlos and Tommie Smith, who raised their black-gloved fists during the playing of the "Star-Spangled Banner" at the Summer Olympics in Mexico City.
Catlett was a professor of sculpture at the National Autonomous University of Mexico's School of Fine Arts in Mexico City from 1958 until 1976, when she retired to focus on making art, exhibiting extensively in the years that followed. In 2003, she completed the Ralph Ellison Memorial in New York's Riverside Park. That same year she received a lifetime achievement award from the International Sculpture Center. Her work is in the collections of museums worldwide, including the Smithsonian American Art Museum, Museum of Modern Art and the Metropolitan Museum of Art.
Find a range of authentic Elizabeth Catlett art today on 1stDibs.