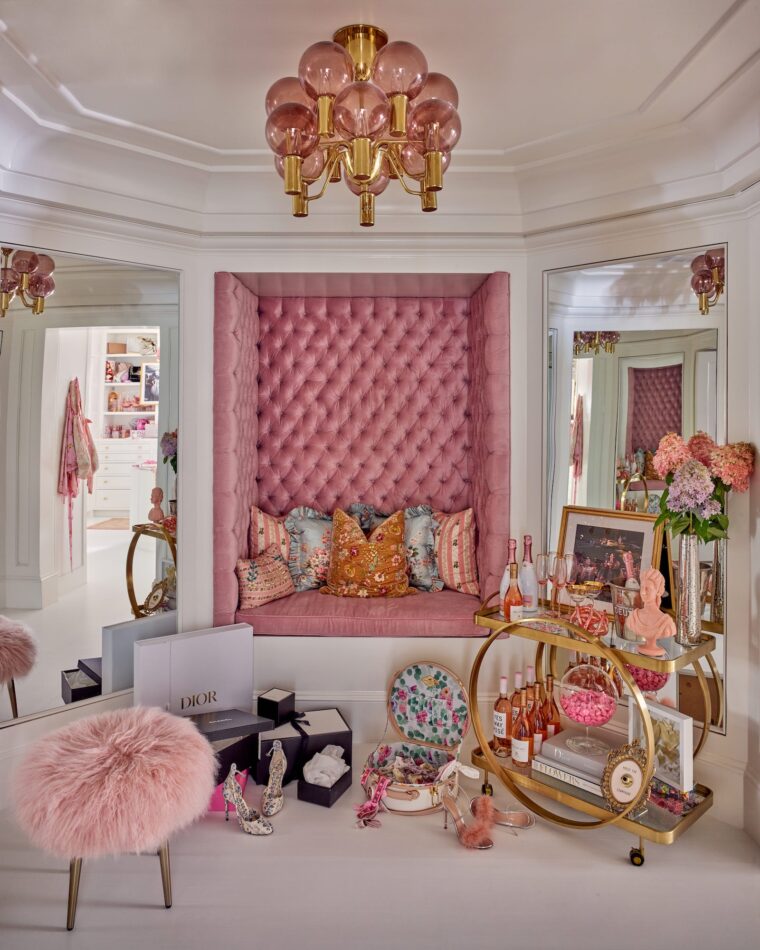 Charlotte Lucas gave one fortunate client, a mother with four boys, the feminine dressing room of her dreams. Located on the upper level of the family's home in Charlotte, North Carolina, the high-ceilinged closet is "a reprieve from all the masculine energy and chaos of her daily life," Lucas notes.
The rosy space is chock-full of unique finds, including a Hans-Agne Jakobsson chandelier with pink bulbs, a shiny bar cart and a soft-to-the-touch ottoman. As for the tufted seating area, "the client had a vision for exactly what she wanted there," Lucas says. "We picked out a plush velvet and had this built-in bench and wall custom made by a local craftsman."
---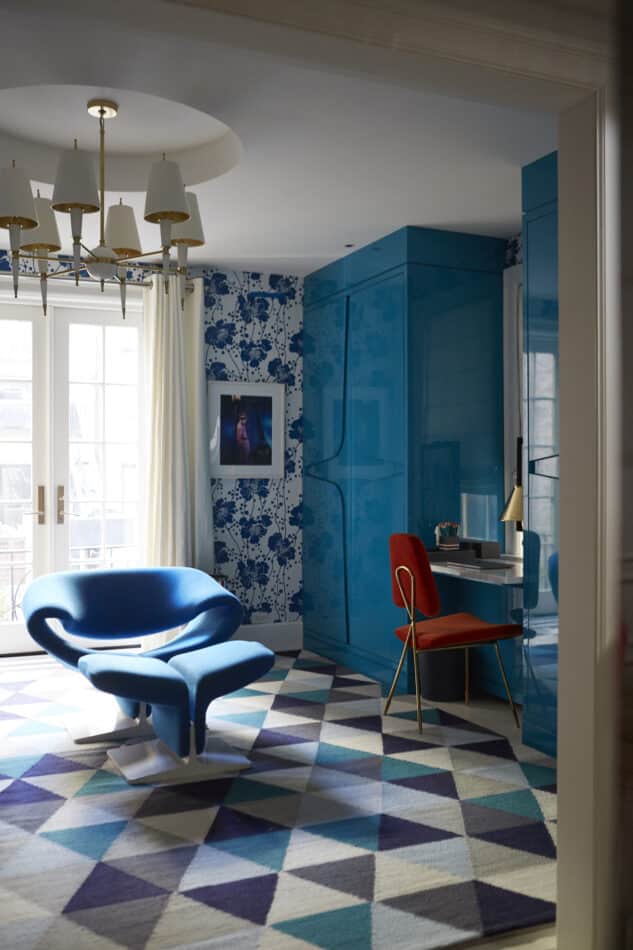 Jonathan Adler's own closet in Manhattan perfectly demonstrates his signature bold style. In the sitting area, Adler incorporated a few pieces he designed specifically for the space, including custom armoires and a graphic rug. To these, he added furnishings from his collection, such as a red Maxime chair and, in another section, his Puzzle mirror, Talitha cabinet and lamp.
"In this dressing room design, I wanted to prove my thesis that blue is a magic color, that all blues play well with all other blues," Adler explains. "White curtains and a white chandelier keep it crisp and nautical, and the cabinets — a 1950s Italian pearwood cabinet and a brass-clad cabinet from my Talitha collection — crank up the glamour and provide storage."
The valet was another vintage find. "Of course, every gentleman's dressing room needs a brass valet stand," he declares.
---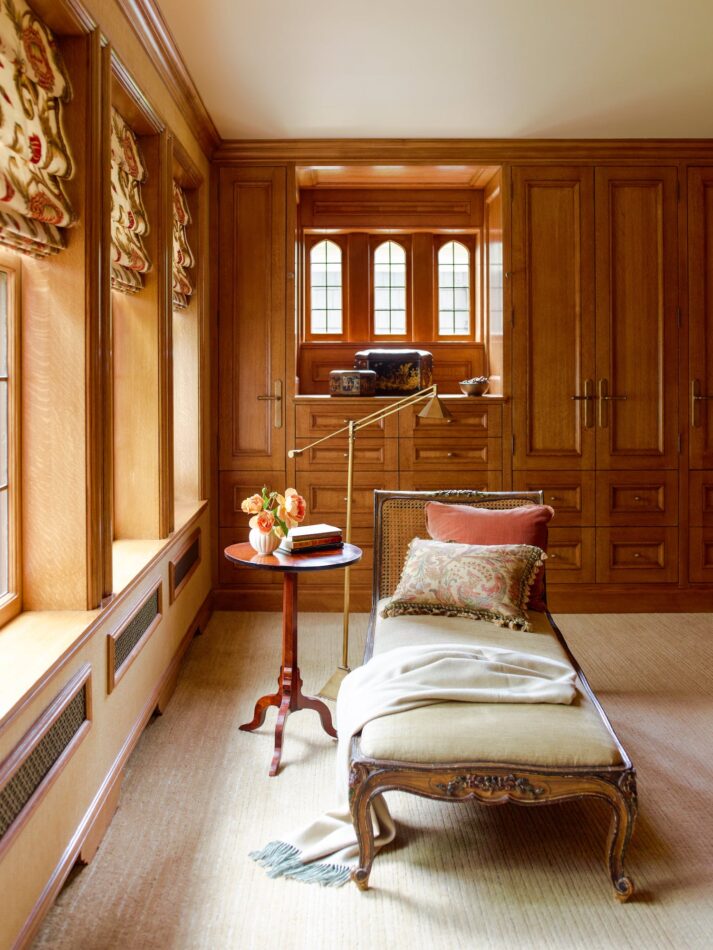 "This closet, in a historical Tudor home on Capitol Hill, was designed to feel like a cozy room rather than a closet, with the clothes tucked away behind a series of French polished-oak drawers and doors accented with antique-brass hardware," says Kylee Shintaffer, describing a project in a popular neighborhood east of downtown Seattle.
To give it a lived-in and well-loved feel, the designer incorporated two stately 19th-century antiques: an English side table and a French cane-framed daybed.
---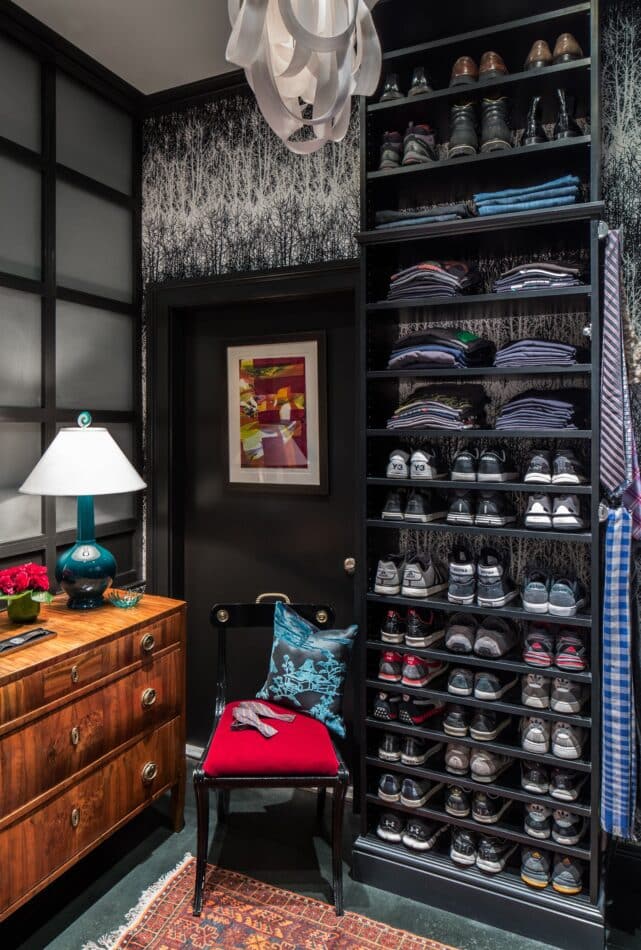 Evolve Residential's Josh Linder wanted to create a closet area in his own Boston apartment that was as beautiful as it was functional. As a start, he "selected a fabric for the walls that was paper-backed and applied like a wallpaper, to add softness," he says.
The dark space is lit by a pendant made from seatbelt-strap fabric — "the perfect material to bump into if I'm up on a ladder accessing the top storage shelves," Linder explains. The chair and antique Biedermeier commode are both 1stDibs finds.
---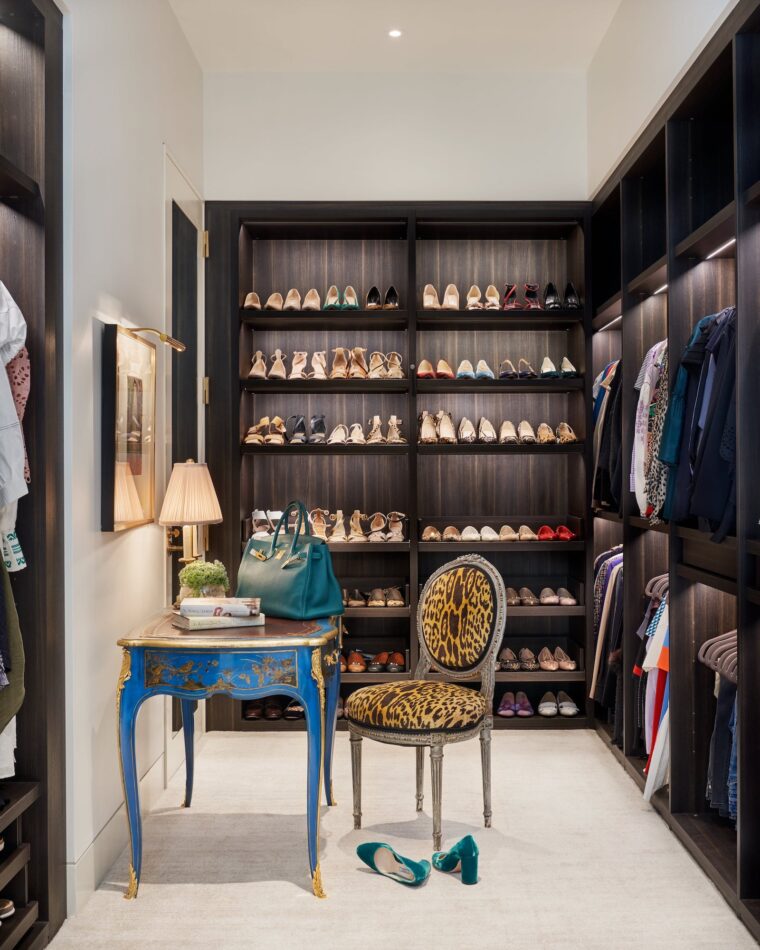 Mix master Melissa Morgan, of M Interiors, melded old with new in this closet in her clients' San Antonio penthouse. "We wanted to have a very functional, clean, modern space that was a nice backdrop for the clothing and the furniture in the room," she says, pointing out the vanity area she created with an antique French desk purchased on 1stDibs.
"Don't forget to add art to a utilitarian space like a closet," advises Morgan, who hung a signed Gustav Klimt print over the desk. "It makes it interesting and a great place to be."
---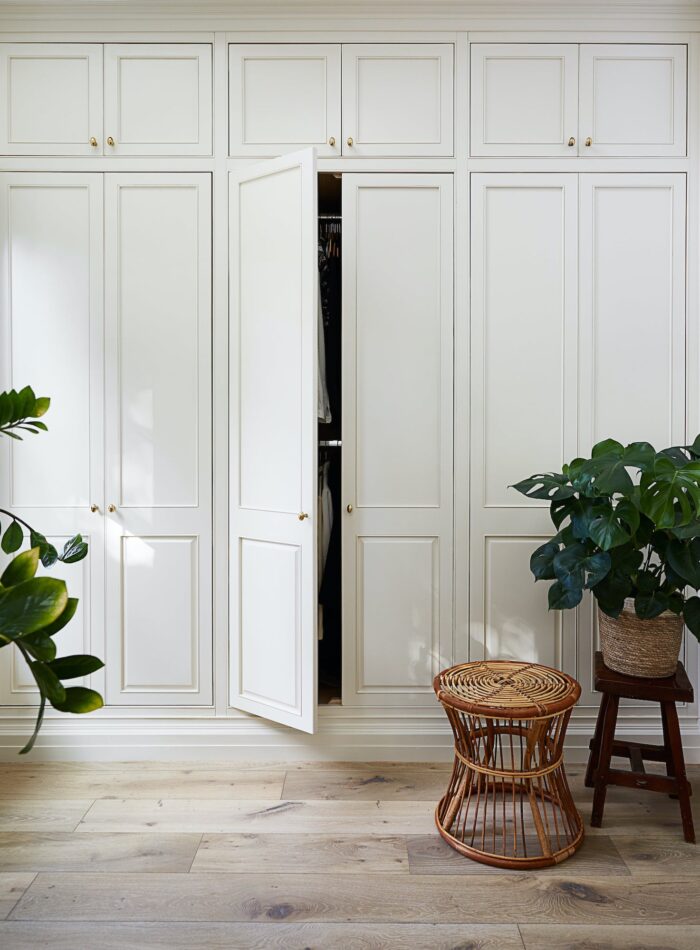 "This entire project was very architectural," says Zoë Feldman, referring to an airy townhouse she designed in Washington, D.C. "The clients didn't have much storage space in the primary suite, so in an effort to maximize storage, I decided to build a custom wardrobe fit for all their needs." She completed the simple space with two vintage stools.
"I love the idea of built-ins, as opposed to closets, because they add a layer of detail and create an opportunity to organize your belongings in a way that feels intentional," Feldman explains.
---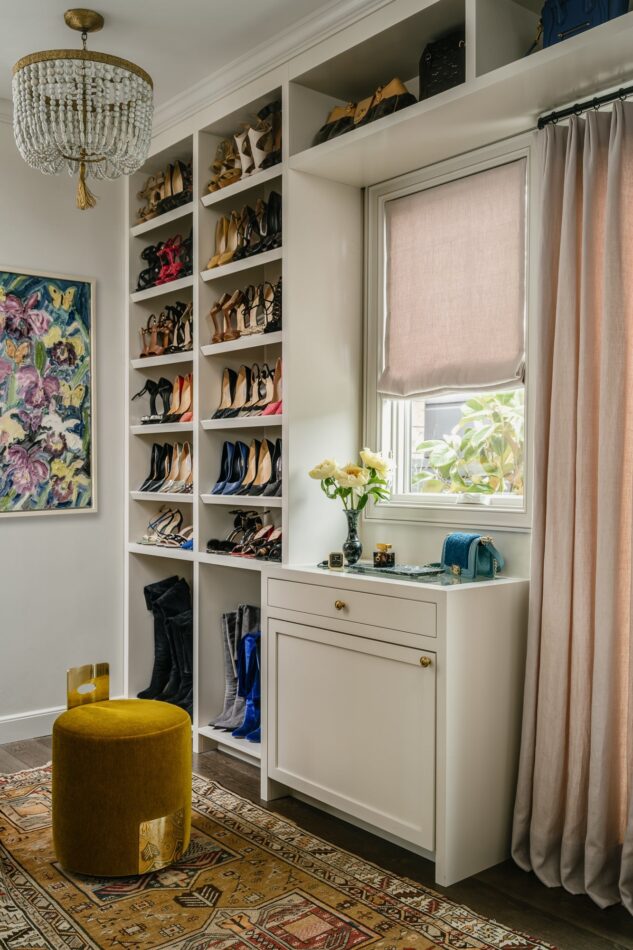 "The inspiration for this San Francisco closet came primarily from our very stylish client, a young mother with a strong interest in fashion," says John K. Anderson, of JKA Design. The space, inside a 1907 Victorian home, features a crystal chandelier with an antique look and a velvet pouf with metallic accents. The painting, which ties the room together, is by Hunt Slonem.
---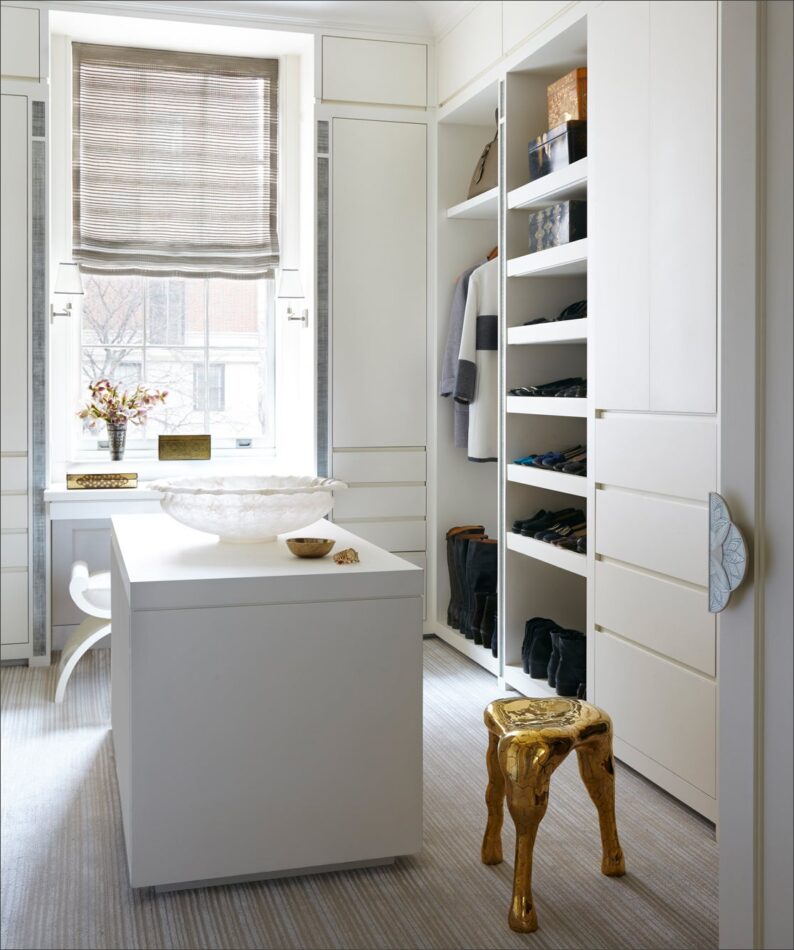 For Sandra Nunnerley, beauty is in the details. In this Park Avenue dressing room, the details include painted-glass door pulls framed in metal. "They have an Art Deco feel to them, which I love," Nunnerley says. "I wanted to give the space a glamorous look."
This intention is also evident on the walls, which "are all done in a pearlized paint," she points out, "so it has a sparkly feeling underneath it. It's not just a boring ivory."
For the furnishings, Nunnerley chose a vintage alabaster bowl from Maison Gerard — another touch of luminous white — and a brass Haas Brothers Hex stool.
---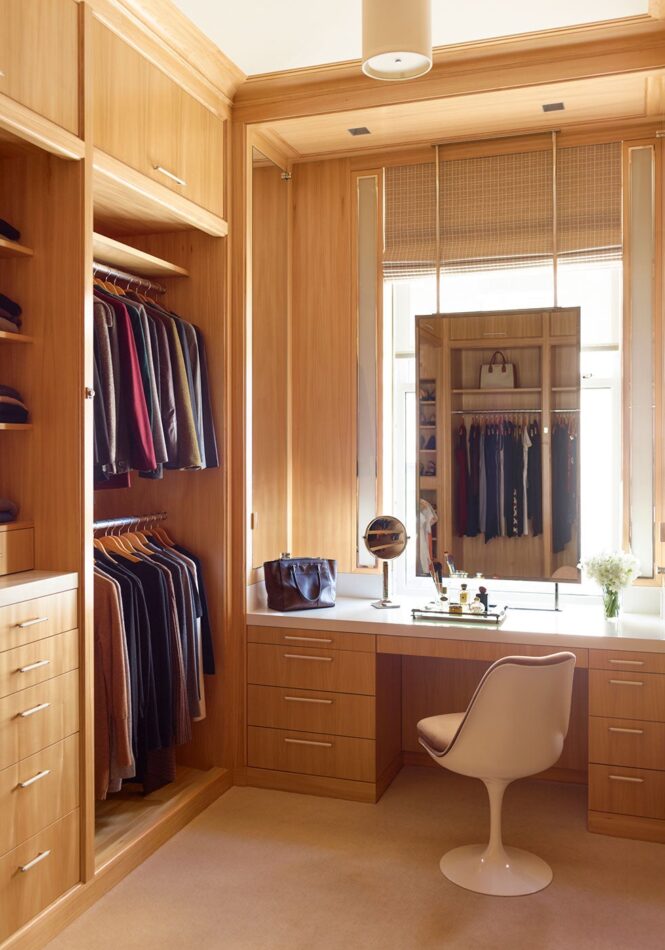 "The client wanted a closet that was soothing, calm and inviting," Eve Robinson says of the dressing room in an apartment overlooking New York's Central Park. "Order and simplicity of design were the driving forces."
The only freestanding piece in the minimalist space is an Eero Saarinen Tulip chair. "It's a classic, modern shape that contrasts beautifully with the light-wood French elm cabinetry," Robinson observes.
---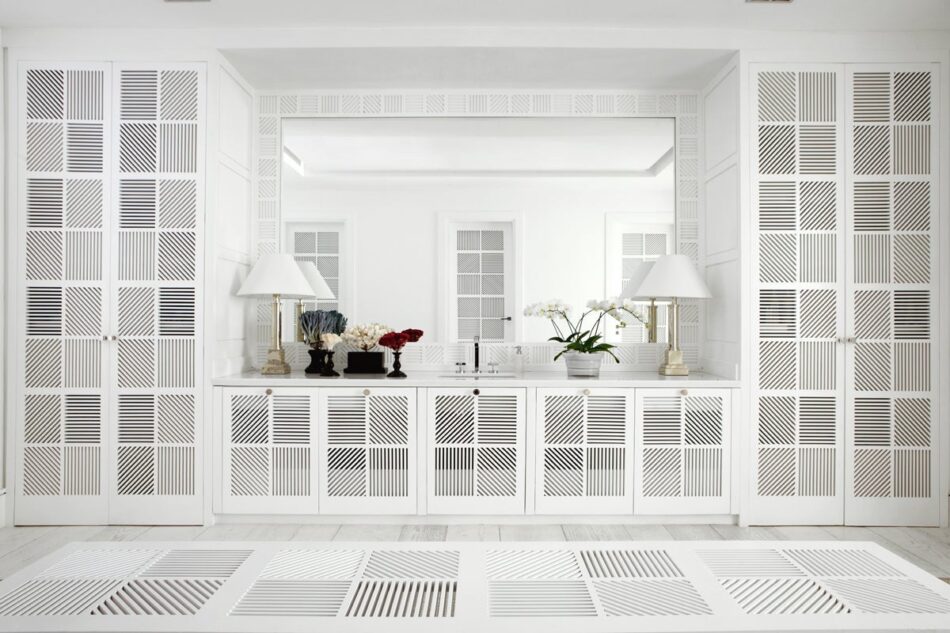 Luis Bustamante kept the closet simple in a Santo Domingo beach house, taking inspiration from the geometric latticework of the Caribbean's colonial-style residences. His eponymous studio designed the polished-nickel lamps.
---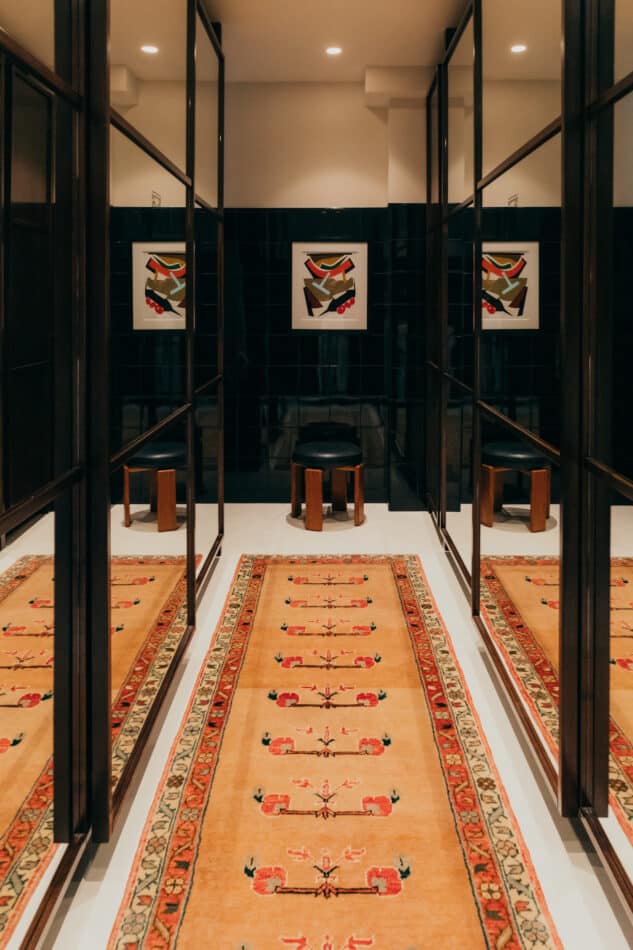 The closet in a Paris duplex designed by Fabrizio Casiraghi may be narrow, but it doesn't skimp on style. The designer outfitted the moody space with a vintage Turkish Oushak runner, a contemporary painting and a 1960s Esko Pajamies stool.
---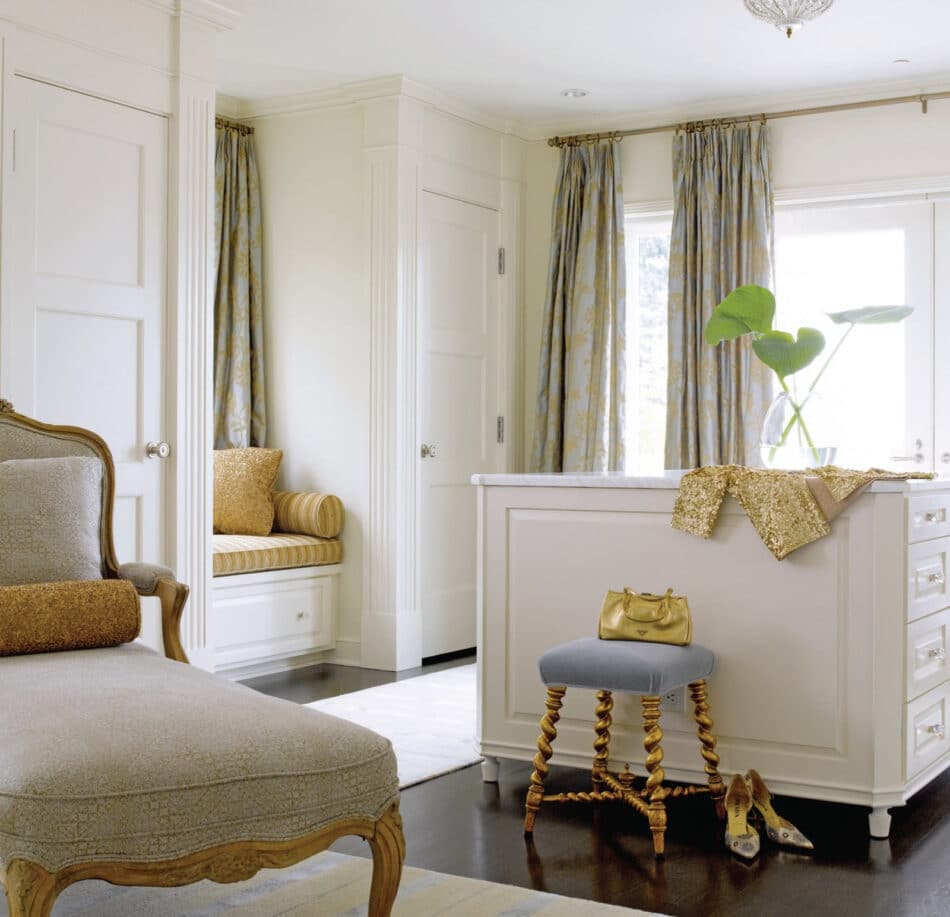 If this Seattle closet looks especially bright and capacious, that's because it used to be the main bedroom. "We moved the primary bedroom into the suite next to it and turned the old one into a luxurious closet," explains Barbara Hyde Evans. "The client also gained a large primary bath with the changes we made.
"The goal," she continues, "was to duplicate the moldings and other trims to match the rest of the Federal-style home so that it looked as seamless as possible." Other details that contribute to the historic look include an antique chaise in front of the original fireplace and a decades-old stool covered in a dove-gray mohair.
---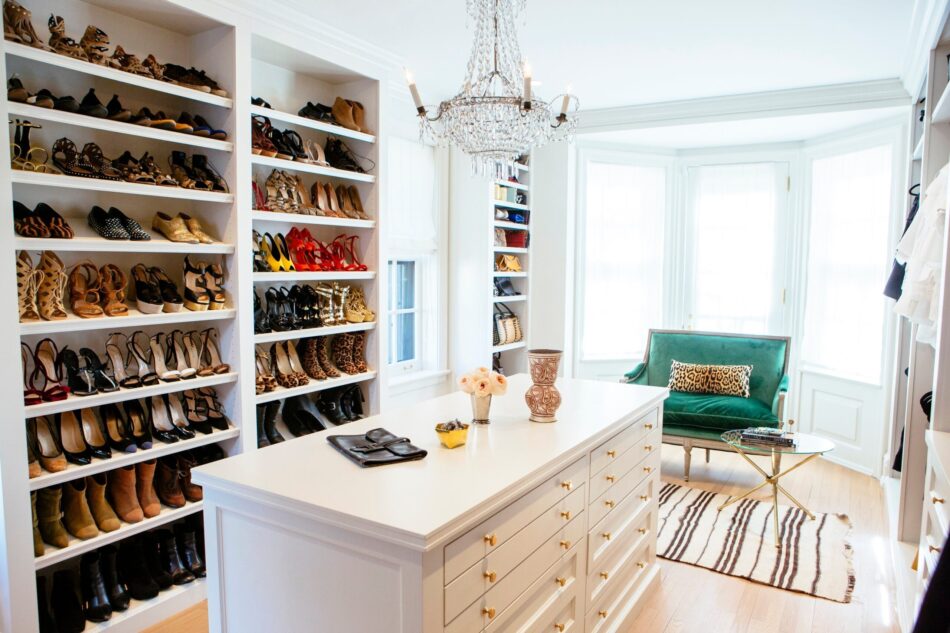 In designing this shoe-lined room in her former Chicago home, Lauren Buxbaum Gordon, a partner at Nate Berkus Associates, had some select muses. "I took cues from both the architecture of my 1870s Georgian row house and from Nate's personal closet, which I had always admired," she explains.
Organization was, of course, a priority, but Gordon also sought a timeless chic. A piece that fit the bill? The antique chandelier, which has traveled with her to three homes.
"Having a seating area in a closet has always felt so glamorous to me, and I had the perfect space to add one," she says. "That said, the reality of the situation was a little different. It became a bed for my 65-pound dog and a place for my then one-year-old to drool and climb on."
---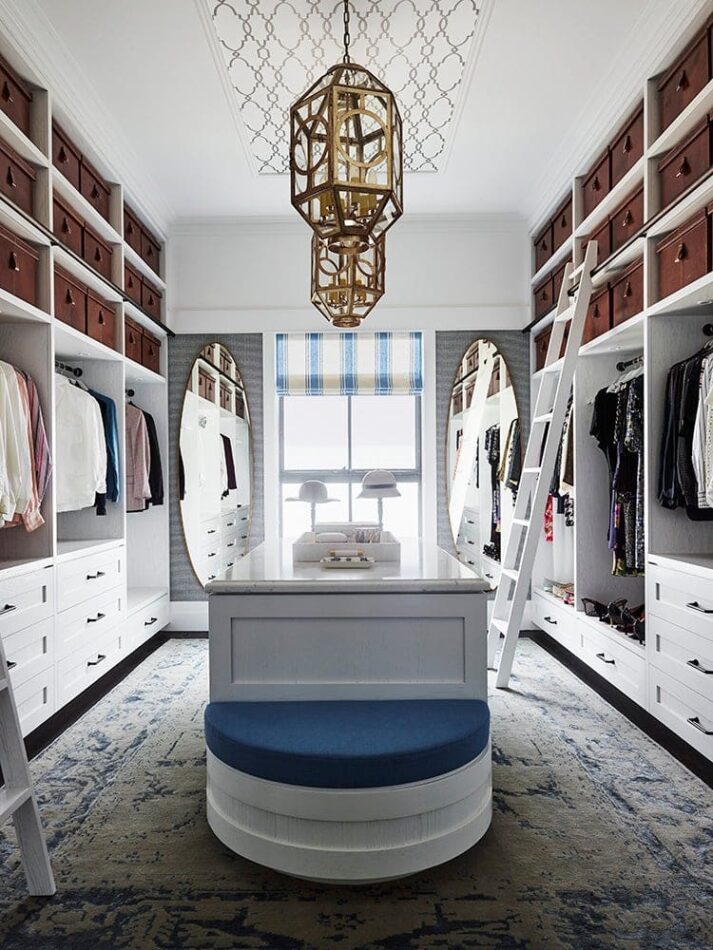 "The whole house was very much inspired by Cape Cod–style houses and the cult-classic flick Something's Gotta Give," designer Greg Natale says of his design for a coastal retreat in Kincumber, Australia, adding, "This look was extended into the walk-in wardrobe." For seating, Natale installed a custom ottoman.
For illumination, he took advantage of the room's super-high ceilings to hang a pair of oversize Ralph Lauren lanterns, bringing a touch of sophistication to the relaxed space.
---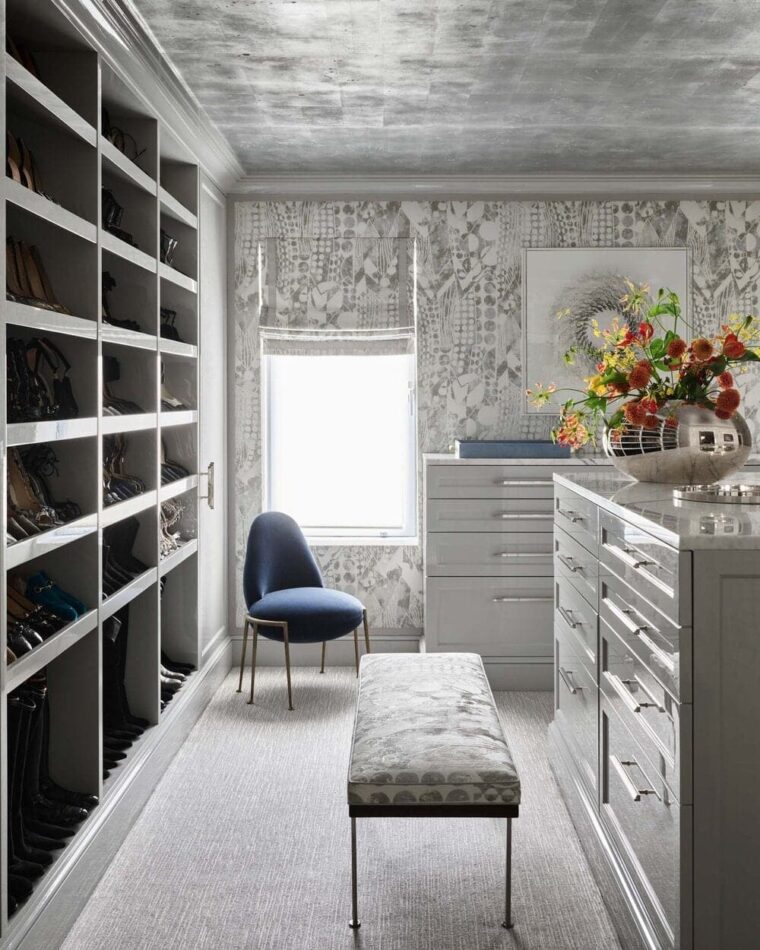 "Our inspiration for the Upper East Side townhouse was the glamorous Roaring 1920s," says David Lawrence, of the firm Carlos David. The era's influence is eminently evident in the home's walk-in closet, with its high-gloss custom cabinetry, ceiling clad in glimmering silver leaf and Nanz Company hardware, whose details recall New York's great Art Deco buildings.
---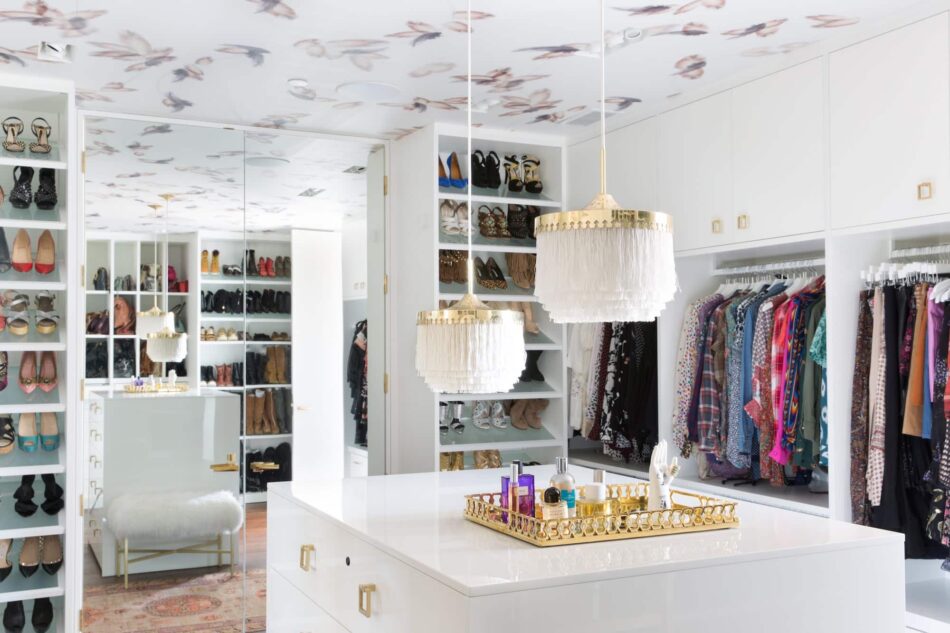 "She is a multi-hyphenate writer, director, music maven, yogi and all-around incredible woman," HSH Interiors CEO and principal designer Holly Hollenbeck says of the client for whom she created this expansive wardrobe in a contemporary Mill Valley, California, home. "Her style is elevated yet bohemian."
The digitally printed wallpaper on the ceiling is elegantly unexpected, while the vintage Hans-Agne Jakobsson fringed pendant lights hit just the right raffish note.
---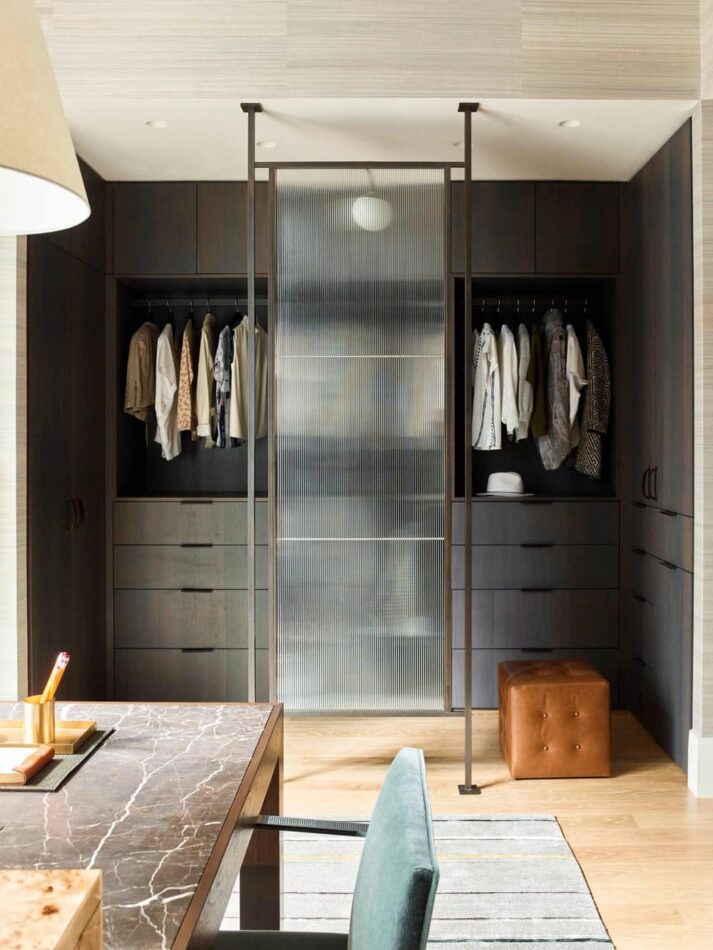 "The reorganization allowed the Tribeca apartment's main bedroom to grow a wing — one that combined a dressing room, closet and home office," says interior designer Kevin Dumais. "The space needed to be multifunctional while feeling cool and sexy, as it is an extension of the bedroom."
The custom marble-topped desk and Mies van der Rohe chair from Knoll tick both the functional and cool boxes. But the pièce de résistance is a bronze and reeded-glass screen that Dumais and his team designed to offer privacy without sacrificing natural light.
---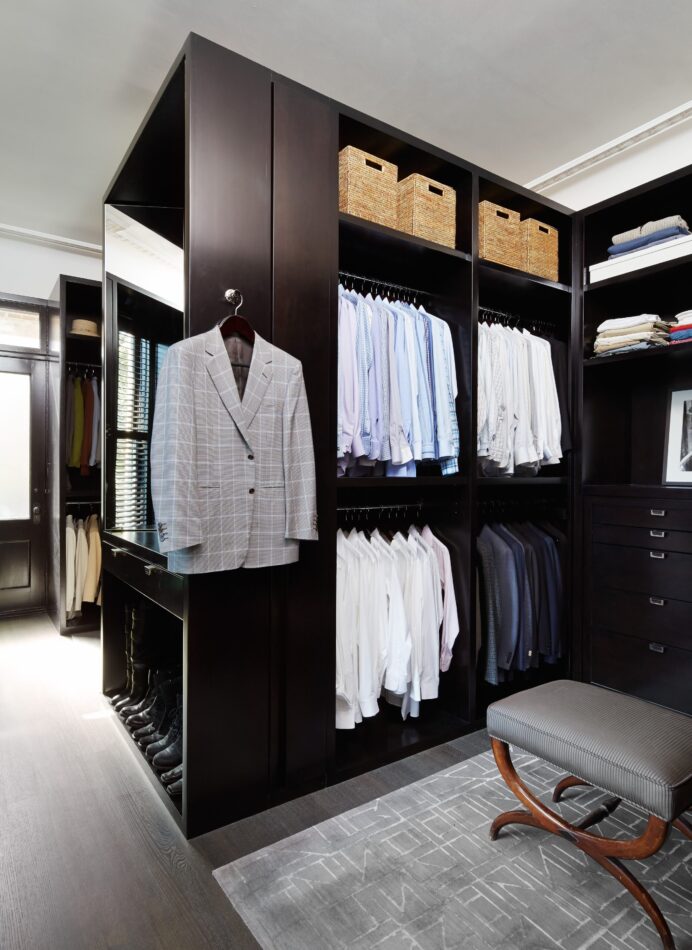 Called in to return a seven-unit 19th-century Chicago house to its original purpose as a single-family home, Soucie Horner embarked on a restoration that honored the structure's history while updating it for a modern lifestyle. One room, though, remains divided.
"The closet is shared by the husband and wife, who both like to be organized but in different ways," explains Shea Soucie. "Design is specific to each of their preferences in a 'together but separate' sort of way." That said, both sides of the space share an ultra-contemporary sensibility, expressed in the stained-walnut millwork and geometric SHIIR rug.
---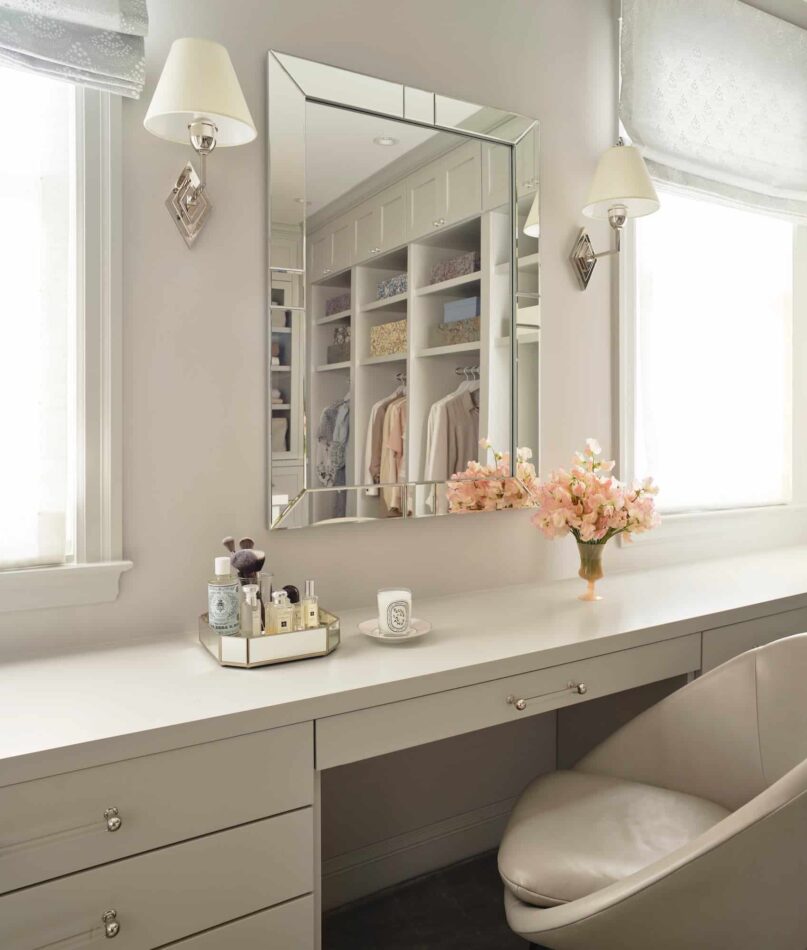 For a Presidio Heights, San Francisco, apartment, Marea Clark received strong design direction from its fashionable owner. First on the client's list of priorities? Gutting a former bedroom and transforming it into a spacious walk-in closet. To light the space, Clark chose feminine fixtures from Circa Lighting Co. Underfoot, she lay a plush carpet, one her favorite elements. It "feels really luxe," she says. "You could take a nap in the closet if you wanted."
---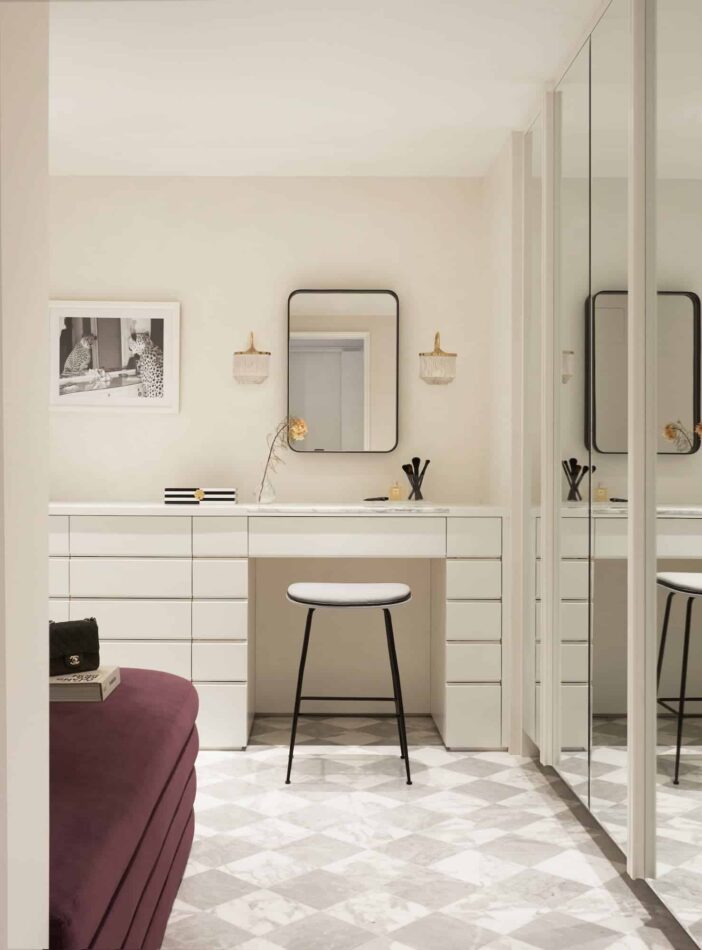 In a postwar co-op building on New York's Upper East Side, Frederick Tang gutted and combined two units into a single apartment with an open-concept layout. For the decor, he laced mid-century modernism with a splash of Art Deco élan.
This mix comes together stylishly in the closet, where pair of silk-tasseled sconces by Hans-Agne Jakobsson and a custom Gubi stool nod to modernism's greats. As for the spark: "We designed a checkerboard of Carrara and Danube marble, adding an Old Hollywood flair to the floor," Tang says.
---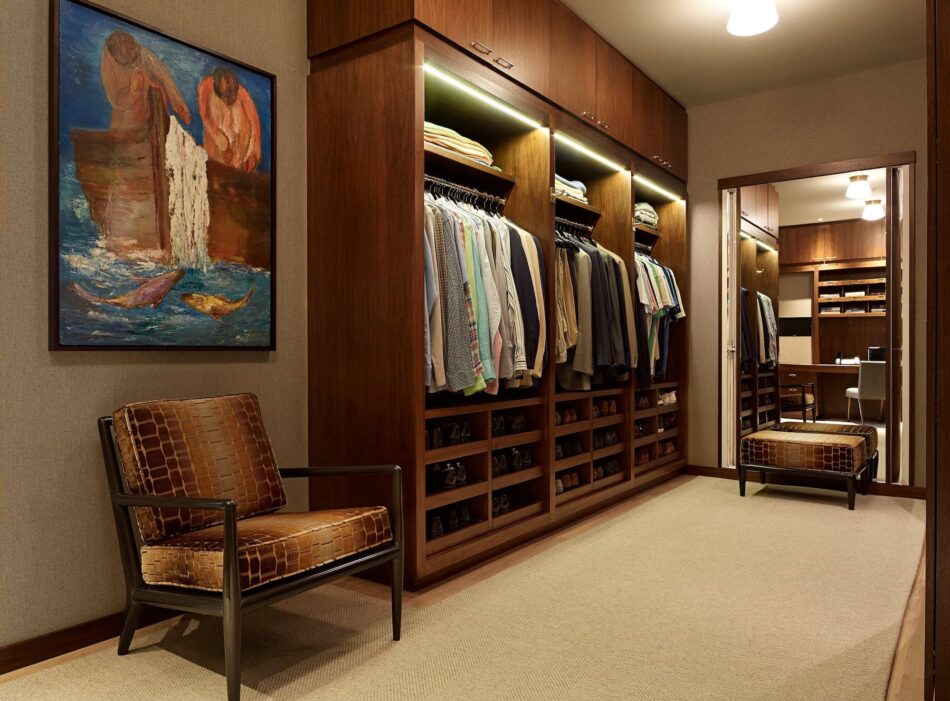 "This closet was designed for a bachelor who sought a luxurious yet comfortable and practical dressing area," interior designer Elena Frampton says of this undeniably masculine room in an apartment on Lower Manhattan's Bond Street. "We created a boutique-like space with millwork tailored to the client's needs."
The space includes a Phillip Jeffries wallcovering and leather-topped dresser and desk, along with a vintage chair from Lobel Modern reupholstered in an ombré Clarence House cut velvet, which provides some drama.
---
"Closets are not just functional spaces in which to store clothes, shoes and bags," says Gideon Mendelson. "They can be beautiful, too. Shouldn't getting dressed be a treat?" That certainly is the case in this New Rochelle, New York, closet for the lady of the house, which Mendelson outfitted to match the neighboring bedroom.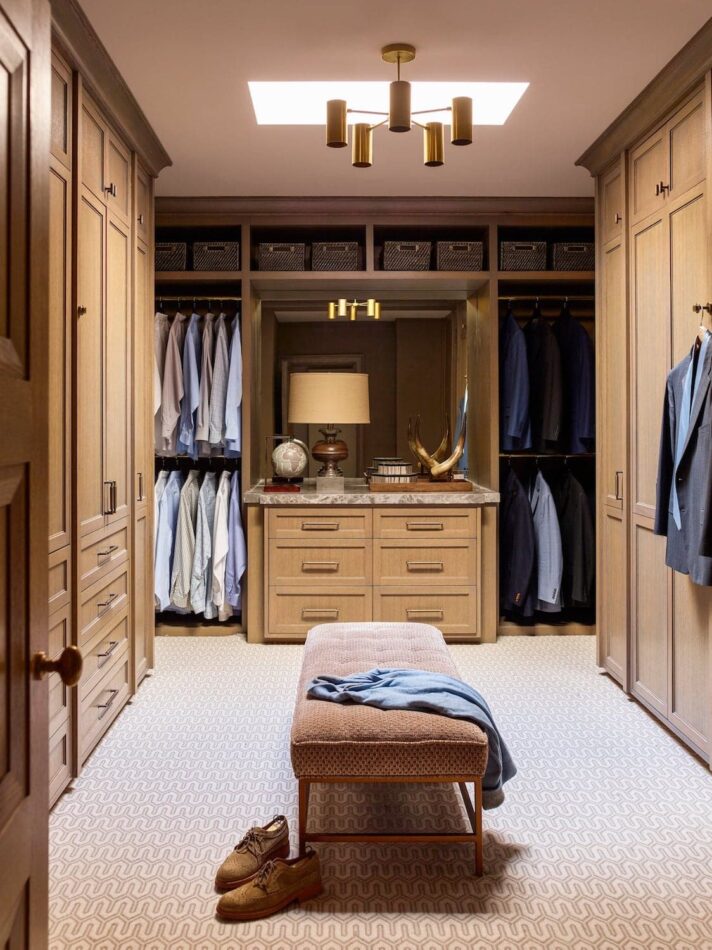 For the masculine counterpart, on the other side of the bedroom, "we wanted to create a closet that felt like a men's boutique shopping experience," the designer explains. "We created a room that is handsome and special, with accessories that make it feel like one-of-a-kind."
---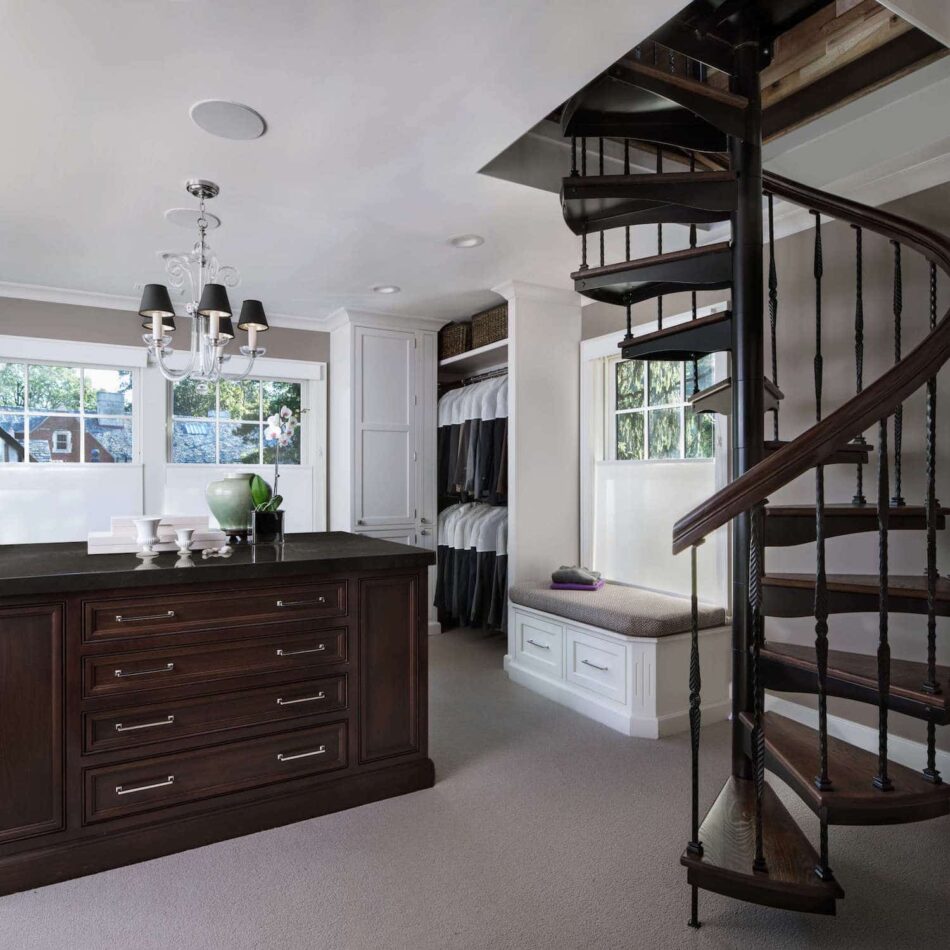 "Our young clients wanted this house to have all the modern amenities of a new build while keeping the historic integrity of the home," says Arturo Sanchez, co-owner of Art Harrison Interiors & Collection, describing the firm's mandate in redoing a circa 1914 Detroit Tudor. This massive closet and dressing space are among those modern amenities.
"Because of the other fit and finishes in the house, we had the island fabricated as one piece for a more tailored look," says firm coprincipal Barry Harrison. "The small doors on the far right also open up to hidden tie racks."
---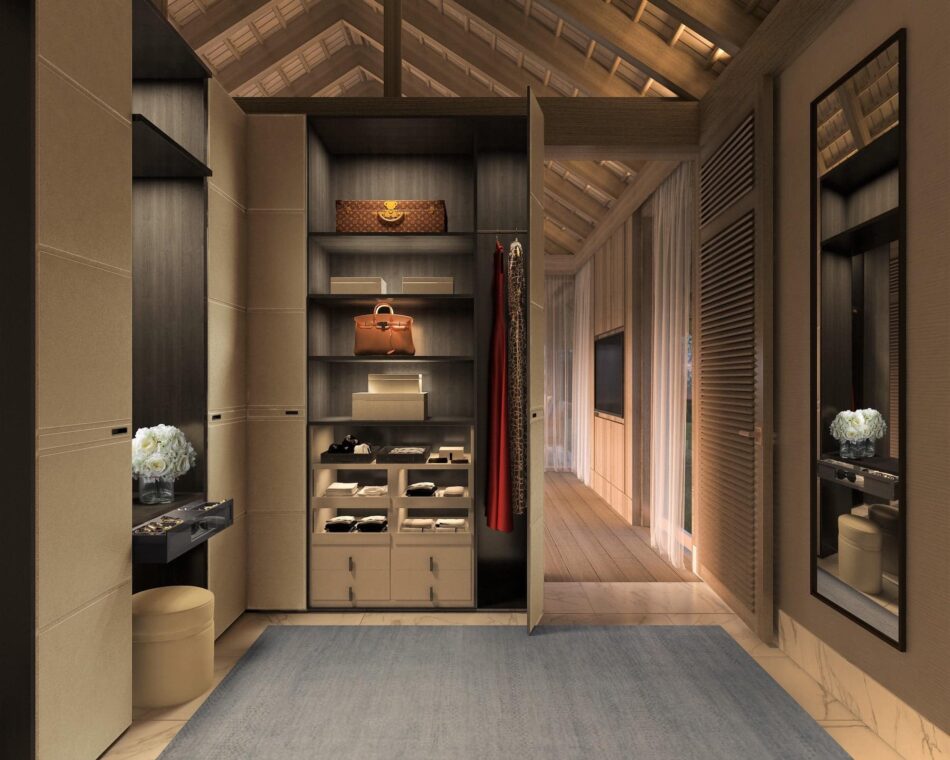 For a villa on the western edge of Bali, 11fiftynine collaborated with Italian wardrobe maker MisuraEmme to create a chic and streamlined dressing room. "We love seeing the underside of the roof and sirap [hardwood shingles]," says the design firm's studio director, Meg Jackson. "And as we were developing the interior spaces, we quickly realized we should keep the divisions low and as open as possible."
---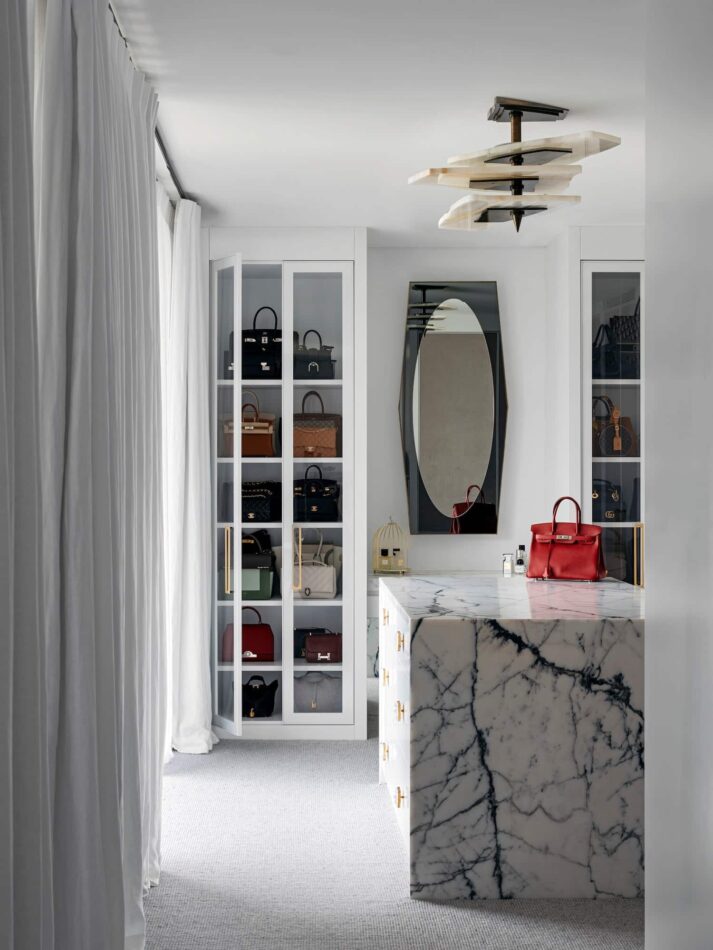 Dylan Farrell and his wife and business partner, Nicolette, aimed for glamour in this dressing room of a young family's Sydney home. And what's more glamorous than a chandelier, in this case a piece from their own collection? Equally elegant is the mirror, custom-made for the space.
"We designed the overall schematic to feel quite airy and ethereal," says Nicolette, "with the only visual 'noise' being the client's standout handbag collection."
---
"The client has a significant presence in the fashion industry," says Greg Natale, explaining his design for a Victoria, Australia, country house. "And I wanted this walk-in wardrobe to feel like their own private fashion boutique."
Richly warm ebony and brass finishes set off the stylish contemporary furnishings, which include Kelly Wearstler table lamps and a bench and stool custom designed by Natale.
---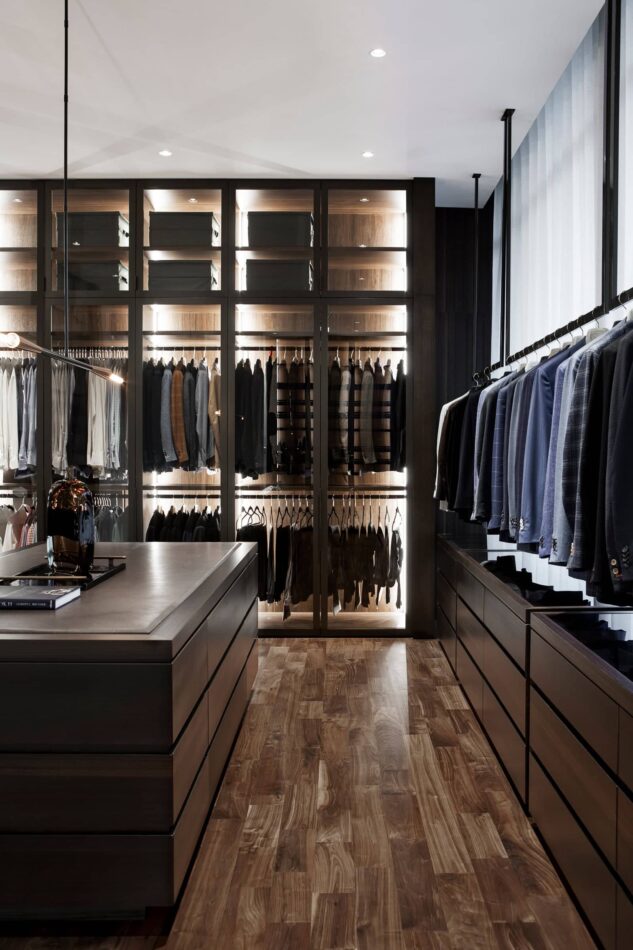 As part of her contemporary scheme for a Montreal home, Julie Charbonneau created a dressing room that embodies masculine sophistication. "We suspended racks from the ceiling," Charbonneau explains, "giving them graphic heft as they display the client's clothes like works of art."
---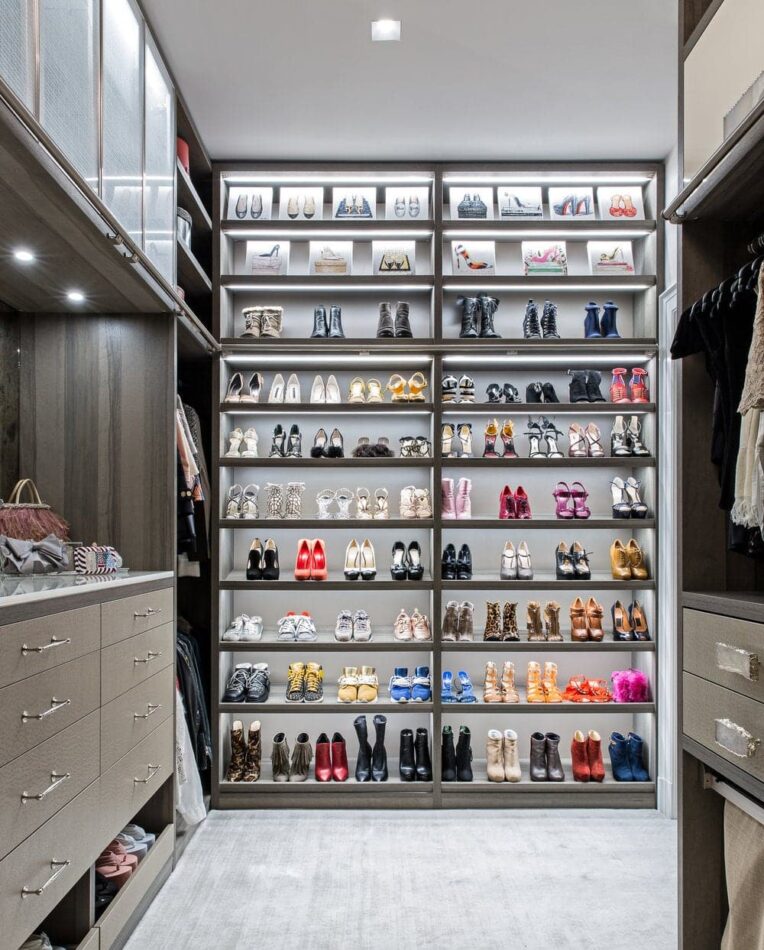 In a West Village maisonette, Becky Shea designed a closet inspired by a late, lamented epitome of high-fashion retail. "I really wanted this room to feel like you were walking into a private showing at Barney's," she says.
---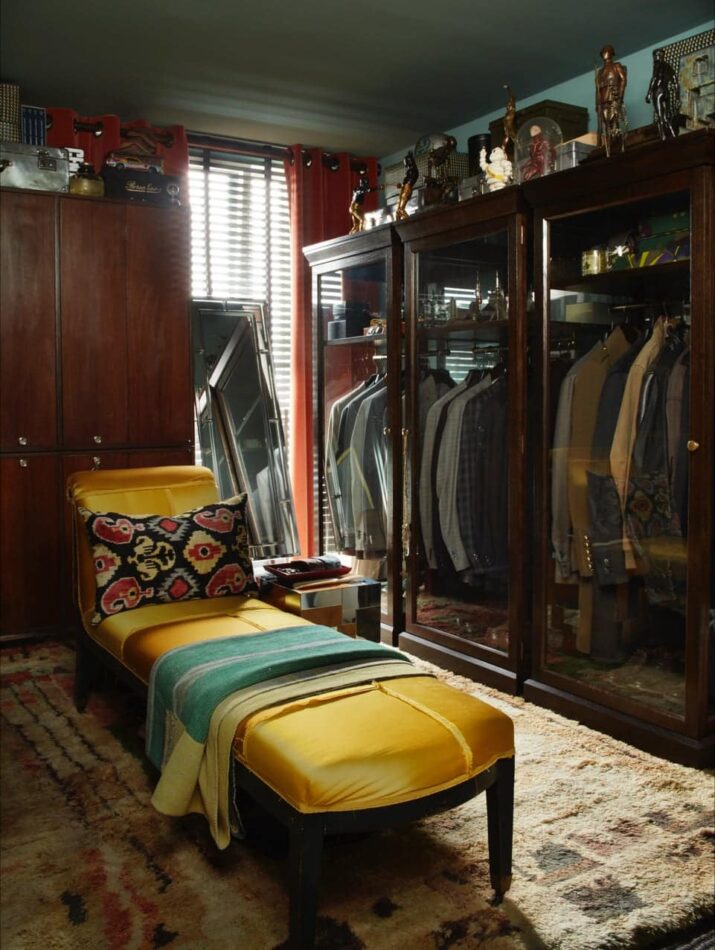 "The avant-garde dressing room in this Notting Hill apartment constitutes a layered mix of vintage and bespoke pieces, including a circa 1960 Jules Wabbes office cabinet with practical bifold door," says Hubert Zandberg's design manager, Mighal Pretorius.
Velvet curtains, a Thomas Wild Berber rug and an antique English daybed add plush comfort to the cutting-edge.
---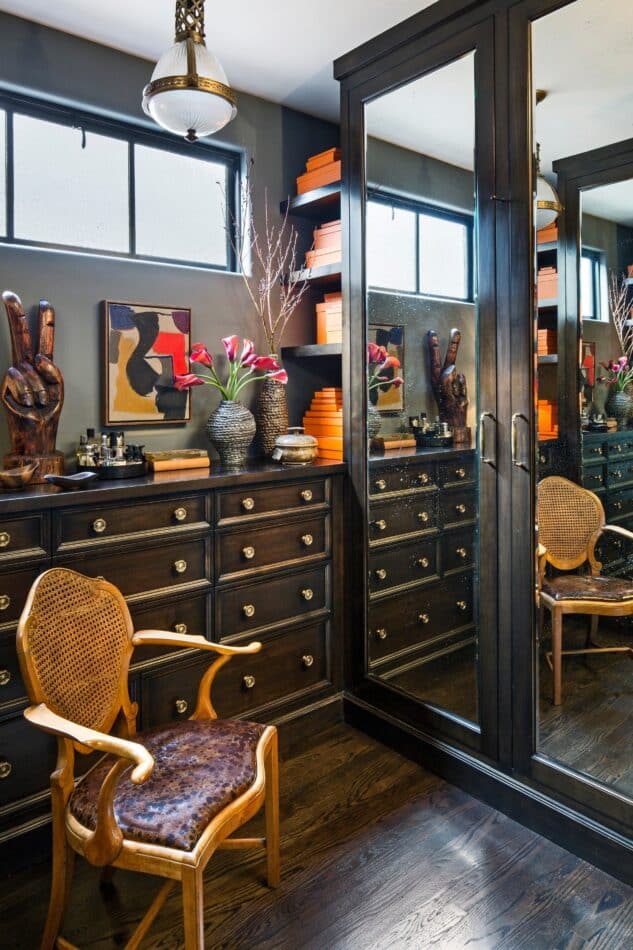 For his own Los Angeles home, Jeff Andrews created a classic gentleman's dressing room. "It's the perfect place to get ready for a fabulous night out," he says.
To outfit the space, Andrews scoured a Paris flea market, where he found the pendant, and a vintage thrift store, source of the brassy peace-sign sculpture, as well as his own stock of well-loved furniture. "I've had the chair forever," he says. "I bought it from Robert Willson at Downtown, which used to be on La Cienega."
---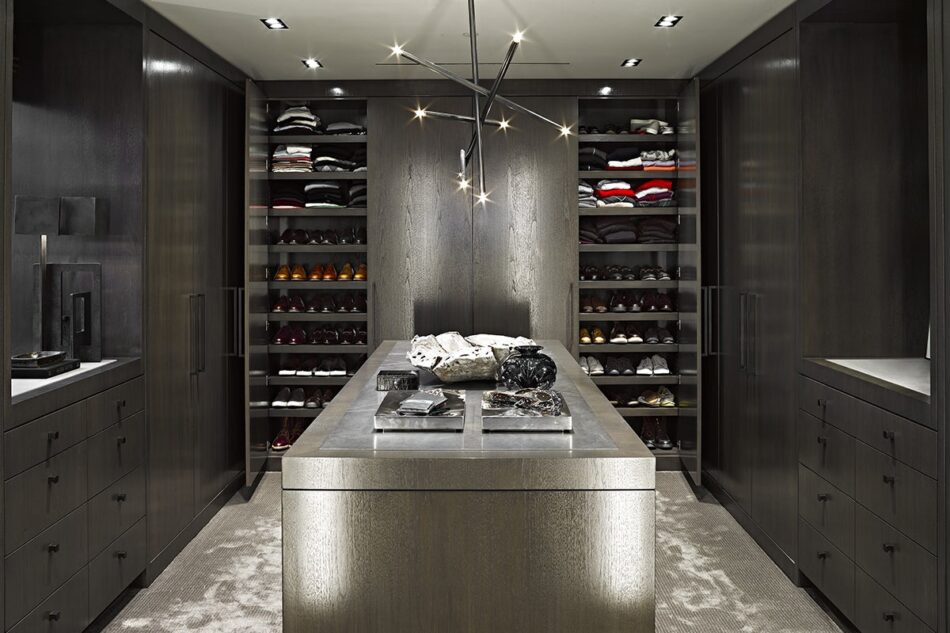 Jamie Bush looked to design maestro Tom Ford in crafting this stunning dressing room in a Trousdale Estates home. "We wanted to create a luxe, glamorous yet masculine closet for a reimagined mid-century home in Beverly Hills," he explains.
Making a Billy Cotton ceiling fixture the focal point, Bush studded the space with eye-catching moments like a vintage Angelo Brotto blackened-steel light and a brutalist ceramic dish by Peter Lane.
---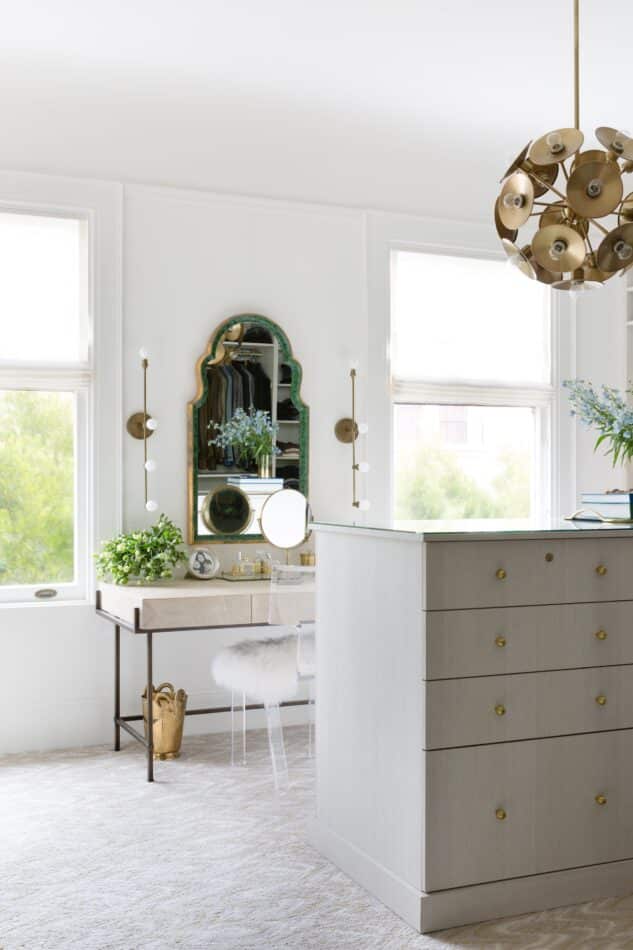 Holly Hollenbeck, principal of HSH Interiors, gave mid-century flair to her dressing room in her family's four-story 1901 Edwardian home on San Franciscos's Alamo Square with a vintage-inspired Arteriors chandelier and a 1970s mirror.
---
Tiller Dawes went full-on bespoke with this walk-in wardrobe in a historic house in Burlingame, California. Custom details include walnut paneling with zebrawood inlay, aged brass hardware, Venetian parquet floors and antique Art Deco light fixtures.
---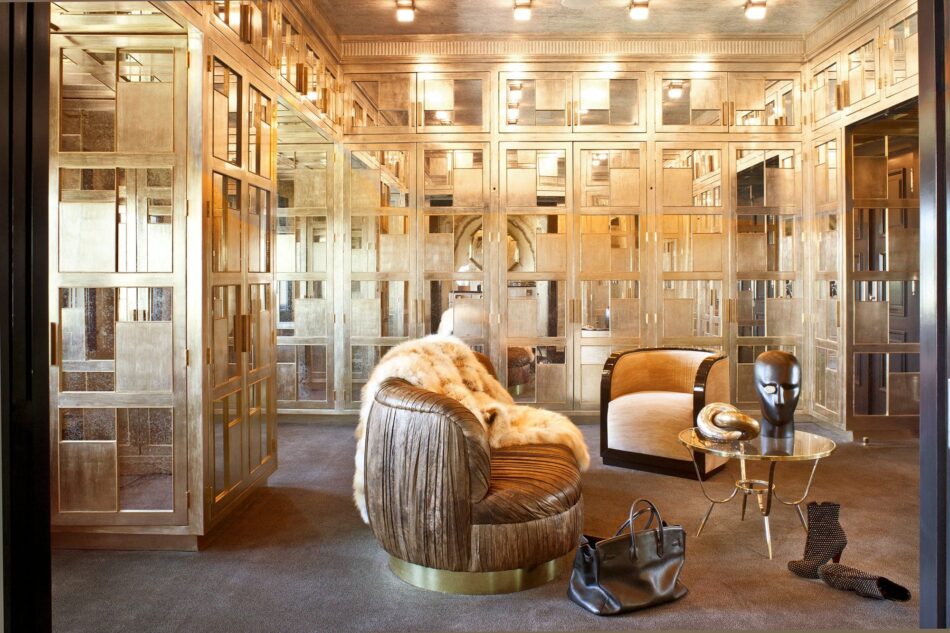 This gilded and mirrored Los Angeles closet by Kelly Wearstler features pieces from the designer's own line of furnishings, including a customized version of her ruched-leather Souffle settee.
---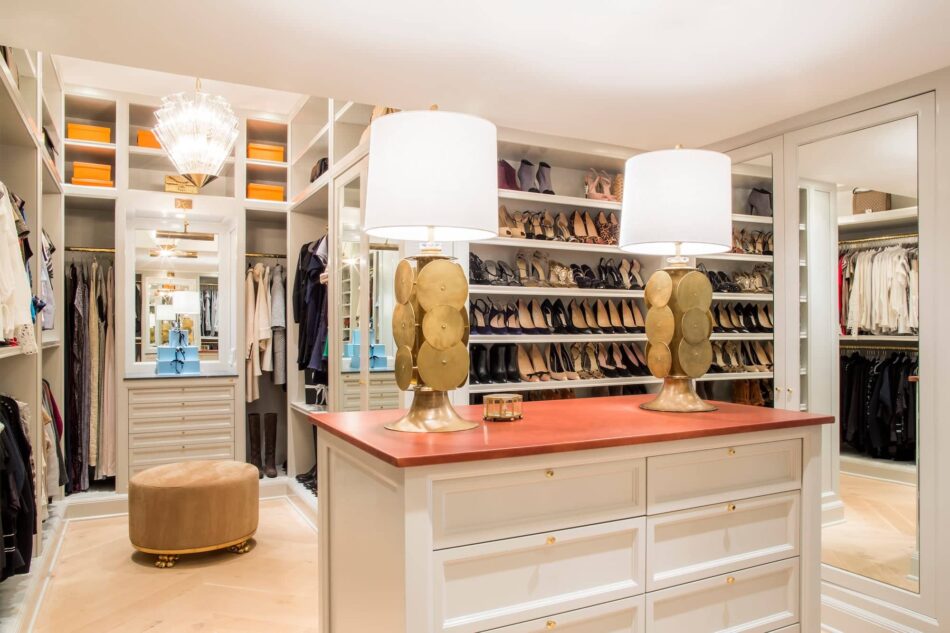 While working with Nate Berkus before opening her own firm, Sasha Adler created a glamorous walk-in in a Seattle home. For the centerpiece, she designed a leather-topped island on which she set a pair of vintage Murano glass lamps from 1stDibs. The ceiling light is by Fontana Arte.
---
Kelly Hoppen furnished the massive closet she designed for a residence in China with a vanity, a wall of mirrors and plenty of drawers, shelves and hanging space.
---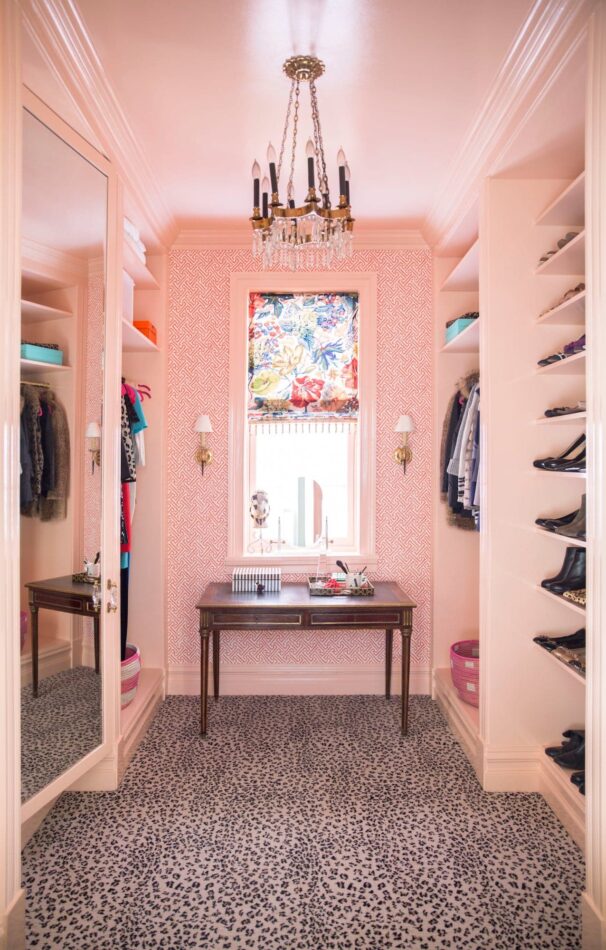 Summer Thornton enlivened this Chicago closet with pattern, care of Greek key wallpaper, leopard-print carpet and a floral shade. A candle chandelier hangs from the ceiling.
---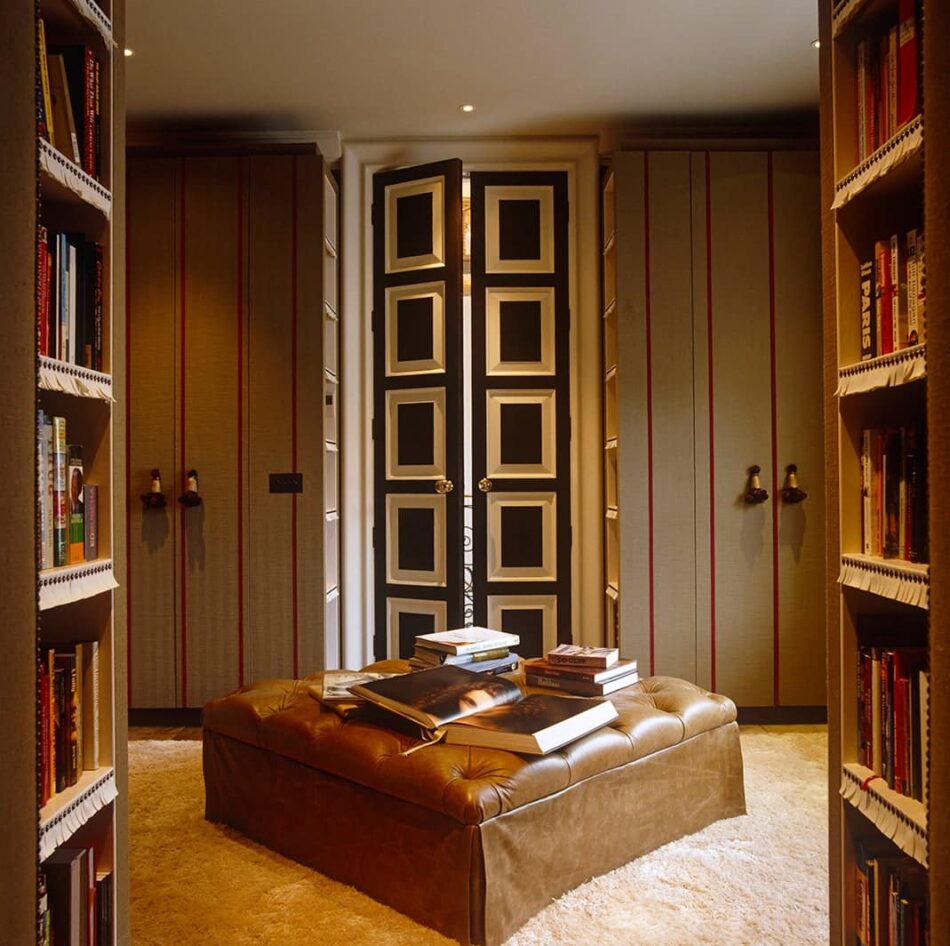 With shelves of books and a large tufted-leather ottoman, this luxe London space by NH Design is part closet, part reading lounge.
---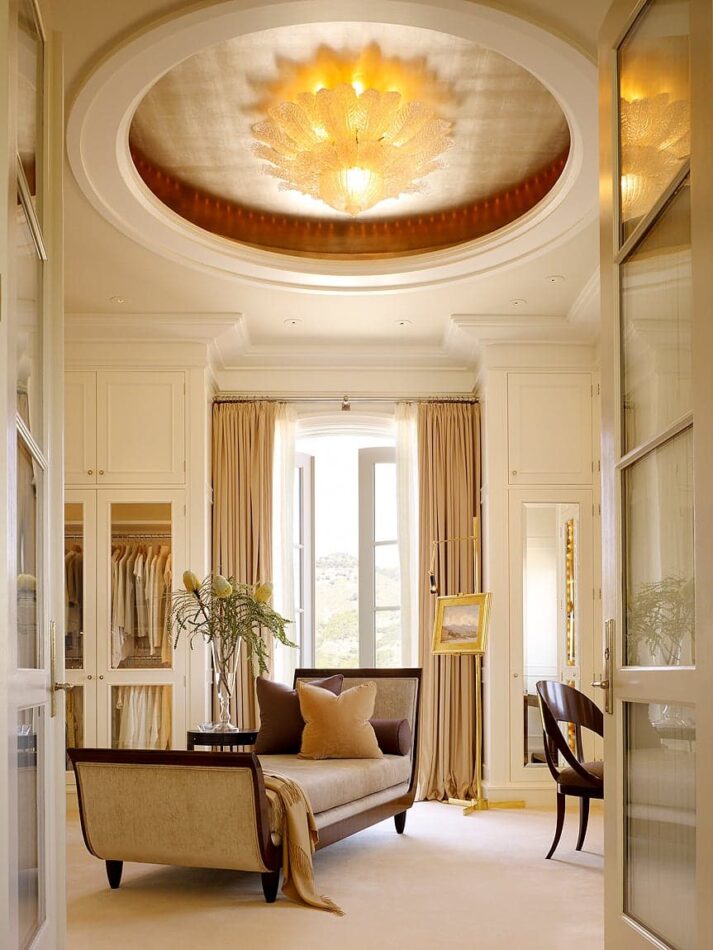 The owner of a Napa, California, home that Richard Beard completed when he was a design principal at B.A.R. Architects (he now runs an eponymous firm), requested that the interiors sport a neutral palette with interest. The Wiseman Group obliged in this dressing room with a color scheme of muted golds and creams, completing the look with a vintage glass chandelier hanging over a chenille-upholstered Art Deco daybed.
---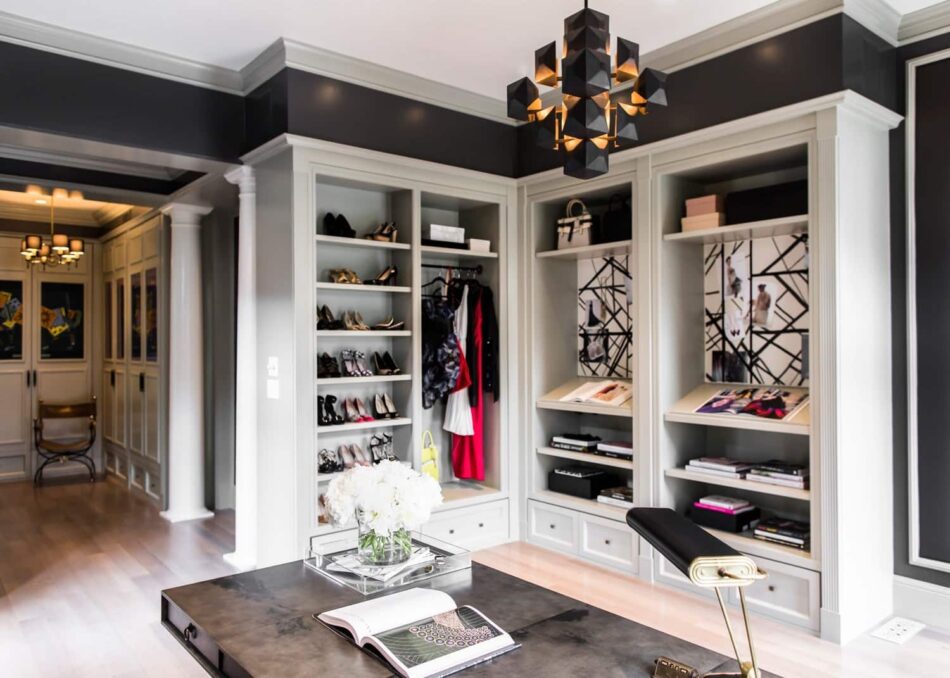 A graphic Blackman Cruz metal chandelier illuminates the wardrobe/office that Catherine Kwong Design created for the 2012 San Francisco Decorator Showcase. Custom wood cabinetry filled with fashion books, clothing and shoes lines the wall, and closet doors have inset panels displaying Hermès silk scarves. In the middle is a Julian Chichester Cortes desk topped with a vintage Eileen Gray desk lamp.
---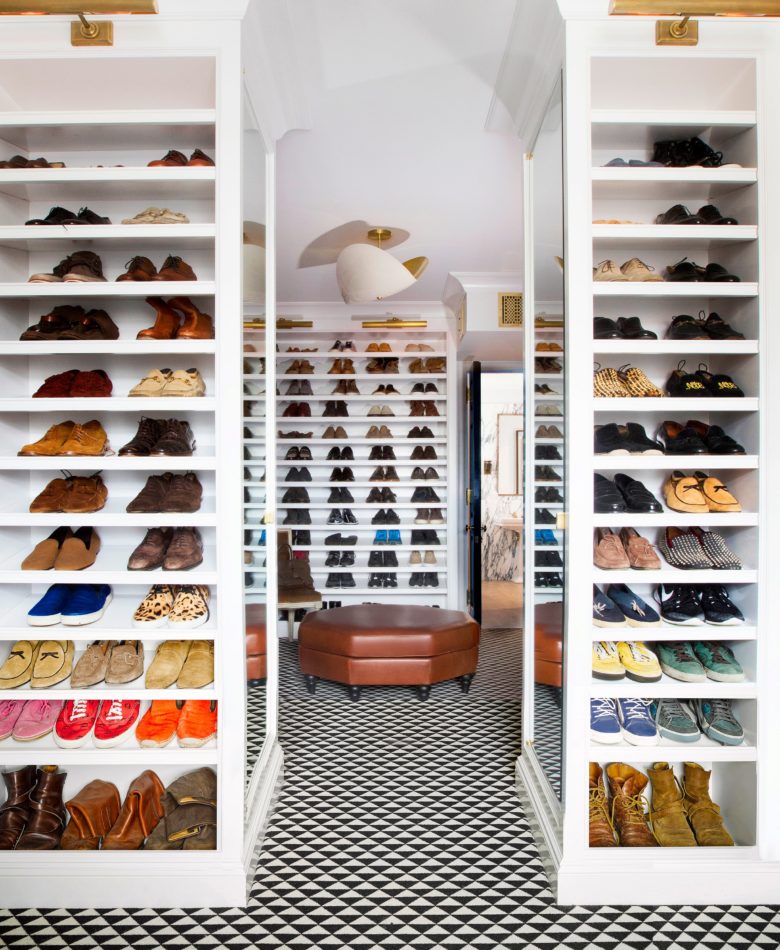 "The master dressing room in my New York apartment was almost entirely open shelving. The intention was both practical and aesthetic," Nate Berkus says of his former duplex penthouse.
"It's a wonderful thing to see every shoe and piece of clothing beautifully arranged, and the gallery lights enhance the display," he continues. "My Virgo nature makes it impossible for one thing to ever be out of place!" The carpet is by Saxony Carpet, and the large folded brass shell pendants, by Jason Koharik.
---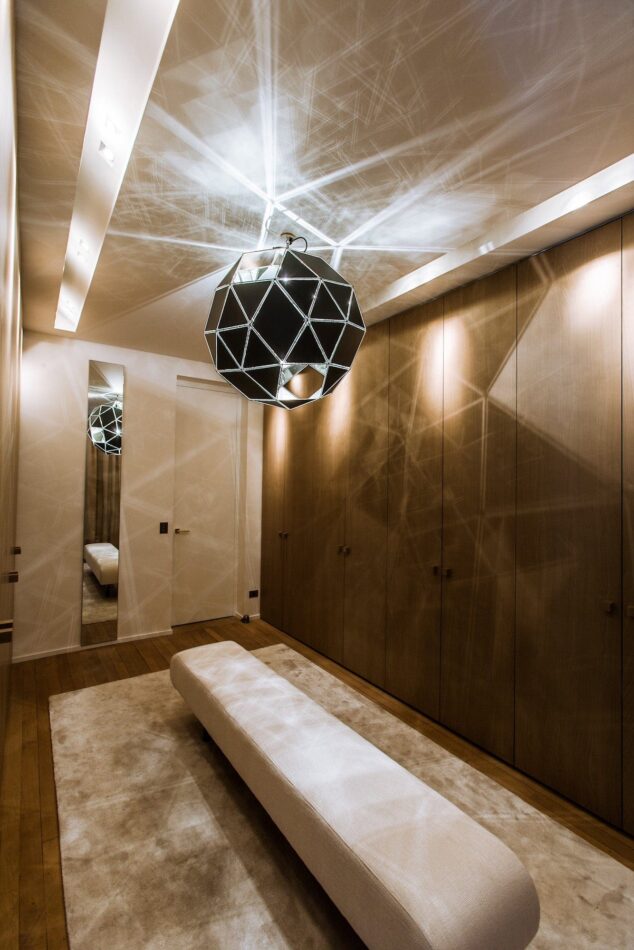 In creating this dressing room in a Paris apartment, Isabelle Stanislas started from the top. "The beginning point was the Olafur Eliasson lamp," says Stansilas, who designed the closets, giving them a gray oak finish, and the bench, which she upholstered in Dedar velvet. The silk rug is by Atelier Pinton.
---
In a West London flat, Ebba Thott and Nina Hertig, of the design firm Sigmar, created a bright, feminine dressing area deploying light wood, a pastel palette and a tufted ottoman.
In the same apartment, a skylight brightens a closet and storage room with glass-fronted wardrobe doors and herringbone wood floors.
---
In the dressing room of Martyn Lawrence Bullard's Los Angeles home, the walls are covered in a fabric he designed for Schumacher, and the flooring and island are walnut.
---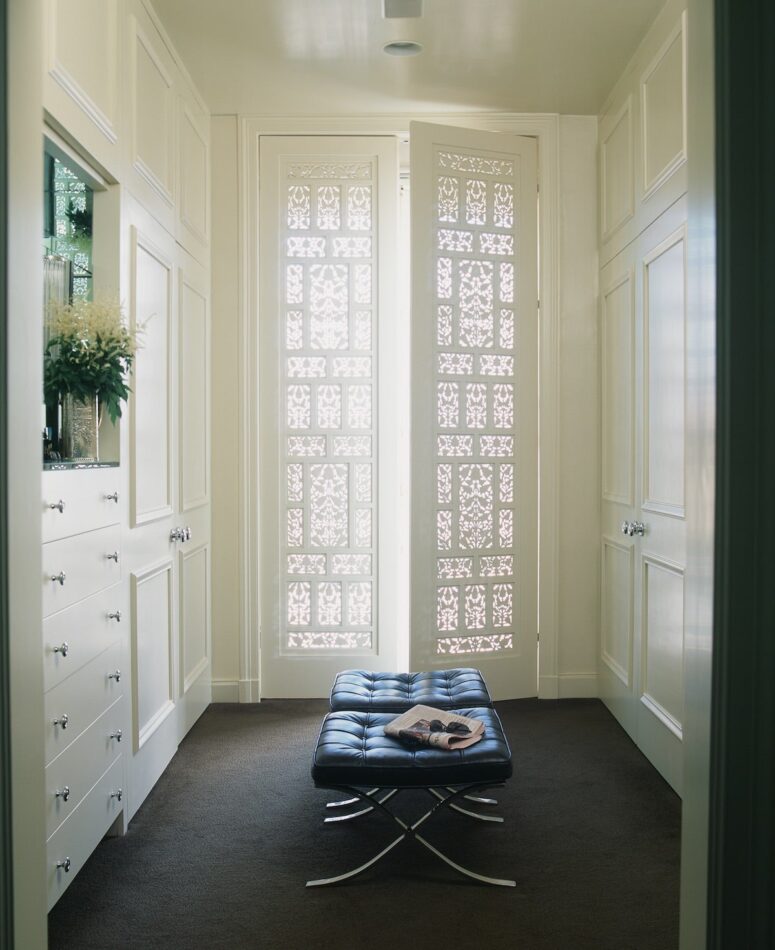 "We wanted to create an airy, floating feeling," says Jeffrey Weisman, of Fisher Weisman, explaining his vision for this south-facing dressing room in a San Francisco pied-à-terre. "There is a dramatic city view from the French doors but also a need for privacy. Our solution was to build 10-foot-tall shutters incorporating carved vintage Indian teak panels that filter the light and hint at the view beyond."
Inside the space, Barcelona stools designed by Mies van der Rohe and Lilly Reich for Knoll stand on carpet by Stark.
---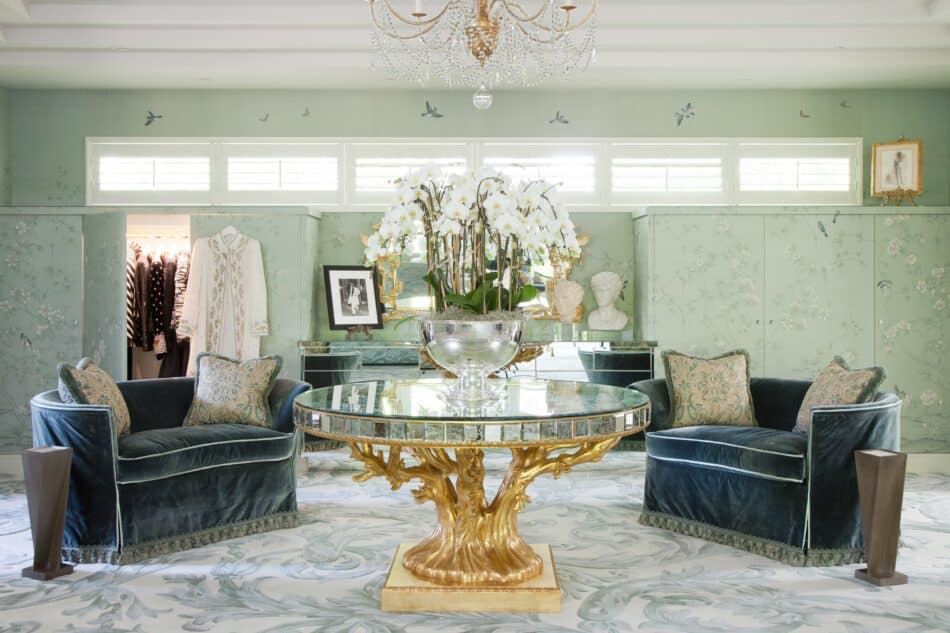 Philip Nimmo created a 2,500-square-foot "closet retreat" in Shasta Lake, California, for a client who loves all things French. Paul Montgomery hand-painted the custom paper that covers the walls and the closet doors. The room's focal point is a mirrored twig table by Erika Brunson, on either side of which are velvet love seats from Nancy Corzine and Swarovski end tables designed by Gary Hutton.
---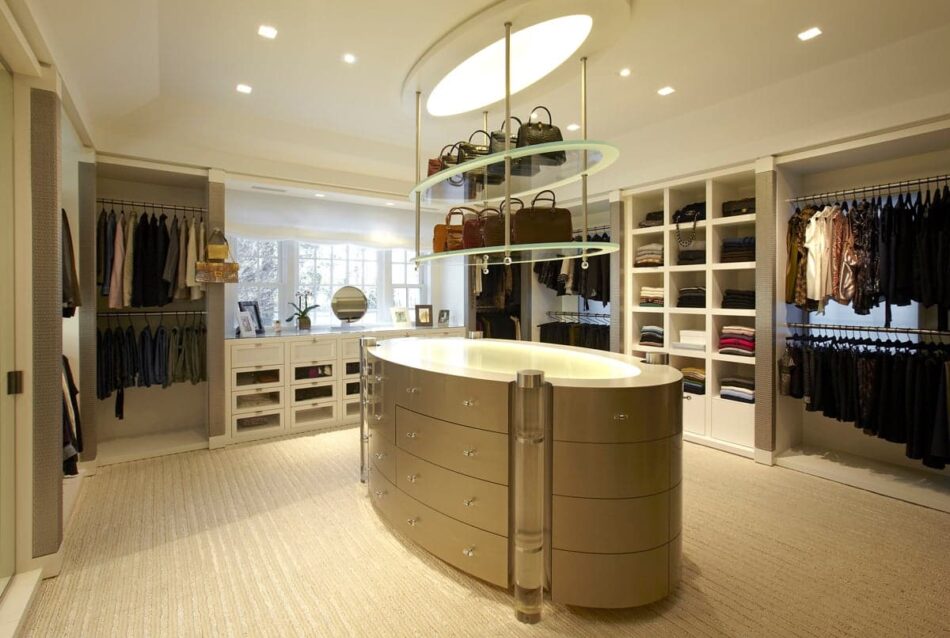 In a house in Greenwich, Connecticut, the homeowner was so desperate for new closet space that she was willing to give up the main bedroom's sitting area. Fox-Nahem Associates realized her dreams with this dressing room. "The desire was for a closet that would be practical but at the same time have a very light and boutique type of feeling," says Joe Nahem. "We believe it achieves both."
The custom island, finished in a metallic silver car paint, has a frosted glass top and Lucite legs. On the floor is a hand-knotted white wool ribbed rug installed wall to wall.
---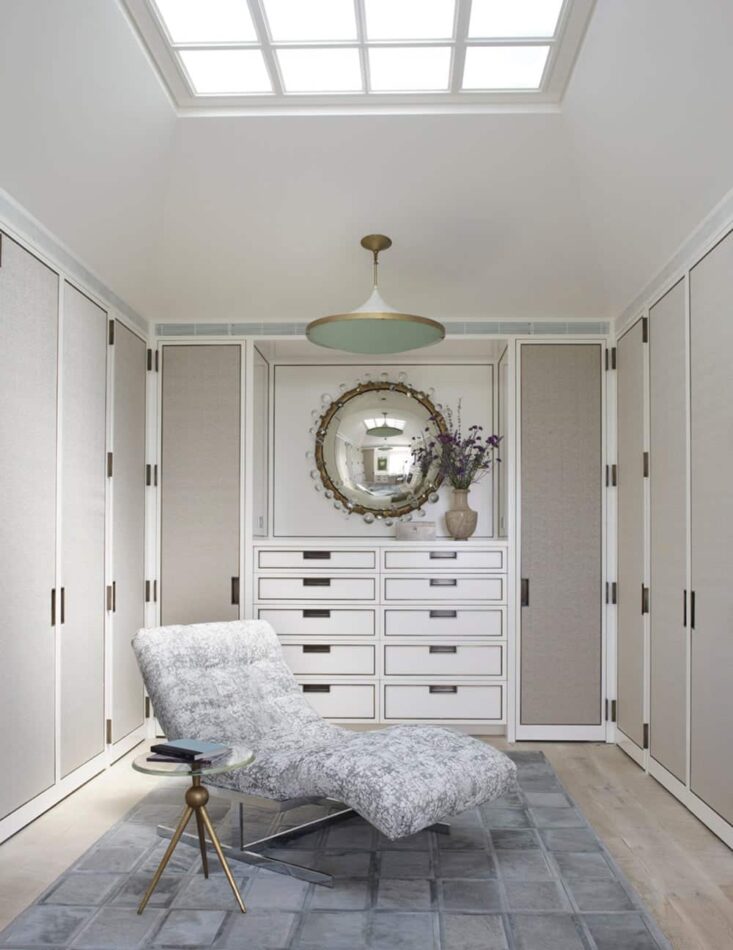 Clients tasked Cullman & Kravis with creating a space in their Sag Harbor, New York, beach house that would serve as a dressing room and office. Taking up the challenge, the designers installed upholstered closet doors with bronze surrounds to keep the clothes, shoes, TV and coffee bar elegantly concealed, adding a Fontanta Arte pendant light and a Milo Baughman chaise on a hide rug by Kyle Bunting. An Hervé Van der Straeten bronze and crystal mirror hangs above the dresser.
---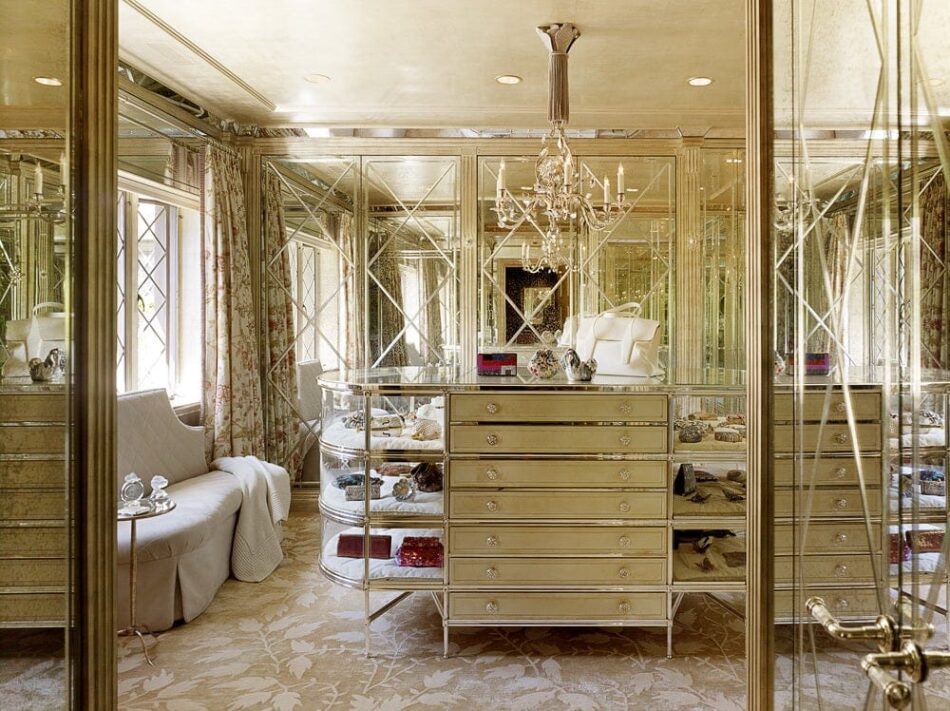 Mirrored panels, a chandelier and a pair of Knoll chaises exude stylish sophistication in this Burlingame, California, dressing room by the Wiseman Group. Glass cases in the nickel and parchment vitrine display the homeowner's collection of Judith Leiber bags.
---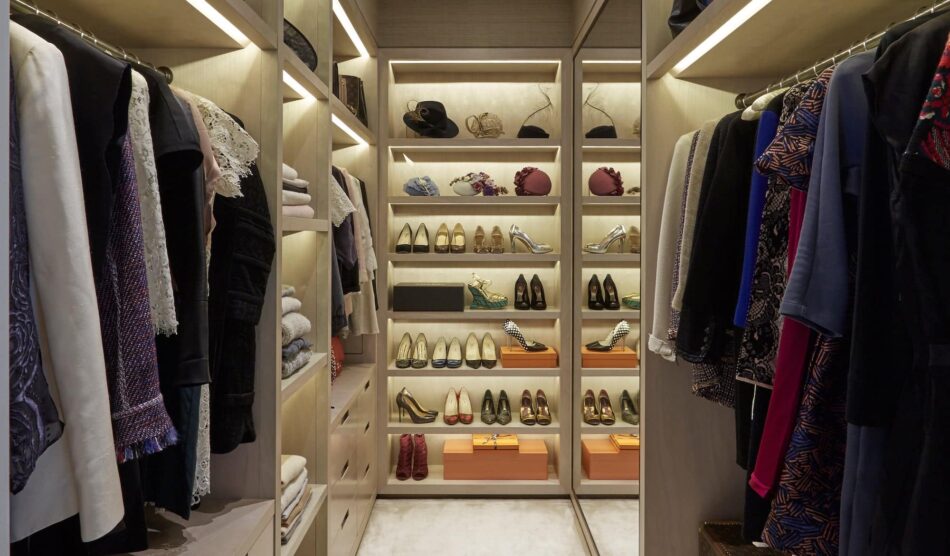 "We wanted to create a calm space that would serve as a neutral backdrop for our client's dressing room," says Anna Bilton, design director at Helen Green Design, explaining the plan for this wardrobe in a London home.
"With no natural light, it was important to create a bright space," she continues. "So we opted for our own Helen Green Design Betulla finish — a contemporary birchwood veneer with a silver gloss — for the joinery and utilized LED strip lights fitted with a diffuser to create a soft glow, which is reflected by the silk-and-wool carpet."
---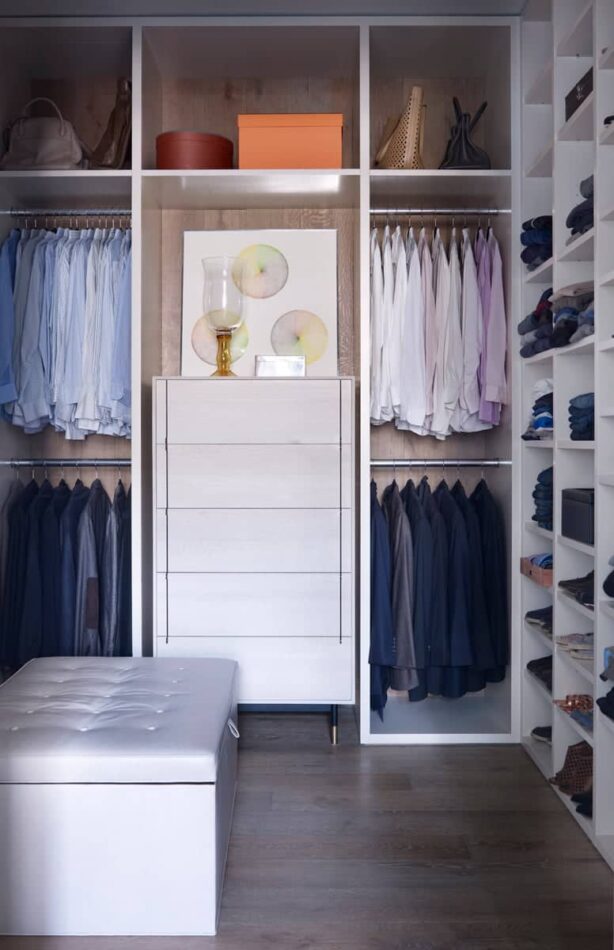 "Budget friendly" is how Shawn Henderson describes the design of this Manhattan closet. "We bought additional flooring material and lined the walls with it," he explains, "then applied lacquered dividers in front of it for contrast. We used the client's existing dresser, so it felt more unique and personal." Henderson designed the custom storage ottoman, and the dresser is by BDDW.