The average cost of an antique Albin Muller Furniture is $1,072. The price can vary from $945 and $1,200 based on the condition, age, materials and aesthetic value for a specific Albin Muller Furniture.
Piezas Unicas
Pair of Art Nouveau Goblets by Albin Muller
Albin Muller
Antique Early 1900s German Jugendstil More Dining and Entertaining
Pair of Jugendstil chalices/goblets designed by the German architect and designer Albin Camillo Muller (1871-1941), manufactured in latonized and silver plated metal by WMF, hallmarked ...
Pascale Drieux Antiquites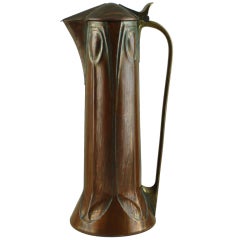 Copper & brass jug by Albin Muller
Albin Muller
Early 20th Century German Vases and Vessels
Copper, Brass
Jug with stylized motifs on the copper body,brass handle,stamped with the artist monogram & the editor name Edward Hueck