All American Co. Furniture
Tom Gibbs Studio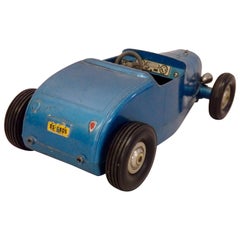 H 3.5 in. W 5 in. D 9 in.
Dimensions:
H 3.5 in. W 5 in. D 9 in.
Dealer Location:
Ferndale, MI
Materials & Techniques:
Metal
Toy Hot Rod Roadster Tether Car
All American Co.
Vintage 1950s American Mid-Century Modern Collectibles and Curiosities
Metal
Based on a 1930 Model A. Mfr by the all American company. This Hot Rod was made in the 1950s as part of the tether car craze. Sometimes cut up with gas engines installed. This piece is ...