Flowermountain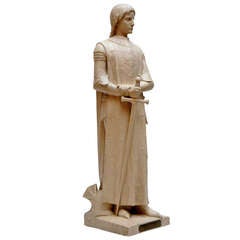 H 5 ft. 10.9 in. Dm 19.69 in.
Dimensions:
H 5 ft. 10.9 in. Dm 19.69 in.
Dealer Location:
Antwerp, BE
Materials & Techniques:
Plaster
Lifesize Plaster Sculpture Representing Joan of Ar...
Andre Besqueut
Early 20th Century French Art Deco Statues
Plaster
A lifesize plaster sculpture representing Joan of Arc as an androgynous girl dressed as a knight and wearing a fleur-de-lys covered cloak, holding a long sword in her hand. Sculpture b...