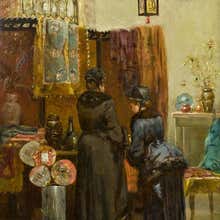 Elliott Daingerfield (USA, 1859–1932)
A child of the American South, Elliott Daingerfield was born in Harper's Ferry, Virginia, and raised in Fayetteville, North Carolina, where his father, Captain John Elliott Parker Daingerfield, commanded a Confederate Army arsenal. Growing up in the South during the Civil War and Reconstruction made an indelible impact on the young Daingerfield, who remained attached both physically and spiritually to his roots in North Carolina his entire life. Daingerfield first sought artistic instruction in Norfolk, Virginia, but soon realized that in pursuit of a career as an artist, New York offered the best resources for education and advancement. Daingerfield moved to New York in 1880, where he met Walter Satterlee (1844–1908), a Paris-trained figure and genre painter who was then an instructor at the National Academy of Design. Satterlee hired Daingerfield as his studio assistant and offered him lessons. Satterlee shortly engaged Daingerfield as an instructor in his life class at the Academy. Daingerfield also studied at the Academy and also occasionally took classes at the Art Students League. 
Daingerfield quickly made his mark on the New York art world, having the first of his works accepted to the National Academy's annual exhibitions in 1880, and another two for the 1882 exhibition. Daingerfield's career arc began to turn in 1884, when he befriended the venerable landscape painter, George Inness (1825–1894). Up until that time, Daingerfield's work had consisted primarily of genre paintings and interior scenes, but beginning with his relationship with Inness, Daingerfield began to explore painting in a tonal mode akin to Inness's Barbizon-derived landscapes. In 1897, Daingerfield took his first trip to Europe, where his already strong admiration of the works of the Barbizon artists was amplified. 
By the late 1890s, two other romantic landscape painters entered Daingerfield's pantheon: Albert Pinkham Ryder (1847–1917) and Ralph Albert Blakelock (1847–1919). Daingerfield began painting moody, moonlit landscapes rather like those of Blakelock, and spiritually charged literary and biblical scenes very much in the manner of Ryder. Daingerfield apparently was friends with both artists, and he published important early essays on their careers. What united Inness, Blakelock, and Ryder in Daingerfield's estimation was their focus on an evocation of mood and spirituality in favor of explicit meanings or narratives, and it was from their example that Daingerfield forged his own evocative and deeply spiritual (and often religious) style. 
Daingerfield enjoyed a long and productive career, exhibiting widely and winning a variety of awards. He was an esteemed teacher and lecturer, and painted murals for several churches in the New York area. Daingerfield was also an articulate critic of contemporary American art. He published books on both Inness and Blakelock, and his essays appeared in a variety of publications. Daingerfield built the first of three summer homes in the mountain community of Blowing Rock, North Carolina, in 1886, while he was recovering from diphtheria. From that time onward he spent much of his professional life near the land of his birth. Because of his Southern heritage, a large number of Daingerfield's works are in Southern museum collections, in addition to the many in public collections across the country. 
Painted in 1885, The Japanese Corner dates from Daingerfield's early career, before he had fallen completely under Inness's spell. It is a charming interior genre scene featuring two women in a curio shop as they sort through the sort of worldly bric-a-brac so often seen in the paintings of cosmopolitan American painters like Robert Blum or William Merritt Chase, who taught at the Art Students League when Daingerfield attended classes there. The setting here is in all likelihood the famous A. A. Vantine & Co. store, located on Fifth Avenue and 39th Street in Manhattan. Ashley Abraham Vantine's store, opened in 1866, was the first, and, for many years, the preeminent importer of Chinese and Japanese art and decorative arts in the city. Elbert Hubbard, founder of the Roycroft community in upstate New York, described the store in breathless terms in the Roycroft journal, The Philistine: A Periodical of Protest: "Vantine's is a bazaar, an object-lesson, a sermon, a school, a fair, an exposition — a store. There is only one objection to the place, and that is, it exhausts your stock of adjectives" (as quoted in Nancy E. Green et al., JapanAmerica: Points of Contact, 1876–1970, exhib. cat. [Ithaca, New York: Herbert F. Johnson Museum of Art, Cornell University, 2016], p. 162). 
For The Japanese Corner, Daingerfield delights in the brilliant colors and textures of the exotic array of mostly Japanese artifacts, creating a gem-like canvas, an aesthetic curio for the viewer's own delectation.
(Biography provided by Hirschl & Adler)
Creator
:
Elliott Daingerfield
The Japanese Corner
By Elliott Daingerfield
Located in New York, NY
A child of the American South, Elliott Daingerfield was born in Harper's Ferry, Virginia, and raised in Fayetteville, North Carolina, where his father, Captain John Elliott Parker Da...
Category
19th Century American Impressionist Elliott Daingerfield Art