Harvey Probber Sectional Sofas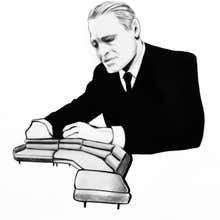 American, 1922-2003
A popular designer who had his heyday from the late 1940s into the 1970s, Harvey Probber is one of the post-war American creative spirits whose work has been recently rediscovered by collectors. His designs are by-and-large simple and elegant, but his signal achievement was to pioneer one of the key innovations of mid-20th century furniture: sectional, or modular, seating.
Even as a teenager, the Brooklyn-born Probber was making sketches of furniture designs — and selling them to Manhattan furniture companies. He began working as a designer for an upholsterer once he finished high school and, apart from a few evening classes he took as an adult at the Pratt Institute, he was self-taught about design and furniture making.
After wartime service — and a stint as a lounge singer — Probber founded his own company in the late 1940s. A lifelong familiarity with the needs of New York–apartment dwellers doubtless sparked his most noteworthy creation: a line of seating pieces in basic geometric shapes — wedges, squares, half-circles — that could be arranged and combined as needed. Modular furniture remained the core idea of Probber's business throughout his career.
As a self-trained designer, Probber was never wed to any particular aesthetic. He preferred simple lines for their inherent practicality, but often used hardware to enliven the look of his pieces, or added elements — such as a ceramic insert in the center of a round dining table — that was visually interesting and could serve as a trivet. He gravitated toward bright fabrics with attractive, touchable textures that might be satin-like or nubbly. Above all, Probber insisted that the products that came out of his Fall River, Massachusetts, factory be built to last.
"The quality of aging gracefully," Probber once told an interviewer, is "design's fourth dimension." This quality he realized: Probber furniture is just as useful and alluring now as it was when made — and maybe even more stylish.
Find a collection of vintage Harvey Probber side tables, sectional sofas, chairs and other furniture on 1stDibs.
Harvey Probber sectional sofas for sale on 1stDibs
1stDibs Harvey Probber sectional sofas are available for sale. These distinctive items are often made of
fabric
and designed with extraordinary care. In our Harvey Probber sectional sofa collection, there are many options to choose from, although
brown
editions of this piece are particularly popular. We stock 16 vintage versions of these items, while there is 0 modern edition to choose from as well. Many of Harvey Probber's original sectional sofas were created in the
mid-century modern
style in the
United States
during the
20th century
. If you are looking for additional options, many customers also consider sectional sofas by
Vladimir Kagan
,
Thayer Coggin
and
Adrian Pearsall
. Prices for Harvey Probber sectional sofas can vary depending on size, time period and other attributes. The price for these items starts at
$1,200
and tops out at
$39,500
, while pieces like these can sell for
$16,950
on average.
Creators Similar to Harvey Probber