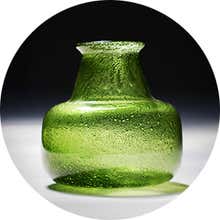 Sweden's oldest glass company, Kosta Boda, also enjoys a reputation as the country's most artistic and experimental glassmaker. Since the late 19th century, Kosta Boda has hired painters, sculptors and other artists for short stints — generally two or three years — designing glassware, ensuring that the firm's aesthetic is always lively and fresh.
Two former army officers founded Kosta Boda in 1742 in Sweden's densely forested Småland province. (Plentiful timber was needed as fuel for the melting furnaces.) The glassworks' early products consisted of everyday glassware, such as drinking vessels and windowpanes. As the company recruited master craftsmen from Bohemia, it created fine crystal for an aristocratic clientele.
Kosta Boda began making art glass — that is, unique and limited edition pieces — with the hiring of the painter Gunnar Wennerberg in 1898. Wennerberg worked in the Art Nouveau style and brought a lush, organic look to the company's wares. He was followed to the firm by artists such as Edvin Ollers, who in the early- 20th century created rich geometric and abstract floral patterns that were engraved on clear crystal.
Two post-war Kosta Boda designers stand foremost in the minds of collectors. One is Vicke Lindstrand, who excelled at a technique called cased glass, in which a vividly colored or patterned section of glass is surrounded by and seems to float within a clear crystal body. The other is Erik Höglund, who had an almost artisanal eye for glass shapes, and liked to produce glass that had a textured, warped look. As you will see from the many pieces available on 1stDibs, Kosta Boda created works in an astonishing array of styles, with something to suit any taste.
Kosta Boda furniture for sale on 1stDibs
Furniture Kosta Boda are available on 1stDibs for sale. These distinctive objects are often made of
glass
and are designed with extraordinary care. In our Kosta Boda collection, there are many options to choose from, although
gray
editions of this piece are particularly popular. In-stock of these items we have 144 vintage editions, while there is also 0 modern edition to choose from. Many of the original furniture by Kosta Boda were created in
Europe
during the
20th century
in
Scandinavian Modern
style. If you are looking for additional options, many customers also consider furniture by
Upsala Ekeby
,
Carl-Harry Stålhane
and
Stig Lindberg
. Prices for Kosta Boda furniture can vary depending on size, time period and other attributes. The price for these items starts at
$120
and tops out at
$7,500
, while pieces like these can sell for
$823
on average..
Creators Similar to Kosta Boda