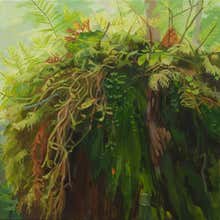 American, b. 1959
Kristin Musgnug (born 1959, Buffalo, NY) received a BA in art history from Williams College, MA, in 1981, and an MFA in painting from Indiana University in 1988. From 1988 to 1990, she was an artist-in-residence at the Glassell School's Core Program, Museum of Fine Arts, Houston. Solo exhibitions include the Marko Cepenkov Center of Culture in Prilep, Macedonia (1996); "Uses of Nature," Galveston Arts Center, Galveston, TX (1998); Kansas State University, Manhattan, KS (1999); "Un-Natural Histories: Paintings of Invasive Species," University of Arkansas, Fayetteville, AR (2010); and the North Cascades Institute Environmental Learning Center, Diablo Lake, WA (2015). Her work is included in the collections of the Museum of Fine Arts, Houston, and the Art Museum of South Texas, Corpus Christi, TX. Musgnug lives in Fayetteville, AR, where she is Professor of Painting at the University of Arkansas.
(Biography provided by Inman Gallery)
Moss-Topped Stump
Located in Houston, TX
Kristin Musgnug Moss-Topped Stump, 2016 oil on canvas, 30 x 30 inches From the press release for the current gallery exhibition: In the popular imagination, the forest is oft...
Category
21st Century and Contemporary Contemporary Kristin Musgnug Art
Fallen Trees
Located in Houston, TX
Category
21st Century and Contemporary American Realist Kristin Musgnug Art
Previously Available Items
Artists Similar to Kristin Musgnug