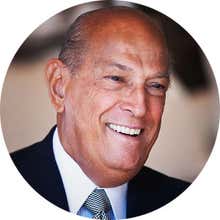 American, 1932-2014
Oscar de la Renta was not just a designer for the ages but a designer for women of all ages — from Hollywood starlets to silver-haired doyennes, from fashion icons (Sarah Jessica Parker) to iconic brides (Amal Alamuddin Clooney), from leading ladies of hip-hop (Nicki Minaj) to First Ladies of the United States (Jacqueline Kennedy all the way through to Michelle Obama). The secret to his broad and enduring appeal? "I have always thought that my role as a designer is to do the very best I can for a woman," de la Renta told 1stDibs in a 2010 profile.
And for de la Renta, doing the very best meant making a woman feel beautiful, glamorous and full of confidence, whether she was walking down the red carpet or a crowded city street. "You carry the clothes, the clothes don't carry you," he went on to say in our story.
A perennial favorite on 1stDibs, Oscar de la Renta designs evolved over the years, as the large selection of items below attests, but whether bolero or ball gown, vintage or current, the pieces exude elegant sophistication and enduring originality — much like the man himself.
Find a collection of vintage Oscar de la Renta evening dresses and gowns, skirts and other clothing and accessories on 1stDibs.
Designer
:
Oscar De La Renta
Oscar De La Renta skirts for sale on 1stDibs
1stDibs offers an extraordinary range of authentic Oscar De La Renta skirts. If you're browsing our collection of unique vintage and
designer fashion
to elevate your daily look or to introduce new colors to the dazzling formal wear in your
wardrobe
, this designer's body of work includes elements of blue, pink, red and other tones. Customers who are interested in this designer might also find the work of
Valentino
,
Karl Lagerfeld
and
Yves Saint Laurent Rive Gauche
appealing. Find designer Oscar De La Renta skirts from
top boutiques
around the world on 1stDibs, vintage and haute couture. On 1stDibs, the price for these items starts at US
$130
and tops out at US
$2,100
, while the average work can sell for US
$400
..
Designers Similar to Oscar De La Renta