Waterford Crystal Table Lamps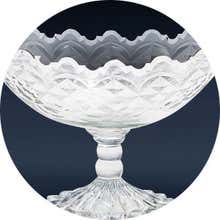 Waterford (Ireland)
Among glassware aficionados, the name Waterford has earned a place of eminence — both for antique crystal made by the original Irish company in the 18th and 19th centuries, and for new versions of the firm's classic patterns produced after its rebirth in the 1940s. With either iteration, Waterford is a byword for traditional elegance.
Waterford crystal was born of a tax loophole. In 1783, business-minded brothers George and William Penrose founded the Waterford Glass House in southeastern Ireland because Irish glass was exempt from steep British import duties. The two wanted to make fine-quality wares and hired artisans from England, including master glassmaker John Hill. The factory's flint glass — a precursor to lead crystal — soon won a clientele among British and continental aristocrats. One of Hill's aesthetic innovations was to polish glassware after a pattern was cut, to buff off the resulting frosted surface. The look became a Waterford trademark. Through the fame of its wine goblets, claret jugs and decanters, the firm continued to win honors at the many industrial expositions of the early Victorian era. But over those years, higher and higher luxury excise taxes were placed on fine crystal. Waterford products became prohibitively expensive, and the company closed in 1851.
The brand's renown was still intact when it was revived in 1947 by a Czech glass manufacturer named Charles Bacik, who moved to Ireland after the Communist takeover of his country. For centuries, the region now called the Czech Republic had been the great glassware center of Middle Europe — source of crystal to great Viennese glass design firms such as Lobmeyr and Bakalowits. So Bacik brought with him the master glassblower and designer Miroslav Havel. In Dublin, Havel studied the old Waterford style book archives kept in the National Museum. He used these classic patterns as the basis for new ones such as Lismore, with its crosshatching and flame-like vertical cuts, and Alana, with its heavily textured diamond cuts. Past and present are thus linked at Waterford. As you will see on 1stDibs, antique or recently made, Waterford crystal is the essence of refinement.
Creator
:
Waterford Crystal
Traditional Waterford Crystal Pineapple Style Large Table Lamp
By Waterford Crystal
Located in Hopewell, NJ
Classically beautiful traditional large crystal table lamp marked Waterford having an impressive pineapple motife base and silk shade. Lamp is 9" diameter.
Category
1990s North American Waterford Crystal Table Lamps
Pair of Waterford Hollywood Regency Style Column Form Table Lamps
By Waterford Crystal
Located in Stamford, CT
Pair of Waterford Hollywood Regency style column form table lamps in the neoclassical manner. Each of these sleek and lean table lamps have brass framed crystal bases and upper frame...
Category
Late 20th Century American Neoclassical Waterford Crystal Table Lamps
Ruby Red Glass Signed Waterford Table Lamp
By Waterford Crystal
Located in Stamford, CT
Ruby red glass waterford table lamp. The center red vase signed Waterford mounted with chrome upper and lower supports.
Category
Late 20th Century French Hollywood Regency Waterford Crystal Table Lamps
Previously Available Items
Creators Similar to Waterford Crystal