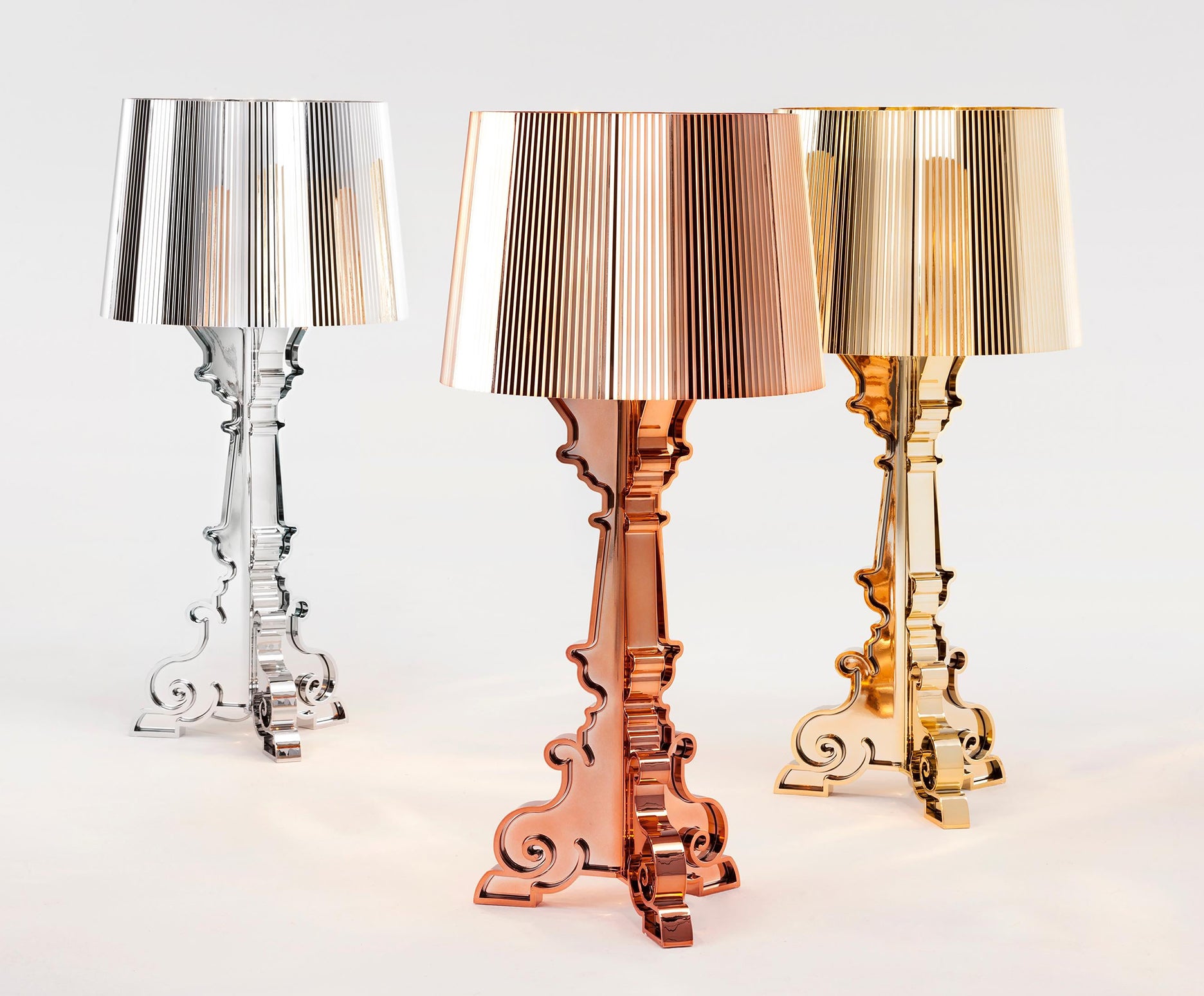 Iconic Designs
Bourgie Lamp
About the Design
Inspired by Ashford and Simpson's 1977 disco hit "Bourgie, Bourgie," the Bourgie lamp by Italian designer Ferruccio Laviani (b. 1960) is a cheeky take on modern consumerism in the Western world. Laviani explained that he wanted to juxtapose our desire for wealth and status against our ever-increasing reliance on Chinese manufacturers to produce our so-called luxury goods. This, of course, was an irony that he deftly reveals with the lamp's excessively showy baroque style and mass-market plastic material.
Laviani designed the Bourgie in 2003 for the Milan-based furniture company, Kartell, where he'd been working for 12 years, first as an exhibition designer and later as a furniture designer and art director. Kartell designers work mostly in plastics and thermoplastics, and the Bourgie lamp was no exception. For his Bourgie, Laviani used either a transparent or batch-dyed polycarbonate, which is both easy to recycle and incredibly durable. The lamp is currently offered in nine colorways that range from a simple translucent to a carousel of gold, turquoise, fuschia and orange. 
Laviani told the New York Times that Dolce & Gabbana was a client when he conceived of the Bourgie lamp. "They came from baroque roots; it's a part of the DNA of their company," he said of the Italian luxury fashion house. "I always say I would never use gold if I'd never worked with Dolce & Gabbana. When I worked with gold in the Bourgie lamp, I was no longer afraid to use gold. I learned how to use it. It's okay." 
Each variation of the shade casts different playfully colored shadows, making the lamp a statement piece for a living room or office.
Born in 1960 in Cremona, Italy, Laviani studied at a number of prestigious schools, eventually earning a degree in architecture from the Polytechnic University of Milan in 1986. Since then, he has worked with a number of manufacturers and design companies as an architect and product and interior designer. 
In 2013, Kartell invited 14 contemporary designers to reimagine the Bourgie lamp in their own style to celebrate the lamp's 10-year anniversary. Philippe Starck, Christophe Pillet, Patricia Urquiola and Nendo were a few to take on the challenge, creating wild, whimsical and worshipful renditions of the classic.
Ferruccio Laviani Bourgie Lamp