Heywood-Wakefield Co. Furniture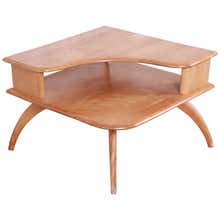 Created by the 19th-century merger of two venerable Massachusetts furniture makers, Heywood-Wakefield was one of the largest and most successful companies of its kind in the United States. In its early decades, the firm thrived by crafting affordable and hugely popular wicker pieces in traditional and historical styles. In the midst of the Great Depression, however, Heywood-Wakefield reinvented itself, creating instead the first modernist furnishings to be widely embraced in American households.
The Heywoods were five brothers from Gardner, Massachusetts, who in 1826 started a business making wooden chairs and tables in their family shed. As their company grew, they moved into the manufacture of furniture with steam-bent wood frames and cane or wicker seats, backs and sides. In 1897, they joined forces with a local rival, the Wakefield Rattan Company, whose founder, Cyrus Wakefield, got his start on the Boston docks buying up lots of discarded rattan, which was used as cushioning material in the holds of cargo ships, and transforming it into furnishings. The conglomerate initially did well with both early American style and woven pieces, but taste began to change at the turn of the 20th century and wicker furniture fell out of fashion. In 1930, the company brought in designer Gilbert Rohde, a champion of the Art Deco style. Before departing in 1932 to lead the Michigan furniture maker Herman Miller, Rohde created well-received sleek, bentwood chairs for Heywood-Wakefield and gave its colonial pieces a touch of Art Deco flair.
Committed to the new style, Heywood-Wakefield commissioned work from an assortment of like-minded designers, including Alfons Bach, W. Joseph Carr, Leo Jiranek and Count Alexis de Sakhnoffsky, a Russian nobleman who had made his name in Europe creating elegant automotive body designs.
In 1936, the company introduced its "Streamline Modern" group of furnishings, presenting a look that would define the company's wares for another 30 years. The buoyantly bright, blond wood — maple initially, later birch — came in finishes such as amber "wheat" and pink-tinted "champagne." The forms of the pieces, at once light and substantial, with softly contoured edges and little adornment beyond artful drawer pulls and knobs, were featured in lines with names such as "Sculptura," "Crescendo" and "Coronet." It was forward-looking, optimistic and built to last — a draw for middle-class buyers in the Baby Boom years. 
By the 1960s, Heywood-Wakefield began to be seen as "your parents' furniture." The last of the Modern line came out in 1966; the company went bankrupt in 1981. The truly sturdy pieces have weathered the intervening years well, having found a new audience for their blithe and happy sophistication.
Find a collection of vintage Heywood-Wakefield desks, chairs, tables and other furniture on 1stDibs.
Creator
:
Heywood-Wakefield Co.
Heywood-Wakefield Co. furniture for sale on 1stDibs
Hey
wood
-Wakefield Co. furniture is available for sale on 1stDibs. These distinctive objects are often made of
wood
and designed with extraordinary care. There are many options in our Hey
wood
-Wakefield Co. collection to choose from, although
brown
editions of this piece are particularly popular. We have 165 vintage editions of these items in-stock, while there is 0 modern edition to choose from as well. Many of the original furniture by Hey
wood
-Wakefield Co. were created in
North America
during the
20th century
in the
Mid-Century Modern
style. If you are looking for additional options, many customers also consider furniture by
John Widdicomb
, Winchendon Furniture (Planner Group) and
Kipp Stewart
. The prices for Hey
wood
-Wakefield Co. furniture can vary depending on size, time period and other attributes. Price for these items starts at US
$325
and tops out at US
$29,500
, while pieces like these can sell for US
$1,850
on average.
Creators Similar to Heywood-Wakefield Co.