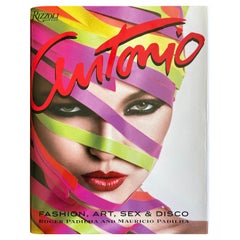 Antonio Fashion Art Sex and DIsco Rizzoli Out of Print Large Book
Antonio Fashion Art Sex and DIsco Rizzoli Out of Print Large Book
About
Antonio Lopez: Fashion, Art, Sex & Disco, by Roger Padilha and Mauricio Padilha. Foreword by André Leon Talley; epilogue by Anna Sui. New York: Rizzoli, 2012, 304 pages.9.9 x 1.3 x 12.4 inches. "The first complete monograph on Antonio Lopez, the influential Warholian fashion illustrator of the 1960s, '70s, and '80s. Best known for dazzling illustrations in Women's Wear Daily, Vogue, the New York Times, Interview, and for high fashion labels, Antonio Lopez (1943–1987) was a force majeur in the fashion world for three decades. In the '60s, Lopez's vibrant illustrations helped usher youth culture into the pages of magazines, setting a new, free-flowing, sexually liberated standard for fashion imagery. Living in Paris during the 70s with his creative partner Juan Ramos, Lopez launched the modeling careers of Jerry Hall, Grace Jones, and Jessica Lange among others, worked with design royalty like Karl Lagerfeld and Yves Saint Laurent, and cultivated a soigné nightlife persona in the blistering-hot underground clubs of Paris. Returning to New York City in 1976, Antonio documented the sexy influence of athletic-wear, puffy, down coats, and break-dancing style, inspiring such designers as Norma Kamali and Anna Sui. Widely recognized during this period as the world's most influential fashion illustrator, Antonio's work took on a deeper, more sculptural dimension in the 80s, richly detailed, with a vivid palette, and heroic proportions and poses. So deft and varied in his expression, Antonio Lopez simultaneously executed campaigns for labels as diverse as Norma Kamali, YSL, Valentino, Missoni, and Versace—an unprecedented feat in a highly competitive industry. The prolific Lopez produced an incredible number of drawings, illustrations, paintings, photographs, and fantastic mixed-media journals, and this book showcases his most iconic works, as well as never-before-seen Instamatic photos, behind-the-scenes Polaroids, letters, and ephemera which, together, provide an understanding of the career trajectory of an extraordinarily talented artist, and convey Antonio Lopez's enduring influence on fashion today. "I'm from the generation that came to New York to meet their idols. In my case it was Andy Warhol and Antonio Lopez." —Anna Sui"
Details
Designer:

Brand:

Place of Origin:

Period:

Condition:

Seller Location:

Reference Number: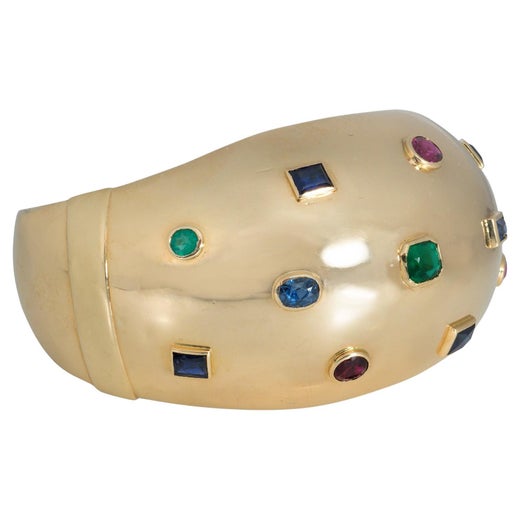 Shop All Suzanne Belperron
About the Designer
Suzanne Belperron
Suzanne Belperron (1900–83) may not be a household name, but anyone who knows jewelry will recognize her as one of the industry's 20th-century greats. She was born Suzanne Vuillerme in Saint-Claude, France, a center of the French diamond-cutting industry. Displaying an early talent for design, Belperron studied at the Besançon École des Beaux-Arts before moving to Paris and landing her first job as a model-maker and designer at French jewelry house Boivin when she was 19. Within a few years, she was named codirector — a meteoric rise that would jump-start her legacy.
In 1932, Belperron left Boivin to partner with gemstone and natural pearl dealer Bernard Herz, with whom she would develop her distinct avant-garde aesthetic. Unlike most jewelry designers of the day, Belperron decided against signing her works, feeling so confident in her uniqueness that she declared, "My style is my signature." Her exceptionally dramatic works were nothing like the angular Art Deco pieces that were popular at the time, taking on large-scale sculptural forms and featuring various design motifs from cultures around the world. The designer was a favorite of couturier Elsa Schiaparelli, who modeled her Belperron jewelry in Vogue in 1933. (Belperron jewels would grace the cover of Vogue Paris in 1934.) She would also count Diana Vreeland and Wallis Simpson, the Duchess of Windsor, among her fans.
World War II changed everything. When the Germans occupied Paris, the Jewish Herz transferred the company to Belperron in order to preserve the business. Both would later be arrested by the Nazis. Belperron was released; Herz was sent to the Drancy internment camp. He later died at Auschwitz, despite Belperron's best efforts to get him released.
Belperron kept the firm going during the war and after its end Herz's son, Jean — a released prisoner of war — became Belperron's equal partner per Bernard Herz's final wishes. The two would work together under the name Jean Herz-Suzanne Belperron for the rest of her career. In 1963, Belperron was awarded the rank of Chevalier de la Légion d'Honneur, and she quietly retired in 1974.
In 1987, there was a resurgence of interest in Belperron's work, thanks to the auction of the Duchess of Windsor's personal collection, which included at least 16 pieces by the designer. In 1999, Ward Landrigan of Verdura acquired both the rights to the Belperron name as well as a design archive of thousands of drawings, leading to the relaunch of the brand in 2015 with a new salon on Fifth Avenue in New York.
Find Suzanne Belperron rings, brooches and other jewelry on 1stDibs today.
You May Also Like
VOLUME 4: Vintage American & European Wrist Watch Price Guide Published in 1989

Located in Dallas, TX

Vintage American & European Wrist Watch Price Guide Published in 1989

Category

1990s American Antique Books

Vintage America & European Character Wrist Watch Price Guide BOOK 3

Located in Dallas, TX

Vintage America & European Character Wrist Watch Price Guide BOOK 3 by David Mycko and The Ehrhardts.

Category

20th Century American Antique Books

VOLUME 4: Vintage American & European Wrist Watch Price Guide Published in 1989

Located in Dallas, TX

Vintage American & European Wrist Watch Price Guide Published in 1989

Category

1990s American Antique Books

Vintage America & European Character Wrist Watch Price Guide BOOK 3

Located in Dallas, TX

Vintage America & European Character Wrist Watch Price Guide BOOK 3 by David Mycko and The Ehrhardts.

Category

20th Century American Antique Books

Vintage American & European Silver Anniversary Wristwatch Price Guide Published

Located in Dallas, TX

VOLUME 7: Vintage American & European Silver Anniversary Wristwatch Price Guide Published in 1996

Category

20th Century American Antique Books

Wrist Watches- Vintage American & European

Located in Dallas, TX

Vintage American & European Wrist Watch guide by Sherry Ehrhardt & Peter Planes - First Edition

Category

20th Century American Antique Books