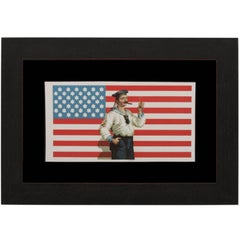 Antique American Flag Cigar Label with Sailor & 42 Six-Pointed Stars, 1889-1920
Want more images or videos?
Request additional images or videos from the seller
1 of 7
Antique American Flag Cigar Label with Sailor & 42 Six-Pointed Stars, 1889-1920
About
CIGAR BOX LABEL WITH IMAGE OF A 42-STAR AMERICAN FLAG WITH SIX-POINTED STARS AND IT'S BLUE CANTON RESTING ON THE WAR STRIPE, AND AN IMAGE OF A SAILOR LIGHTING A CIGAR, 1889-1920: This interesting, late 19th or early 20th century (ca 1889-1920) cigar box label has imagery that is especially modernistic for its period of manufacture. It features a 42 star American national flag with 6-pointed stars on a beautiful, cornflower blue canton. Though the reason for its use is unknown, this type of star is seen on other objects of this particular period. In present times one might identify the design as the Star of David, though this symbol, also known as the Shield of David, was not in widespread use by members of the Jewish faith until further into the 20th century. In front of the flag is a fashionable sailor with a handlebar moustache lighting a cigar. The word "Washington" appears on the front of his cap. The fact that the canton rests on a red stripe is an unusual trait. Some flag historians refer to this as the "blood stripe" or the "war stripe", suggesting the flag was sometimes constructed in this manner when the nation was at war. There is evidence that the U.S. Navy used this design feature on at least some of its flags made during the mid-19th century, and sometimes the placement was merely by accident. The Spanish-American War took place in 1898, and U.S. involvement in WWI occurred from 1917-18, but the 42 star count, if accurate, would indicate a slightly earlier date. Placement of the canton on a red stripe required that the union had to be either taller or more narrow than usual. In this case the canton is long and narrow, which also adds to the flag's unusual and graphic presentation. This label was applied to at least one variety of cigars, called the Marline Spike (named after a tool used by sailors to splice rope). I have seen an intact box of Marline Spikes, which included paper seals in the form of waving American flags was bordered by blue stripes with white stars, and bore a stamp reading "Deliciosos 100," which would indicated size within the Marlin Spike line. The count of 42 stars could help date the flag or it might be merely decorative. When the stars and stripes was illustrated on paper, liberties were often taken with the star count. This would be particularly true for say a flag on a label for a box of cigars produced in South America, where the official star count was not known or particularly important to the maker. Whatever the case may be in this instance, the 42 star flag is interesting from a historical perspective, both because 42 was never an official star count, and because 42 star flags were only produced for about 8 months (November, 1889–July 4th, 1890). The flag represents the addition of the Dakotas, Montana and Washington, between November 2nd and November 11th, 1889. The 42nd state was officially Washington, but the four states gained their statehood only nine days apart, and flag makers added four stars, accordingly, to the 38 star flag that was previously official. After 1818, star counts became official on the 4th of July each year. A new star was therefore officially added on Independence Day for every state that had been added over the preceding "flag year". Flag makers, however, did not wait for Independence Day and "official" star counts. Flag making was a competitive industry, and no one wanted to be making 38 star flags, for example, when their competitors were making 42 star flags and there were 42 states. On many occasions, particularly in the last quarter of the 19th century and the first decade of the 20th century, flag-makers would speculate the number of states that were going to be added and add the stars before they were official. It was for this precise reason that 42 was never an official star count. Idaho received statehood on July 3rd, 1890, taking the star count to 43 just one day before 42 would have become the official number. This fact makes 42 star flags an interesting part of our heritage and a Classic display of American capitalism. Mounting: This is a sandwich mount between 100% cotton twill, black in color, and U.V. protective plexiglass. The black fabric was washed to reduce excess dye. An acid-free agent was added to the wash and the fabric was heat-treated for the same purpose. Condition: A portion of the white space along the perimeter was trimmed. Otherwise excellent.
Details
Dimensions:

Height: 10.25 in (26.04 cm)

Width: 14.5 in (36.83 cm)

Depth: 0.75 in (1.91 cm)

Materials and Techniques:

Place of Origin:

Period:

Date of Manufacture:

Condition:

Seller Location:

Reference Number:

Seller: 42j-872

1stDibs: LU84976530893
Located in York County, PA
These prestigious sellers are industry leaders and represent the highest echelon for item quality and design.
Established in 1991
1stDibs seller since 2008
59 sales on 1stDibs
Typical response time: 7 hours
More From This Seller
View All
38 Star American Flag, Stars in Notched Pattern, ca 1876-1889

Located in York County, PA

38 HAND-SEWN STARS IN A "NOTCHED" PATTERN, ON AN ANTIQUE AMERICAN FLAG WITH BEAUTIFUL WEAR FROM HAVING BEEN EXTENSIVELY FLOWN, MADE AT THE TIME WHEN COLORADO WAS THE MOST RECENT STATE TO JOIN THE UNION, 1876-1889 38 star Antique American flag, made during the period when Colorado was the most recent state to join the Union. The stars are arranged in what is known as a "notched" pattern, in which two spaces were left open along the hoist end, in the first and last rows, in anticipation that two more Western Territories would soon join the Union. The latter 19th century was a time of when much of the land in and about the Continental Divide was formalized into states, and there was continual speculation about which ones would be accepted next, and with what boundaries. The stars of the flag are made of cotton and are double-appliquéd (applied to both sides) with a lineal, treadle stitch. The canton and stripes of the flag are made of wool bunting that has been pieced with treadle stitching. The canton was constructed from five separate lengths of fabric, which is an unusual feature, though hardly unknown. To each of these a row of stars was sewn. This manner of construction is sometimes encountered and tends to be an early trait, at least when it occurs in flags of this scale and smaller. When encountered, it also seems to have been preferred in flags meant for maritime use. While the feature does not by any means guarantee this fact, it is a reasonable, educated guess, based upon my examination of many other examples. A flag with a 5-piece canton, such as this, would have been less likelihood to stretch, with increased structural integrity. The alternative is that this was simply an example made when there were at least five pieces of leftover fabric, of a reasonable size to made individual rows, and that what it actually demonstrates is the careful conservation of scarce resources. There is a sailcloth canvas binding along the hoist, with 3 brass grommets, evenly spaced. Perhaps the best feature of the flag is the evidence it displays of having been extensively flown, with the fly end whipped out from wind exposure. While many flags display damage from a combination of having been flown, exposure to the elements, various mishaps, and improper storage, very few exhibit wear such as this, which is both endearingly and visually attractive. This one shows its age beautifully, whipped out along the fly end, with losses that convey an element of movement, that most flags don't capture in the state in which they survive. Colorado became the 38th state on August 1st, 1876. This was the year of our nation's 100-year anniversary of independence. Per the Third Flag Act of 1818, stars were not officially added until the 4th of July following a state's addition. For this reason, 37 was the official star count for the American flag in 1876. Flag-making was a competitive venture, however, and few flag-makers would have been continuing to produce 37 star flags, when their competitors were making 38's. It is for this reason that 38 and 13 stars (to represent the original

13 colonies

...

Category

Antique Late 19th Century American Political and Patriotic Memorabilia

38 Star Parade Flag with Whimsical 6-Pointed Stars, Colorado Statehood

Located in York County, PA

38 WHIMSICAL STARS, WITH 6-POINTED PROFILES, SIMILAR TO THE STAR OF DAVID, ON AN ANTIQUE AMERICAN FLAG OF THE CENTENNIAL ERA; A REMARKABLE SPECIMEN, ONE-OF-A-KIND AMONG KNOWN EXAMPLE...

Category

Antique Late 19th Century American Political and Patriotic Memorabilia

38 Star Antique American Flag, Colorado Statehood, ca 1876-1889

Located in York County, PA

38 star antique American parade flag with scattered star orientation, made of silk, with generous scale and vivid colors, Colorado Statehood, 1876-1889 38 star American national p...

Category

Antique Late 19th Century American Political and Patriotic Memorabilia

38 Star Antique American Flag, Colorado Statehood, ca 1876-1889

Located in York County, PA

38 STAR ANTIQUE AMERICAN FLAG WITH HAND-SEWN STARS IN AN 8-7-8-7-8 PATTERN OF JUSTIFIED ROWS, MADE IN THE PERIOD WHEN COLORADO WAS THE MOST RECENT STATE TO JOIN THE UNION, 1876-1889 ...

Category

Antique Late 19th Century American Political and Patriotic Memorabilia

33 Stars Antique American Flag, Oregon Statehood, 1859-1891

Located in York County, PA

33 STARS IN A DOUBLE-WREATH CONFIGURATION, ON AN ANTIQUE AMERICAN FLAG DATING IMMEDIATELY PRE-CIVIL WAR THROUGH THE WAR'S OPENING YEAR, REFLECTS THE ADDITION OF OREGON TO THE UNION, 1859-1861 33 star American national parade flag, printed on coarse, glazed cotton. The stars are arranged in a double wreath pattern with a large center star and 4 flanking corner stars. Note how the arms of the stars have an exaggerated length and thus bear a very interesting folk quality. This is one of my favorite early parade examples because of the great visual impact in its design. Oregon entered the Union as the 33rd state on February 14th (Valentines Day), 1859. The

33 star flag

...

Category

Antique Late 19th Century American Political and Patriotic Memorabilia

41 Stars In a Lineal Pattern With Offset Stars, Montana Statehood American Flag

Located in York County, PA

41 STARS IN A LINEAL PATTERN WITH OFFSET STARS THAT CREATE A CROSSHATCH IN THE CORNERS AND CENTER, ONE OF THE RAREST STAR COUNTS AMONG SURVIVING FLAGS OF THE 19TH CENTURY, REFLECTS MONTANA STATEHOOD IN NOVEMBER, 1889, ACCURATE FOR JUST 3 DAYS: Numerous flags appeared with unofficial star counts in early America, produced by flag-makers in anticipation of the addition of more states. The

41 star flag

...

Category

Antique 1880s American Political and Patriotic Memorabilia
You May Also Like
39-Star Antique American Flag with 'Whimsical' Star Pattern, 1889

Located in Colorado Springs, CO

This is a 39-star unofficial American flag, handmade and printed on cotton. The flag dates to 1889 and has a unique history, thanks to its rare star-count. The flag's canton is prin...

Category

Antique 1880s American Political and Patriotic Memorabilia

Early 20th c. Monumental American Flag with 48 Stars, c.1940-1950

Located in San Francisco, CA

ABOUT This is an original monumental American flag made by Valley Forge Co. with 48 hand sewn stars and stripes. It is in good condition and has metal grommets to hang. CREATO...

Category

Early 20th Century Industrial Political and Patriotic Memorabilia

Large Early 20th c. American Flag with 48 Stars c.1940-1950

Located in San Francisco, CA

ABOUT An original fabric large American flag with brass grommets and 48 stars. CREATOR Valley Forge Flag Co. DATE OF MANUFACTURE c.1940-1950. MATERIALS AND TECHNIQUES ...

Category

Early 20th Century Industrial Political and Patriotic Memorabilia

Early 20th C. Monumental American Flag with 48 Stars, c.1940-1950

Located in San Francisco, CA

About This is an original monumental American flag made with 48 hand sewn stars and stripes. It is in good condition and has brass grommets to hang. Creator unknown. Date of m...

Category

Early 20th Century Industrial Political and Patriotic Memorabilia

Early 20th c. Monumental Wool American Flag with 48 Stars, c.1940-1950

Located in San Francisco, CA

ABOUT This is an original wool monumental American flag with 48 hand sewn stars and metal grommets to hang it. CREATOR Sterling Bunting. DATE OF MANUFACTURE c.1940-1950. M...

Category

Early 20th Century Industrial Political and Patriotic Memorabilia

1889 North Dakota 39 Star United States of America Statehood Flag

Located in Coeur d'Alene, ID

39 star silk statehood flag. 23 1/2" x 15". Was the unofficial

North Dakota

Flag. As South Dakota was also admitted as the 40th state on the same day this...

Category

Antique 1880s American Historical Memorabilia