Large solid Sucu Pira Preta geometric bookshelf by Tunico T.
Large geometric bookshelf by Tunico T. One piece, of connected parts, made of exotic Brazilian hardwood, Sucu Pira Preta. It includes 20 shelves topped by circle and square finials. Tunico T. lives in Brasilia with his wife and two of his children. He finds his raw materials in the surrounding â??Cerrado,â?? the largest savannah region in South America. For over thirty years, Tunico T. has scrupulously enforced that neither he nor his trackers cut down living wood. Instead, he extends the life of expired Brazilian hardwoods, fallen or sawn long ago, and transports their beauty into the indoors. Each piece begins as material that is meticulously selected by hand and evolves into a creation of equally meticulous hand craftsmanship. It is a tactile communion that is endemically Brazilian—and one that is only newly appreciated on an international level. That Tunico T. is so poised to capture worldwide interest utterly defies the economic disadvantages dealt to the artist in his youth.
Many pieces are stored in our warehouse, so please give us a call at (323) 463-4434 or email us at info@thomashayesgallery.com to find out if the pieces you are interested in seeing are on the gallery floor. Thank you!
See Item Details
+
Large solid Sucu Pira Preta geometric bookshelf by Tunico T.
| | |
| --- | --- |
| MATERIALS AND TECHNIQUES: | Sucu Pira Preta |
| MATERIALS NOTES: | Sucu Pira Preta |
| CONDITION: | Excellent. Any piece with solid wood, even newly constructed, may have some rustic elements and irregularities, such as variation in grain and some knots, slight cracks, and small knot holes that are naturally occurring in the completed pieces. |
| | |
| --- | --- |
| HEIGHT: | 88.5 in. (225 cm) |
| WIDTH: | 106 in. (269 cm) |
| DEPTH: | 11 in. (28 cm) |
| | |
| --- | --- |
| DEALER LOCATION: | Hollywood, CA |
| NUMBER OF ITEMS: | 1 |
| REFERENCE NUMBER: | LU8885769331 |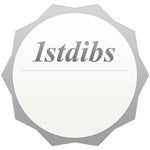 With 1stdibs, you can always collect with confidence.