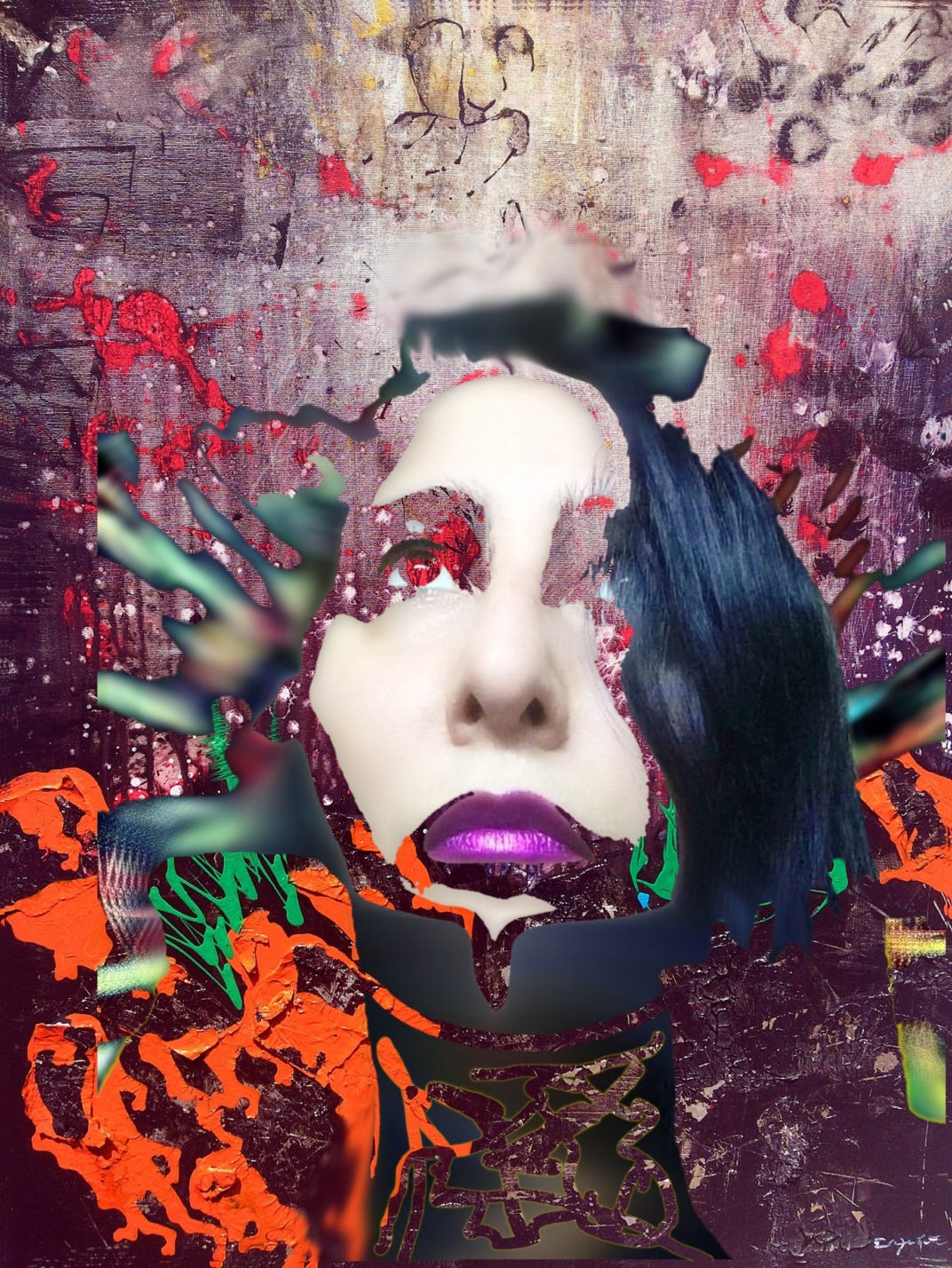 Merge#1: Shadow work. Artifex
M E R G E ARTIST AND COLLECTOR MERGED WITH ARTWORK 1st Edition Project Merge is a fated meeting in the metaverse between the artist, the artwork and the collector. A limited series of self-portraits and portraits merging the artist with the artwork vs. the collector with the artwork. It aims to convey how creation is one with the artist's soul, arises from it and then becomes part of the collector's soul, illuminating both. Between them, a soul bridge is formed, beyond time and space, and that bridge is the artwork. The collector of each NFT in the series will receive: 1. The self-portrait of the artist merged with the artwork (the bidding NFT) 2. The collector's portrait merged with the artwork (upon request), which will be minted as NFT and transferred to the collector. 3. The artwork (upon request). You can view the artworks in the Merge Gallery. For physical artworks, the collector may request its delivery, free of charge, anywhere in the world OR for it to be minted as a 1/1 NFT. The collector will choose one or the other. For digital artworks, the collector will receive the NFT of the digital artwork. Conclusively, the first owner of each NFT in the series will receive 3 items. Please check the project page on my website for more details. Merge#1: Shadow work. Artifex Self-portrait JPG, 7344x 9792, 500 dpi merged with "Shadow work" 2019 Acrylic and collage on canvas 70 x 100 cm (27'x39') Available on 1stDibs © Copyright Zazulete 2022. All rights reserved.
Zazulete Anuca Romanța is a Romanian artist and esoterist born in Bucharest, deeply rooted in the colorful, fascinating energy of her birth place. A Master of Fine Arts in Sculpture and a Master of Science in Psychology, she has been incorporating a multi-disciplinary approach in her artistic persona, through painting, drawing, photography, sculpture, digital arts and multimedia. Recently, she has focused on color and texture, using different and surprising techniques, currently drawing her inspiration from the esoteric field, sacred geometry, archetypes and mystic symbolism, together with an everlasting love and exploration of nature and people.