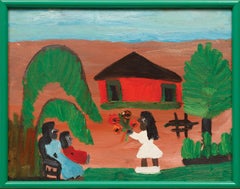 Girl Giving Flowers to Jesus (Authenticated)
Want more images or videos?
Request additional images or videos from the seller
1 of 6
Clementine Hunter

Girl Giving Flowers to Jesus (Authenticated)
About
If you have been watching the prices of Clementine Hunter's work over the past two years, you will know that they have soared to astronomical heights. Black artists have been in the spotlight lately, and while she's been a big regional artist for a very long time, she's a national figure now and being added to many museum collections. Institutions and prominent collectors have moved in hard. I was really happy to get this one. At any rate, the first thing to ask about any Clementine is: is it authentic. Yes, there are fakes, and paintings by her son that are mistaken for (or presented as) hers. I won't touch anything by her that hasn't been verified, and this one has been verified by the #1 Clementine expert, Tom Whitehead. Of course it has my own guarantee as well; I have sold many Clementines. You can find fakes at auction houses (many of them outside of the New Orleans area) and other venues that don't ask questions, for a lot less money, but don't be fooled! Anyway, about this marvelous painting. It is common to see Clementine's plantation scenes such as "wash day", picking crops or cotton, etc., and great as they are, the subject here is truly unique and touching. This is a nativity scene, but there are no wise men with frankincense and myrrh present at this one: instead, a young black girl in a white dress presents the infant Jesus with a bouquet of flowers - and not in a manger, but what appears to be a plantation! Jesus and Mary are black as well. Note that this was not a socio-political statement for Hunter; she was uncomplicated, gracious and sweet, I hear from those who knew her, and as far as I know non-political; she simply painted what she knew. And this was the nativity on her terms. She raised seven children of her own at the Hidden Hill and Melrose plantations, where she spent her whole life. Of course, in this painting she took no more liberties than that of European artists who had been painting Christ as a western white man visited by three kings for over fifteen hundred years. Note the "African House" in the back, which was a recurrent theme in her paintings. And the plantain fronds framing Mother and Child, which would also have been present on the plantation. The sky appears as a ribbon along the top of the painting. Oil on canvas board, monogrammed mid-right, inscribed with title on backing paper, 13 7/8 in. x 17 7/8 in., framed. I will be including a free copy of the hardcover book (show in photo) by Art Shiver and Tom Whitehead about Clementine (Whitehead is the expert who verified this painting). Proudly presented by Guy Lyman Fine Art, New Orleans, with our firm guarantee of satisfaction. From AskArt: Often referred to as "the black Grandma Moses," Clementine Hunter painted four to five thousand paintings, which were boldly colored images in folk art style of plantation life in Louisiana. Her subjects included everyday activities such as doing laundry and festive events including weddings, dances, and church going. She also did mural painting, and a number of her works had Christian religious subjects. She was born at Hidden Hill Plantation near Natchitoches, Louisiana, and lived there the remainder of her life pf one-hundred-one years, raising seven children and working in the fields. She attended a local Catholic school, but quit at a young age and never learned to read or write. At age sixteen, she moved to nearby Melrose Plantation, where she worked for many years as a field hand. Her first male companion and father of two of her children was Charlie Dupree, who died in 1914. Ten years later she married Emanuel Hunter, and moved into the plantation house where she was in charge of the domestic work. Becoming associated with the plantation mistress, Ms. Cammie Henry, changed Hunter's life. Henry, was an archivist and artist who actively encouraged the arts. She opened her home to artists and authors who needed a quiet place to work. It was at Melrose that Hunter first began her production of hand made quilts, dolls, and lace curtains. Meeting artist friends of Ms. Henry, Hunter met many people in the art world and was especially influenced and promoted by Francois Mignon, who was an artist-in-residence at the plantation. In 1946, under his direction, she did her first work, a plantation baptism scene, from a few partially used tubes of oil paint on a window shade that he provided. Another supporter at that time was James Register, also an artist-in- residence, and he obtained a Julius Rosenwald Foundation Grant for her. He encouraged her to do abstract art, which she did while letting him choose the titles. But she preferred the folk art style. From that time, she was prolific, and created over four-thousand scenes of plantation life on whatever materials were available from scrap wood to paper bags. She thinned her oil paint so much it resembled watercolor. She sold many of her first works for a dime or quarter to pay for her husband's medical treatment. Legacy and honors: One of the more well-known displays of Hunter's artwork is located in a food storage building called "African House" on the grounds of Melrose Plantation. (African House is often referred to as slave quarters, however the building was built for, and always used for food storage.) The walls are covered in a mural Hunter painted in 1955, depicting scenes of Cane River plantation life. When she completed the mural, a local newspaper ran the headline: "A 20th Century Woman of Color Finishes a Story Begun 200 Years Ago by an 18th Century Congo-Born Slave Girl, Marie-Therese, the original grantee of Melrose Plantation." The cafe and snack bar at the Alexandria Museum of Art is named for Hunter. She was the first African-American artist to have a solo exhibition at the Delgado Museum (now the New Orleans Museum of Art). She achieved significant recognition during her lifetime, including an invitation to the White House from U.S. President Jimmy Carter and letters from both President Ronald Reagan and U.S. Senator J. Bennett Johnston, Jr.. Radcliffe College included Hunter in its Black Women Oral History Project, published in 1980. Northwestern State University of Louisiana granted her an honorary Doctor of Fine Arts degree in 1986. The following year, Louisiana governor Edwin Edwards designated her as an honorary colonel, a state honor, and aide-de-camp. Hunter has been the subject of biographies and artist studies, and inspired other works of art. In 2013 composer Robert Wilson presented a new opera about her: Zinnias: the Life of Clementine Hunter, at Montclair State University in New Jersey. Sources: Peter Hastings Falk, Editor, Who Was Who in American Art, Volume II Chuck and Jan Rosenak, Museum of American Art Folk Art Encyclopedia "Clementine Hunter," Wikipedia, Web, Mar. 2016 Alice Rae Yelen, "Passionate Visions," American Art Review, February, 1995
Located in New Orleans, LA
These expertly vetted sellers are 1stDibs' most experienced sellers and are rated highest by our customers.
Established in 2008
1stDibs seller since 2018
259 sales on 1stDibs
Typical response time: 1 hour
More From This Seller
View All
Wedding (Authenticated Clementine Hunter Framed Black Folk Art Painting)

Located in New Orleans, LA

If you have been watching the prices of

Clementine Hunter

's work over the past two years, you will know that they have soared to astronomical height...

Category

1960s Folk Art Landscape Paintings

$11,600 Sale Price

20% Off

Funeral Procession (Authenticated Clementine Hunter Folk Art Painting, Large)

Located in New Orleans, LA

Probably the largest and best I have had . . . . If you have been watching the prices of Clementine Hunter's work, you will know that they soared after record prices were reached for them in New York a few years back. Even the local New Orleans auction houses, where her work is mostly traded, were seeing huge prices -- $25,000 or more for paintings of this size and quality. I had to bow out. Since then I have kept an eye out for moderations in her prices when I can pick up great examples such as this that I can sell more affordably. Black artists have been in the spotlight lately, and while Clementine Hunter has been a big regional artist for a very long time, she's a national figure now and her work is being added to many museum collections. Institutions and prominent collectors have moved in hard. At any rate, the first thing to ask about any Clementine is: is it authentic. Yes, there are fakes, and paintings by her son that are mistaken for (or presented as) hers. This one has been authenticated by "the" Clementine expert, Tom Whitehead, who has a close association with my source for this painting. Of course it has my own guarantee as well; I have sold many Clementines. You can find fakes at auction houses (many of them outside of the New Orleans area) and other venues that don't ask questions, for a lot less money, but don't be fooled! Hunter painted what she saw going on around her at Melrose Plantation, including funeral processions such as this one. I love everything about this painting - from its complexity and bright colors to its larger size (the majority of her paintings measure 18" x 24"). One of the nicest we have ever had, for sure. The painting is oil on board. With the purchase of this painting, you will receive a hardcover copy of the definitive book about Clementine Hunter, co-authored by none other than the expert who authenticated this painting, Tom Whitehead. You can read biographical information about her below. Again, the painting is relatively LARGE for her work, at 24" x 32". Proudly presented by Guy Lyman Fine Art, New Orleans, with our firm guarantee of satisfaction. Here's some background information from the Melrose Plantation website: Clementine Hunter (December 4, 1886/1887 – January 1, 1988) was born on Hidden Hill Plantation before later moving up the Cane River to work at Melrose Plantation. It was at Melrose that Hunter discovered paints and brushes left behind by a visiting artist. With these humble tools, Hunter began painting – or as she called it, "marking a picture" - various scenes of plantation life including picking cotton, gathering pecans, washing clothes, ceremonial baptisms and funeral scenes. Her resourceful nature led her to paint on discarded items such as window shades, cardboard boxes, jugs, bottles and gourds. Hunter's unique style of social commentary eventually went on to leave an indelible mark on the art world. She has become one of the most renowned, self-taught artists in the United States and is often referred to as the Black Grandma Moses. She was the first African-American artist to have a solo exhibition at the Delgado Museum (now the New Orleans Museum of Art) and achieved a significant amount of success during her lifetime, including an invitation to the White House from U.S. President Jimmy Carter (which she declined). Radcliffe College included Hunter in its "Black Women Oral History" project, published in 1980. Additionally, Northwestern State University of Louisiana granted her an honorary Doctor of Fine Arts degree in 1986. One of the more well-known displays of Hunter's artwork is located in the African House on the grounds of Melrose Plantation. It's upstairs walls are covered in an elaborate mural that depicts the incredible stories of life on the Cane River. We encourage you to visit Melrose Plantation to see

Clementine's art

...

Category

1960s Folk Art Landscape Paintings

"Shoes" - Late 20th Century City Figure Painting

Located in New Orleans, LA

In addition to having his work in museums and fine corporate collections, Alabama artist

Donny Finley

showed for years at prestigious Bryant Galleries on ...

Category

Late 20th Century American Realist Landscape Paintings

"Le Dompteur de Pigeons" (ex. Christie's) - Large Antique Impressionist Painting

By

Georges Jules Victor Clairin

Located in New Orleans, LA

A large, spectacular, absolutely splendid painting by noted French painter

Georges Clairin

, which appeared for auction at Christie's in 2004 (see photo...

Category

Late 19th Century Impressionist Landscape Paintings

A Path Through the Woods (Impressionist Oil on Canvas)

Located in New Orleans, LA

A gentle Impressionist scene of a pretty young woman on a trail in the forest in dappled light. Written on the back is "M. Graves 48" but the canvas and stretcher seem a lot older th...

Category

Early 20th Century Impressionist Landscape Paintings

The Kindling Gatherers, 1890 (knighted Royal Academy member, Antique Landscape)

Located in New Orleans, LA

Sir Alfred East

was both a full member of the Royal Academy and president of the Royal Society of British Artists, so his pedigree is impeccable. He be...

Category

Late 19th Century Impressionist Landscape Paintings
You May Also Like
The Wharf St Ives: Contemporary Outsider Art Oil Painting

Located in Brecon, Powys

A very fine offering from the artist using his style of surreal distortion to celebrate the workaday routines of the life in which he is immersed.This is a real reflection of Staffor...

Category

21st Century and Contemporary Outsider Art Figurative Paintings

Mississippi River

Located in Delray Beach, FL

Mississippi River

. Saul Haymond, Sr. (1947- ) of Pickens, Mississippi is a self-taught painter who has been documenting life in the African American...

Category

1960s Outsider Art Landscape Paintings

Tuscan Figurative Genre Scene painting 20th century oil on canvas

Located in Florence, IT

The artist of this painting is unknown but it can be ascribe to a Tuscan movement of the 20th century inspired by 19th century art like Verismo (as we can deduce by the clean and not...

Category

20th Century Folk Art Figurative Paintings

Tuscan Figurative Genre Scene painting 20th century oil on canvas

Located in Florence, IT

The artist of this painting is unknown but it can be ascribe to a Tuscan movement of the 20th century inspired by 19th century art like Verismo (as we can deduce by the clean and not...

Category

20th Century Folk Art Figurative Paintings

Mid 19th Century Folk Art Hunting Scene, Landscape, Animal and Figurative, 1852

Located in Doylestown, PA

This mid 19th Century, 25" x 30", oil on canvas, Folk Art hunting scene was painted in 1852, and signed and dated by an illegible artist. It is framed in a reproduction wood frame.

Category

1850s Folk Art Landscape Paintings

Trudy Graf ( 1938 ) Folk Art Appenzell Landscape Oil Painting 1983 Switzerland

Located in Meinisberg, CH

Trudy Graf – Eisenhut (Swiss, 1938) Swiss Folk Art Winter Landscape Scene somewhere in the Appenzell • Oil paint on wood, overall size ca. 75 x 98 cm • Image size ca. 43 x 70 cm • ...

Category

1980s Folk Art Figurative Paintings