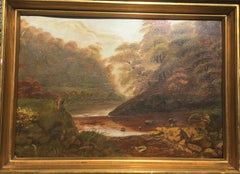 Fishing on the River, Autumn
Design Credit: Samantha Todhunter Design Ltd., Photo Credit: Oliver Clarke.

Dimensions: H 14 in. x W 20 in.

Design Credit: Lucy Harris Studio, Photo Credit: Francesco Bertocci.

Dimensions: H 14 in. x W 20 in.

Design Credit: Timothy Godbold, Photo Credit: Karl Simone.

Dimensions: H 14 in. x W 20 in.
1 of 7
Henry Church

Fishing on the River, Autumn

circa 1860
About
A self-taught rock carver and painter from Chagrin Falls, Ohio, Henry Church did bas-relief rock carving, of which the most famous is the 30 foot-high "Squaw Rock", which can be seen from the Chagrin River. The formal name is "The Rape of the Indian Tribes by the White Man". About twelve miles from Cleveland, this carving has become a local landmark with a picnic grounds nearby. The name relates to the carved rock life-size female nude encircled by a snake, intended to symbolize the rape of the American Indian by the white man. Reportedly Church carved the Indian woman by lantern light, and the subject, according to Jessie Sargent, daughter of the carver, related to his strong, spiritual feelings for the Indians. Also included with the grouping but without apparent connection is a child in a crib, a tomahawk, a skeleton, a mountain lion hanging by its tail and an eagle with its wings spread, perhaps readied to rescue the woman from the snake. On certain days, Henry Church would stand on a pulpit he had carved from rock overlooking the valley and would preach sermons "to the congregated spirits of the thousands of Indians massacred by the settlers". Henry Church was a blacksmith who lived in Chagrin Falls and had a reputation for eccentricity. Twenty years before his death, he carved his own tombstone, "an angry lion with green glass eyes". Beside the lion was a child and a contented lamb, and together the scene represented the Peaceable Kingdom referenced in the Bible. Church preached his own funeral sermon, which he pre-recorded on a gramophone cylinder that was played at the burial service in the local Evergreen Hill Cemetery. The trustees of the cemetery had opposed the tombstone being installed claiming it was too ugly, and the fight lasted for years until Church threatened to live forever. Apparently that had some affect as the trustees gave in, but likely they regretted it because the sermon on the gramophone was "a scathing denunciation of his enemies, especially the trustees of the cemetery." Henry Church also did paintings, several which later were exhibited at the Museum of Modern Art. Among his painting subjects were monkeys, still lifes, portraits and landscapes. Unfortunately Church's daughter burned many of her father's paintings because she lost her home from debt and had to move into a space that had no room for housing her father's artwork. She had taken care of them for thirty years and justified her actions by saying "Nobody liked them. Nobody wanted them. I didn't want them to fall into the hands of anybody who wouldn't take care of them. So I did what my father would have done. I destroyed them. All but these few." Henry Church was born in Chagrin Falls on May 20, 1836 and was too sickly growing up to attend school, so he was taught at home by his mother. He later said that this isolation had much affect on his adult life. HIs father and mother had arrived there in 1834 from Deerfield, Massachusetts. They were strongly opposed to slavery, and their home was a part of the Underground Railroad. They were also part of a group of local spiritualists that communicated with the other world by "rappings and tappings". At age thirteen, Henry began working in his father's blacksmith shop, and often Henry would grab charcoal and do drawings. He married Martha Prebble in 1859, and they lived in Chagrin Falls, raising two children, Jessie and Henry Austin. He avoided the Civil War by paying four-hundred dollars for a replacement. After the War, he painted a portrait of Abraham Lincoln and give it to the local chapter of the Grand Army of the Republic. However, they kept it in the cellar. After the death of his father, who discouraged his son's art talent, Henry Church pursued his art seriously and set up a studio and gallery above the blacksmith shop. He had no market and little local interest in his work. Henry Church died at age seventy-two on April 17, 1908. HIs rock carvings were subsequently vandalized, but the WPA (Works Project Administration) erected a formal sign and built a base under the rock preventing the Chagrin River from undermining the rock.
Details
Creator

Henry Church

(1836 - 1908, American)

Creation Year

Dimensions

Height: 14 in (35.56 cm)

Width: 20 in (50.8 cm)

Medium

Movement & Style

Period

Condition

Gallery Location

Reference Number
You May Also Like
Ethel, the Blue Spotted Cow, Framed Folk Art Oil Painting, Cowboys Birds Cattle

Located in Denver, CO

'Ethel, The Blue Spotted Cow' is an oil on board vibrant folk art painting by Marin Saldana with colorful cattle, birds, and cowboys with a blue sky with clouds and airplanes. Presented in a custom frame with all archival materials, outer dimensions measure 40 ¼ x 50 ¼ inches. Image measures 29 x 39 inches. Painting is in good vintage condition - please contact us for a detailed condition report. About the Artist: Born in 1874, Saldaña grew up at Rancho Neuvo in Mexico. In 1950, at the age of 76, he began attending children's art classes at the Denver Art Museum. For the next fitfteen years, Saldaña Imaginatively documented whimsical memories from his childhood in San Luis Potosi, Mexico, portraying ranch life, landscapes, and his great love of animals. The prolific artist painted every day, completing a new piece about every three days and amassing an impressive body of work for the former cook at the Denver landmark, the Brown Palace Hotel. Saldaña's vibrant palette and geometric figures are reminiscent of the tapestries of his Mexican heritage and the paintings, primarily in oil, are innocent and endearing. Saldaña is considered to be a outsider artist, a folk artist who is self-taught, whose work is simple, direct, and high personal. Works Held: Denver Art Museum, University of Wyoming Art Museum, The Colorado Springs Fine Art Center, International Folk Art Museum, Neuss In Aberthor Museum, Stedelijk Museum ©

David Cook Galleries

...

Category

20th Century Folk Art Landscape Paintings

$10,000 Sale Price

20% Off

Bucking Bronco

Located in Austin, TX

"Bucking Bronco" is as original oil on canvas painting by

Gary Jack Thornton

. It depicts an exhilarating scene of a rodeo cowboy riding a horse,...

Category

1970s Outsider Art Figurative Paintings

Winter Night in City Park

Located in Austin, TX

Title:

Winter Night

in City Park Artist: Fannie Lou Spelce Year: 1979 Size: 14" x 18" Medium: Oil on Linen Framing: Framed Condition: Excellent Signat...

Category

Late 20th Century Folk Art Landscape Paintings

Silent Night

Located in Austin, TX

Artist: Fannie Lou Spelce Title: "

Silent Night

" Year: 1973 Size: 16" x 20" Medium: Oil on Linen Signature: Signed & Dated LR Unframed

Category

Late 20th Century Folk Art Landscape Paintings

Costa Esmeralda, colorful humorous beach scene

Located in Brooklyn, NY

*ABOUT Stephen Basso Stephen Basso's highly original pastels and oil paintings are romantic, yet thought provoking fantasies. His whimsical works are alive with boundless imagina...

Category

2010s Outsider Art Landscape Paintings

Helen Mauldin New York City "United Nations" Large Scale Folk Art Painting 1958

Located in San Francisco, CA

Large Scale New York City "United Nations" Folk Art Painting by Helen Mauldin c.1958 Fine mid century primitive outsider folk art painting of an aerial view of United Nations Plaza in New York City looking towards Long Island City, in the New York City borough of Queens. There is so much color and detail in this painting. Hundreds of people from school children, groups of people playing tennis, bus drivers, policemen, pedestrians, etc., all out on a beautiful blue sky day. There is a lot happening in this painting; you're sure to see something different every time you look at it. The painting is very large and is painted on canvas. Signed by the outsider artist

Helen T

...

Category

Mid-20th Century Folk Art Landscape Paintings