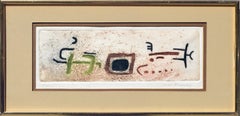 Carborundum Modern Abstract Etching
Want more images or videos?

Request additional images or videos from the seller
1 of 7
Max Papart

Carborundum Modern Abstract Etching
About
Modern abstract carborundum etching of brown, black, and green symbols on a textured tab background by Max Papart (France, 1911-1994). Signed "Max Papart" in the lower right corner, and numbered "9/40" in the lower left. Presented in a double mat and a modern gold frame. Max Papart (1911-1994) was born in Marseilles, France, and learned engraving in Paris in the mid 1930s. He was influenced by Cranach, Delacroix, Matisse, Klee, and his friend Jacques Prevert. He began using the carborundum etching technique (invented by Henri Goetz) in 1960, and though of his pieces as "compositions" rather than "paintings." Papart created art in a "semi-cubist" style, and did not attribute specific meaning to his work, preferring the viewer to respond to the piece in accordance with their own experiences. Master printmaker, born in Marseille, Max Papart learned the techniques of classic engraving in 1936 in Paris. In 1960, he added to the classic processes the technique of etching with carborundum invented by his friend Henri Goetz. In the years 1969-73 Papart taught printmaking at the University of Paris VIII-Vincennes. He continues to make his own plates and to supervise the hand printing of his prints. One of the most intriguing intellectual concepts which Papart achieves in his two-dimensional, semi-cubistic style is a "window" through which the viewer senses the past or future, or even another time or place. This development has become more pronounced since 1981 and in recent years it is seen even more graphically in such works as Circle, Indian Summer, Dreams, and Silent Woman. It has been said the Papart does not "paint," he "composes." His compositions come together in a symphony of line, shape and color. Papart contends that he never attributes any specific meaning to his work. He feels that each painting has its own meaning and needs no interpretation from him. Papart's paintings, in his own words, "force the viewer to think, and it is for the viewer to respond to the art based on his own personal experiences." Excerpted from "The Artist" by Kenneth Nahan, in "Max Papart, Master Prints and Other Works on Paper" published by the New Orleans Museum of Art. Wiki- Born in 1911 in Marseille Max spent his childhood there. His father, Noël Papart, a former cavalry captain, a great wounded man of the 1914 war and an amateur painter, communicates to him very young the passion for painting. From the age of 4, Max covers his sketchbooks. For the anniversary of his seven years, his father offeed him a professional watercolor box and teaches him how to use it. Max works from postcards in color. His father took him every Sunday to the Palais Longchamp in Marseille to discover the paintings of the museum. His mother wass a pianist and sings; music was part of his childhood and will mark all his painting. At thirteen, tired of watercolor, he tries to paint with oil. In 1928, he attended for some time the courses of the School of Fine Arts in Marseille , but prefers to train alone by painting outdoors and the study of the great masters ( Hubert Robert , Nicolas Poussin , Rubens , Rembrandt ). His father being disabled in the war and his mother suffering from tuberculosis, he had to provide for his family. He will be a worker and a poultry farmer. Working hard, he devotes much of his free time to drawing, painting and literature. He reads Shakespeare , Rabelais , Montaigne , English and American literature. In 1933, Max Papart settled in Paris. Engraver-printer of his profession, he continues to paint and study the great masters in museums. He goes to all major exhibitions and galleries. He exhibited at the Salon des Independants and began engraving with aquatint . When the war broke out in 1939, he was declared unfit for military service for health reasons. He went to Marseille and takes the decision in 1940 to live now from his painting. He attended the Auzias Academy and began his nude studies . He marries Mathilde Hugon, with whom he has a daughter, Geneviève. He enters the Resistance and participates in the Liberation of Marseille. As such, he receives the 1939-1945 War Cross . From 1946 to 1948, he presented several solo exhibitions in Marseille, at the Galerie Da Silva and in Nice at the Masséna Gallery. He meets the painter Victor Bauer, a friend of Freud who introduces him to psychoanalysis. He became friends with writers like Jacques Prévert, Georges Ribemont-Dessaignes and André Verdet , whose works he illustrated. In 1949, he divorced Mathilde Hugon and remarried with Andrée Garbit known by his poet name, Andrée Caraire 1, with whom he had a daughter, Anne. The Papart settle in Paris. He exhibited at the gallery Monique de Groote. He resides until his death at 10 rue Pernety, in the 14th arrondissement of Paris , where he has his studio. In the years that follow, the exhibitions follow one another in Paris and in the provinces but also in Italy, Belgium, Switzerland and the United States. He continues to illustrate writers' poems. It is exhibited by Galerie Hervieu in Nice and Galerie Pétridès in Paris. He meets Jean-Michel Atlan , sculptor César , Antoni Clavé , James Coignard and Henri Goetz . He also exhibited in Tokyo with the "French Group". He traveled to Tuscany, which he particularly loves, and studied the works of the Pre-Renaissance Paolo Uccello, Piero della Francesca. He was interested in all engraving techniques: lithography, drypoint , chisel and aquatint . Beginning in 1958, he began to turn away from figuration and explore lyrical abstraction while developing his technique of collage. From 1960 to 1964, he exhibited his engravings in Nice and Paris. He used a new engraving process, carborundum , developed by Henri Goetz . He is interested in prehistoric art and travels to northern Italy (Val Camonica ), Spain, the Basque Country ( Altamira ) and the Dordogne. From 1965 to 1971, he created bronze medals at the request of the Hotel de la Monnaie . This lead him to practice sculpture. He became a lecturer in engraving at the University of Paris-VIII-Vincennes where he taught until 1973. He actively participated in the movement of May 68 , fighting on the barricades and is part of Hélion a reform committee of the teaching of the fine arts. He has numerous exhibitions in France, Germany, Sweden, Italy. A retrospective of his abstract works is dedicated to him at the Musée de Saint-Ouen. It illustrates works by Pierre Tilman, Georges Ribemont-Dessaignes and Andrée Caraire. He became the friends with Jean Hélion , Raymond Queneau , Vladimir Jankelevitch and Alberto Magnelli . His friendship with James Coignard is very strong. In 1970, Frédéric Czarnes (1936-2011) made an important film about Max Papart, The Palette of Max Papart: 2 . Between 1972 and 1977, he exhibited in Europe, Canada and the United States. He became a member of the Salon d'Automne. Two monographs are published: Max Papart: life, the man, the work by Andrée Caraire and Bernard Plasse at Editions Vision on the Arts (1975) and Max Papart by Jacques Baron, in the collection "Musée de Poche" (1976). From 1981, he moved to the United States, New Orleans. He works with the Ken Nahan Gallery, which promotes his work around the world. A book is published by the Stockholm International Gallery, The Engraved Work of Max Papart (1979). He began a long collaboration with Lydie and Robert Dutrou for the editing of very large aquatints for the Éditions de la Galerie Ken Nahan. They will be printed in Paris in Atelier Morsang 3. Several solo exhibitions are held in Japan, the United States and France. He is promoted to Officer of Arts and Letters by Jack Lang. A monograph is published in French, Spanish and English, Max Papart by Roger Green andJean-Marie Dunoyer , critic at Le Monde , published by Cercle d'Art Editions Rizzoli and Editions Polygrafa (1985). From 1990, he lives between New York and Paris. He exhibited in France, Germany, Switzerland and the United States. The Palace of Europe in Menton devotes a retrospective. On this occasion, a monograph, Max Papart with texts by the artist, is published by Éditions Garnier Nocera (French version 1992) and Éditions Galerie Raphael (German version 1993). Towards the end of his life, he designs jewels from his own paintings, limited to eight precious or semi-precious jewels. They are made by Jean Jaques de la Verrière. Max Papart died before the production of this collection was completed in 1994. He illustrated poems by Xavier Bordes and Cirque Argos, and made his last series of 5 engravings, Hommage aux Cubistes . He died on August 29, 1994 in Paris and rests in the cemetery of Longs-Réages in Meudon almost in front of his dear and regretted Alberto Magnelli , in the shade of a Tuscan cypress in a tomb of pink granite of Brittany, country birthplace of his mother. Notable museums and exhibitions Victoria and Albert Museum, London National Gallery, London Museum of Modern Art of the City of Paris Musee Cantini, Marseille Maeght Foundation, St. Paul de Vence Israel Museum, Jerusalem Museum of Modern Art, Eilat Museum of Modern Art, Dimona Center of Contemporary and Experimental Art, Rehovot Kunst Museum, Boras, Sweden Indianapolis Museum of Art New Orleans Museum of Art High Museum, Atlanta National Library of Arsenal, Paris Hall of the Aubette of the city of Strasbourg Ft. Lauderdale Museum of Art Jacksonville Art Museum Phoenix Art Museum, Phoenix Syracuse University UCLA Yale University, New Haven Museum of New Mexico, Santa Fe University of Pennsylvania, Philadelphia Leonox Hill Hospital, New York Museum of Modern Art, Miami Lincol University, Oxford Work The work of Max Papart presents a great variety. The artist has never been the man of one style. "Art changes," he said, "like life. 1930-1958 Papart devoted himself to figuration - landscapes, still lifes, portraits and nudes - with an evolution that tended more and more to favor as much as possible the underlying abstract composition of the subject. 1958-1960: beginning of the abstract period, fragmentary abstraction The transition to abstraction is first done with a period of "fragmentary" abstraction, the "subject" being constituted by an association of small-sized elements and geometric shapes in a rather dark colored tone. This period lasts little, because geometric fragmentation prevented the artist from playing bright colors. 1960-1964: period of Bormes and scriptural period The works were executed in Bormes-les-Mimosas (Var) where the painter stayed during the summer months. The composition of these paintings consists of large horizontal planes structured by internal forms and brightly colored in bright red, ocher or blue more or less intense. This period coincides with the scriptural period when Papart resides in Paris in winter: in a thick acrylic material, the serious painter with a punch of abstract compositions inspired by the pictoidograms of the Toltec and Aztec civilizations. Once the dry matter, Papart whitewash the composition with colored juices, red, ocher, bluish gray, brown according to the calculated distribution of engraved drawings. 1964-1966: Period of the Beauce This period corresponds to the painter's stays in a property owned by his parents-in-law near Chartres. We still find there an organization of horizontal beaches, but framed by vertical bands. The dark colors are illuminated by graphics, forms derived from the engravings of Val Camonica (Italy) or Aztec pictoidograms , points arranged in line. 1966-1978: period of pure abstraction This period lasts twelve years. It is marked by strongly colored geometric forms: these forms come from the purification and stylization of objects or characters, often interpreters sitting in front of their piano; write facsimiles or printing letters, especially the S to suggest a woman's head. 1979-1994: American period This period corresponds to the installation of the artist in the United States. The painter associates with the forms of pure abstraction a certain highly stylized representation, birds, faces of profile, fragments of landscapes, silhouettes of characters. These figures are indicated by their contours within which another abstract composition responds to the general abstract composition. Collages and drawings They accompany the evolution of the painter for fifty-five years and have followed their own path .
Details
Creator

Dimensions

Height: 8.25 in. (20.96 cm)

Width: 17.25 in. (43.82 cm)

Depth: .75 in. (1.91 cm)

Medium

Movement & Style

Period

Condition

Minor dents and scratches on frame. Artwork is glued or taped to inner mat at the center edges only.

Gallery Location

Reference Number

Seller: JT-DBH5401

1stDibs: LU5423930332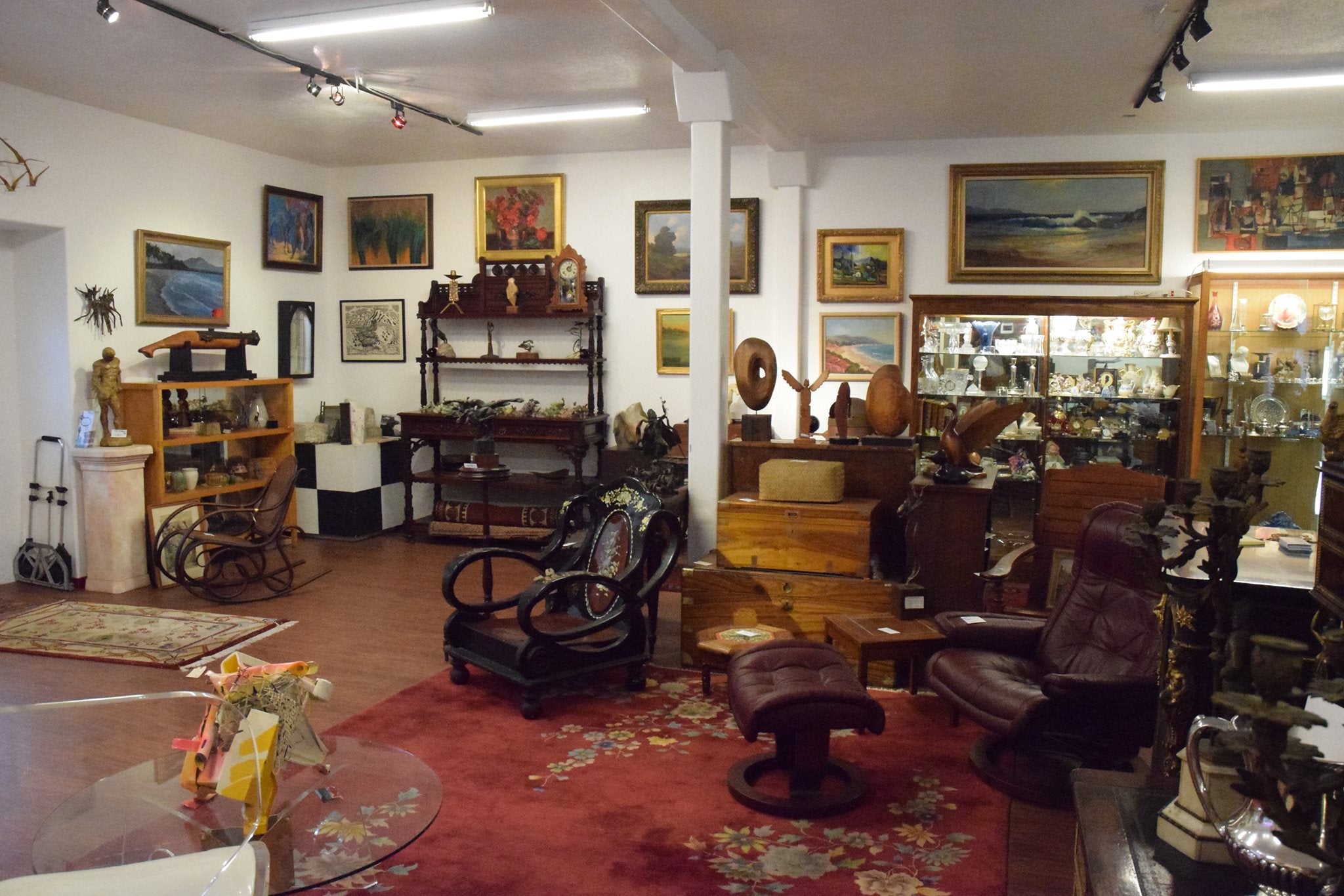 About the Seller
Located in Soquel, CA
These expertly vetted sellers are 1stDibs' most experienced sellers and are rated highest by our customers.
Established in 1986
1stDibs seller since 2014
1,495 sales on 1stDibs
Typical response time: <1 hour