The average cost of an antique Achille Brocot Furniture is $23,841. The price can vary from $3,183 and $44,500 based on the condition, age, materials and aesthetic value for a specific Achille Brocot Furniture.
M.S. Rau Antiques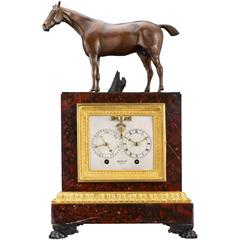 Napoleon III Sculptural Mantel Clock
Achille Brocot
Antique 19th Century French Napoleon III Clocks
Bronze, Marble
This highly important Napoleon III patinated bronze and rouge marble mantel clock by Louis-Gabriel and Achille Brocot is a work of mechanical and artistic beauty. Featuring a Brocot pin...
Dragon Antiques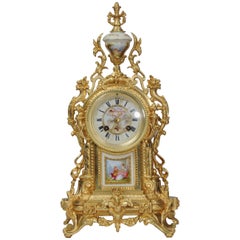 Ormolu and Sèvres Porcelain Clock by Achille Broco...
Sèvres Porcelain, Achille Brocot
Antique 19th Century French Louis XVI Clocks
Porcelain, Ormolu
A beautiful antique French ormolu (gilt bronze) clock with exquisitely decorated Sèvres style porcelain panel, urn and dial. The movement is by the distinguished clockmaker Achille Broc...