The average cost of an antique Achille Gamba Furniture is $10,129. The price can vary from $2,258 and $18,000 based on the condition, age, materials and aesthetic value for a specific Achille Gamba Furniture.
Eclectic-20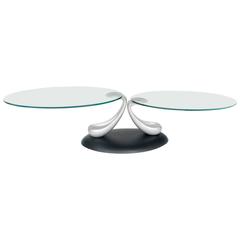 Papillon Extension Coffee Table by Gamba & Guerra,...
Achille Gamba, Naos
Late 20th Century Italian Mid-Century Modern Coffee and Cocktail Tables
Metal, Glass
Iconic contemporary NAOS Papillion coffee table by Gamba & Guerra. Like a beautiful butterfly, this table is designed around an organic structure that exemplifies modern nature. The...
Newel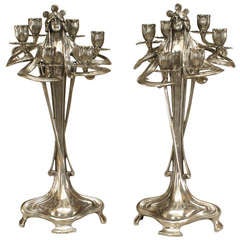 Pair of Silvered Pewter Art Nouveau Candelabra by ...
Achille Gamba
Early 20th Century Art Nouveau Candle Holders
Silver, Pewter
Pair of Art Nouveau silvered pewter candelabra each cast in the form of a longhaired female form who seemingly blossoms from a natural, stemlike base and is encircled by eight flower-sh...