Danish, 1866-1935
For over a century, Georg Jensen has produced some of the finest objects in Scandinavian modern design, including silver tableware, serving pieces, home decor, jewelry and more, frequently partnering with leading artisans to expand its offerings and respond to shifting tastes. Known for minimal aesthetics that reference nature, the craftsmanship of this legendary Danish silverware firm has regularly married function with thoughtful and beautiful design.
Founder Georg Jensen (1866–1935) was born in the small town of Radvaad, Denmark, and began his training as a goldsmith at 14. After studying sculpture and then training with master silversmith Mogens Ballin, he established his own silver business in Copenhagen in 1904. By 1918, the company was successful enough to open a shop in Paris.
Jensen's firm produced an incredibly vast range of silver objects, from serving dishes and barware to centerpieces and chandeliers. For his early work, which bore ornate floral details and other organic forms of Art Nouveau, Jensen looked to the splendors of the natural world. The 1905 Blossom teapot, for instance, was topped with a magnolia bud and deftly balanced on toad feet, while some of Jensen's best-known flatware patterns included Lily of the Valley, introduced in 1913, and Acorn, which debuted in 1915.
Collaboration with outside designers, long before such partnerships were common in design, would lead to some of the company's most popular and enduring work of the mid-century. Sigvard Bernadotte and Vivianna Torun Bülow-Hübe created collections, as did Henning Koppel, whose curvy 1952 Pregnant Duck pitcher is a Georg Jensen classic.
After evolving and expanding throughout the 20th century, Georg Jensen was acquired by Investcorp in 2012. Today, the company is a global luxury brand with more than 1,000 stores around the world. It continues to produce seductive new pieces, such as a tea service made with Marc Newson in 2015, as well as timeless heritage designs, including the relaunch in 2019 of the 1018 solid sterling-silver Tureen 270. In 2020, the firm introduced the Jardinière 1505. Sculptural and richly decorative, the never-before-realized showpiece is hand-hammered from sheets of the finest sterling silver and is based on a 1915 sketch from Jensen's archives.
Find an exquisite collection of Georg Jensen serveware, ceramics, silver and glass today on 1stDibs.
Browse all Jewelry from Georg Jensen
Shop Now
Creators Similar to Georg Jensen
More Georg Jensen Designs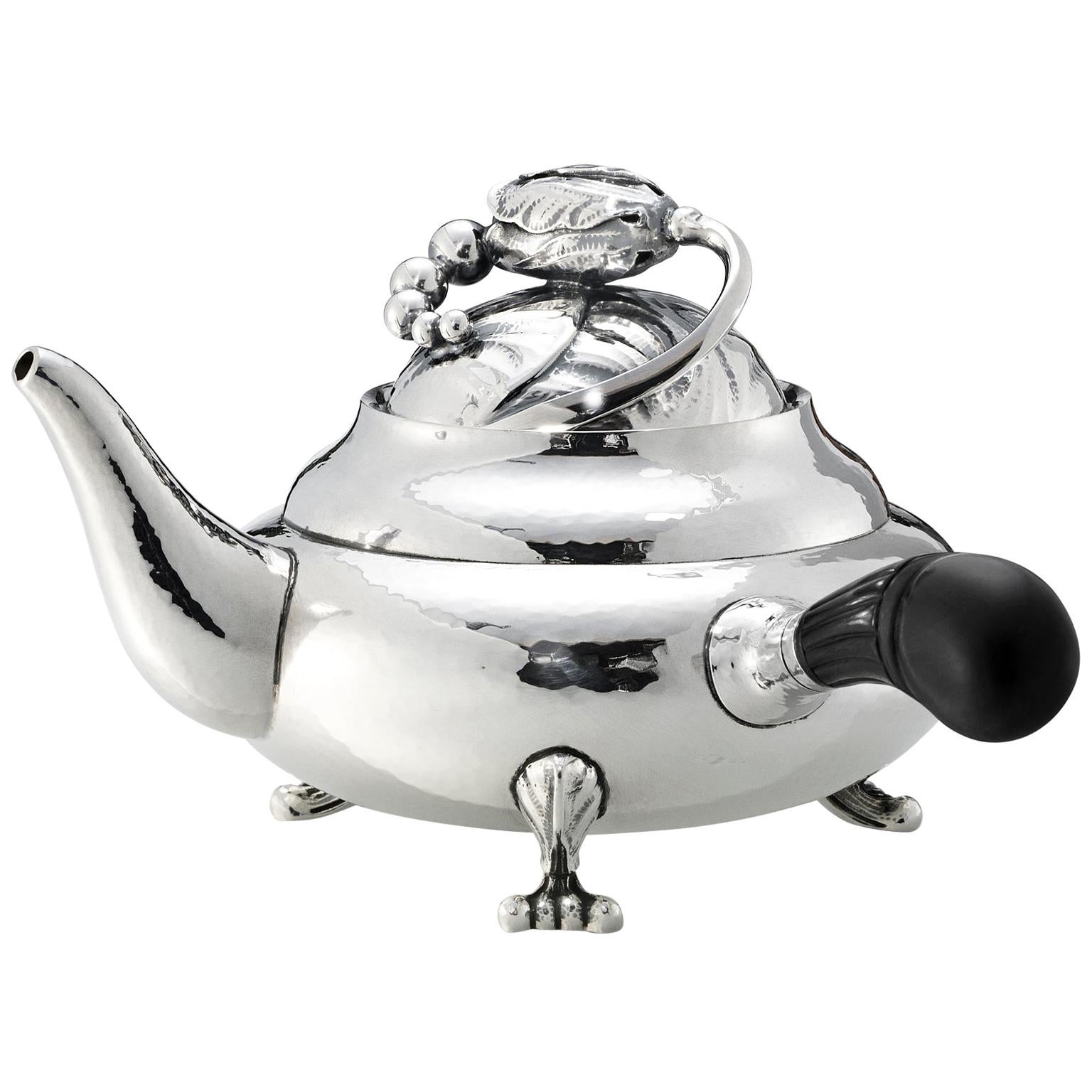 Georg Jensen Blossom Teapot
Georg Jensen Blossom Teapot
Materials
Metal, Silver, Sterling Silver
The very first of Danish silversmith Georg Jensen's teapots, the Blossom teapot exemplifies the natural motifs and Japanese influence central to the Art Nouveau movement, which spread across Europe at the turn of the 20th century. Jensen (1866–1935) brought the first Blossom teapot to market in 1905, just a year after founding his eponymous silversmith workshop in Copenhagen. Before finding his calling working in silver, Jensen had trained as a sculptor and ceramicist, studying at the Royal D...
Shop All
Georg Jensen jewelry & watches for sale on 1stDibs
1stDibs offers a range of Georg Jensen jewelry and watches. These unique items were designed with extraordinary care, often using
silver
. While looking for the most fashionable vintage or antique Georg Jensen jewellery to pair with your ensemble, you will find that Georg Jensen
diamond
jewelry & watches from our inventory of 33 can add a particularly distinctive touch to your look. This collection contains 848 pieces as well as a number of other designs by this jeweler. Georg Jensen's
modern
and
art nouveau
styles are among the most popular styles of jewelry and watches available on 1stDibs. While this collection reflects work that originated over various time periods, most of these items were designed during the 20th Century. Many customers also consider jewelry & watches by
Antinori Fine Jewels
,
Roshe Jewels
and
Five Star Jewelry
if you are looking for additional options. Prices for Georg Jensen watches and jewelry can vary depending upon gemstone, time period and other attributes. The price for these items starts at
$40
and tops out at
$60,400
, while pieces like these can sell for
$933
on average.
Questions About Georg Jensen
1stDibs Expert

March 22, 2022

Georg Jensen was a Danish designer known for producing jewelry, lighting, home decor and silverware out of silver and other materials. He was born in Raadvad, Denmark, on August 31, 1866, and died on October 2, 1935, in Copenhagen, Denmark. On 1stDibs, find a large collection of Georg Jensen.

1stDibs Expert

March 22, 2022

To pronounce Georg Jensen, say "GAY-org JEN-sin." Many people mispronounce the first word as the English name "George," but it is actually Danish. Designer Georg Jensen was born in Raadvad, Denmark, in 1866. Find a collection of Georg Jensen on 1stDibs.

1stDibs Expert

March 22, 2022

You can buy Georg Jensen directly from the brand on their official website and many reputable online platforms, including 1stDibs. In addition, more than 1,100 brick-and-mortar retailers carry Georg Jensen jewelry, silverware and home decor. You'll find a large selection of Georg Jensen on 1stDibs.

1stDibs Expert

March 22, 2022

As of December 2021, Georg Jensen currently makes their products in two locations. One is in Hjørring, Denmark, and the other is in Chiang Mai, Thailand. The company Georg Jensen A/S has its headquarters in Frederiksberg, Denmark. Shop a large selection of Georg Jensen on 1stDibs.

1stDibs Expert

March 22, 2022

To clean Georg Jensen stainless steel, hand wash the item with warm water and a mild dish soap. If you need to loosen stubborn dirt, use a soft-bristled brush. On 1stDibs, you can find a selection of Georg Jensen designs.