Antikbar Limited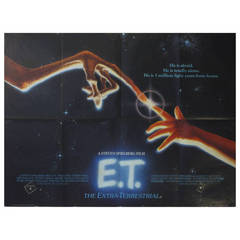 Dimensions:
H 29.92 in. D 39.76 in.
Dealer Location:
London, GB
Materials & Techniques:
Paper, Lithograph
Original Vintage Cinema Poster by John Alvin for t...
John Alvin
Late 20th Century British Posters
Paper, Lithograph
Original vintage cinema poster for the Steven Spielberg film, ET the Extra Terrestrial, starring Henry Thomas, Drew Barrymore and Peter Coyote. Original British quad poster for this ico...