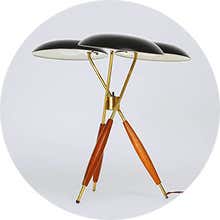 Founded in 1904 in New York and family-operated through most of its history, Lightolier was one of the pioneering American electric lighting companies, best known for its embrace of stylistic and technical innovations.
Collectors focus on vintage Lightolier lighting fixtures produced from the 1950s and into the 1970s, when an in-house design team led by Gerald Thurston — and a stellar cast of international design contributors — created an array of practical yet aesthetically lively table lamps, floor lamps, sconces and chandeliers.
Amidst the post-World War II building boom, Lightolier — the name combines "light" and "chandelier" — aggressively boosted its residential lighting division. Thurston, who was strongly influenced by the sleek designs of Gino Sarfatti and his Italian lighting firm Arteluce, towards simpler lamp designs that offered flexibility of function. His best-known designs include the Cricket task light — a lamp with an adjustable enameled metal hood that toggles on a slender bent-metal base — and the three-legged Tripod floor lamp. At the same time, Thurston had a wonderful eye for talent and sought work from some of the lesser-known greats of the era, such as Paavo Tynell, the Finnish lighting designer, who designed several brass chandeliers for Lightolier with his trademark elegant flamboyance.
And more, Thurston recognized abilities in designers not known for their work in lighting.
Edward Wormley, head of furniture design for Dunbar, produced several noteworthy chandeliers employing canisters and reflective hoods. Alvin Lustig was famed as a graphic designer. His ca. 1953 Ring ceiling fixture for Lightolier had a minimalist techno look some 30 years ahead of its time. But this was par. Designed by Michael Lax in 1964, the Lytegem high-intensity lamp — included in the permanent collection of the Museum of Modern Art — features a ball-shaped shade attached with a chromed armature to a cubic base, a form that would be widely copied in the following decade. Chandeliers designed in the early 1970s by Gaetano Sciolari, with details such as acrylic diffusers and vertical, two-bulb arms, would define the look of lighting in their day.
A look through these pages reveals just how astonishingly wide a range of lighting pieces Lightolier produced. The company never flicked off its stylistic switch.
Find a collection of vintage Lightolier lamps and other lighting fixtures on 1stDibs.
Lightolier floor lamps for sale on 1stDibs
Lightolier floor lamps are available for sale on 1stDibs. These distinctive objects are frequently made of
metal
and designed with extraordinary care. There are many options in our Lightolier floor lamps collection, although
brown
editions of this piece are particularly popular. There are 35 vintage versions of these items in stock, while there is 0 modern edition to choose from as well. Many of the original floor lamps by Lightolier were created in the
Mid-Century Modern
style in
United States
during the
20th Century
. If you're looking for additional options, many customers also consider floor lamps by
Cedric Hartman
,
George Kovacs
and
Gerald Thurston
. Prices for Lightolier floor lamps can vary depending on size, time period and other attributes. Price for these items starts at
$495
and tops out at
$21,000
, while pieces like these can sell for
$2,500
on average.
Creators Similar to Lightolier