Milo Baughman Swivel Chairs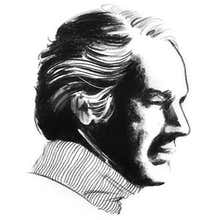 American, 1923-2003
Milo Baughman was one of the most agile and adept modern American furniture designers of the late 20th century. A prolific lecturer and writer on the benefits of good design — he taught for years at Brigham Young University — Baughman (whose often-scrambled surname is pronounced BAWF-man) focused almost exclusively on residential furnishings, such as chairs, sofas and benches. He had a particular talent for lounge chairs, perhaps the most sociable piece of furniture.
Like his fellow adoptive Californians Charles and Ray Eames, Baughman's furniture has a relaxed and breezy air. He was famously opposed to ostentatious and idiosyncratic designs that were made to excite attention. While many of his chair designs are enlivened by such effects as tufted upholstery, Baughman tended to let his materials carry the aesthetic weight, most often relying on seating and table frames made of sturdy and sleek flat-bar chromed metal, and chairs, tables and cabinets finished with highly-figured wood veneers.
Like his colleagues Karl Springer and the multifarious Pierre Cardin, Baughman's designs are emblematic of the 1970s: sleek, sure and scintillating.
As you will see from the furniture presented on 1stDibs, Milo Baughman's designs for the likes of Drexel Furniture, Glenn of California and — for five decades — Thayer Coggin are ably employed as either the heart of a décor or its focal point.
Milo Baughman swivel chairs for sale on 1stDibs
The Milo Baughman Swivel Chairs are available on 1stDibs for sale. These distinctive items are often made of
fabric
and designed with extraordinary care. In our collection of Milo Baughman Swivel Chairs, there are many options to choose from, although
brown
editions of this piece are particularly popular. We have 52 vintage editions of these items in stock, while there is also a modern edition to choose from. Many of Milo Baughman's original swivel chairs were created in
Mid-Century Modern
style in
North America
during the
20th century
. If you're looking for additional options, many customers also consider swivel chairs by
Dunbar
,
Thayer Coggin
and
Edward Wormley
. The prices for Milo Baughman swing chairs can vary depending upon size, time period and other attributes. Price for these items starts at
$945
and tops out at
$24,900
, while pieces like these can sell for
$5,600
on average.
Creators Similar to Milo Baughman
Questions About Milo Baughman Swivel Chairs
1stDibs Expert

April 5, 2022

Milo Baughman took special care to make sure his chairs looked just as good from the back as they do from the front. You can spot a real Milo Baughman chair by checking out the trademark flat bar metal frames on the chairs and sofas. Shop a collection of Milo Baughman pieces from some of the world's top sellers on 1stDibs.

1stDibs Expert

April 5, 2022

Milo Baughman designed for many companies over the course of his life. Some of the companies the American designer worked for include Arch Gordon, Directional Furniture, Drexel, George Kovacs, Glenn of California, The Inco Company, Mode Furniture, Murray Furniture of Winchendon and Pacific Iron. You'll find a collection of Milo Baughman furniture on 1stDibs.