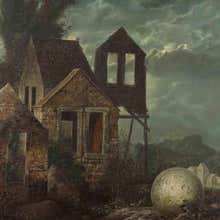 b. 1933
The Polish-born painter Samuel Bak is well-known for his Surrealist paintings, which frequently derive from his own experience. In Vilna, Bak and his family experienced the Holocaust, but he and his mother survived, thanks to the help of a nun named Maria Mikulska, who hid them in a convent. It was during this time that Bak discovered his talent for painting. At the age of nine, living in the Jewish Ghetto, Bak had his first exhibition. Maria Mikulska encouraged his talent while in hiding, supplying him with paint and paper.
After the war, Bak left for Munich to study painting and became familiar with German Expressionism and Constructivism. In 1948, Bak and his mother immigrated to Israel and Bak studied at the Bezalel Academy of Arts and Design in Jerusalem. He moved to Paris in 1956, studying at the École Nationale Supérieure des Beaux-Arts, where he discovered post-neoclassical Cubism, and in 1959, he moved to Rome and held his first exhibition of abstract paintings. Bak later wrote that in Paris and Rome "there was an incredible freedom, you could do practically anything. But not tell stories in paintings, and not do anything which might be considered theatrical." A product of his varied training, Bak's work combines elements of Realism, Surrealism and Cubism, as well as reflecting his admiration for the Old Masters, such as Albrecht Dürer and Michelangelo. However, from these he carved out his own style, choosing to go against the current and create narrative paintings drawn from his experience of the war.
Bak's use of seemingly incoherent symbols and his play with reality and illusion has earned the artist comparisons to the Surrealist painter René Magritte. Like Magritte, Bak's proportions are deliberately exaggerated and he often displays ordinary objects in unusual settings, giving the objects a new meaning. The unlikely combination of fruit, household objects and collections of three-dimensional shapes that occupy the foreground, set against vast natural landscapes form characteristically Surrealist, dreamlike compositions.
The artist's personal experience colours the imagery of his paintings, often employing symbols, and artistic devices such as substitution to make his art more palatable to the viewer. He claimed; "my use of symbols, icons and metaphors managed to keep the underlying horror of my world at bay." Rather than directly painting scenes of death, he depicted crematorium chimneys. Similarly, he painted teddy bears as a testament to the victim children. These recurring symbols are often set against a background of crumbling monuments and buildings, which remind the viewer of a world in disarray. By using the same set of symbols and images, Bak creates his own pictorial language.
Over the course of his career, Bak's work has featured in numerous exhibitions and collections throughout Europe, Israel and the United States, where he now resides. In 1961, Bak was invited to exhibit at the "Carnegie International" in Pittsburgh. In 1963 he was honoured with retrospectives at the Yad Vashem Museum in Jerusalem and the Tel Aviv Museum of Art. The following year, he exhibited at the Venice Biennale. Other exhibitions of Bak's work include the 1975 exhibition at the Jewish Museum of New York and an exhibition at the Barbican Centre in London in 1990. In 2002, he received the German Herkomer Cultural Prize and today, a collection of his works is on permanent display at the Pucker Gallery in Boston.
(Biography provided by Stern Pissarro Gallery)
Previously Available Items
Timepiece
Located in Rancho Santa Fe, CA
This painting is located in our New York City warehouse. The painting is in excellent condition. It is Signed Lower Right – "BAK". The Provenance is Private Collection, New York Ci...
Category
1980s Surrealist Samuel Bak Art
Artists Similar to Samuel Bak