About Christopher Stout
Christopher Stout (born 1970), whose pronouns are he/him or the inclusive they/them, is a New York City-based artist who works within the contemporary genre of art referred to as queer abstraction. A statement of practice regarding all of Christopher Stout's work is that it intends to surround us with the notion of radical joy and a vision of queerness as found in our imaginations. But what does the term queer abstraction mean and represent? In the artist's own words: "I would suggest that queer abstraction might be most easily defined as activist art about the queer e...Read More

Established in 19981stDibs seller since 2023
Featured Pieces
Sound Art Drawing 02 based on the electronic work Alien Bog by Pauline Oliveros
Located in Brooklyn, NY
This work is from The Sound Art Drawings, a series by New York City-based artist
Christopher Stout
, whose pronouns are he/him or the inclusive they/t...
Category
2010s Contemporary Abstract Drawings and Watercolors
Materials
Charcoal, Oil Crayon, Graphite, Ink
Wonderment of Otherness Quilt Painting 007 A Monument to Julius Eastman
Located in Brooklyn, NY
This work is from the Wonderment of Otherness series of paintings by New York City-based artist
Christopher Stout
, whose pronouns are he/him or inclu...
Category
2010s Abstract Abstract Paintings
Wonderment of Otherness Quilt Painting 001 A Monument to José Esteban Muñoz
Located in Brooklyn, NY
This work is from the Wonderment of Otherness series of paintings by New York City-based artist Christopher Stout, whose pronouns are he/him or inclusive they/them. Each work within the Wonderment of Otherness series is a sculptural monochrome painting and is part of the contemporary genre of art referred to as queer abstraction. A statement of practice regarding all of Christopher Stout's work is that it intends to surround us with the notion of radical joy and a vision of queerness as found in our imaginations. But what do the term queer abstraction mean and represent? In the artist's own words: "I would suggest that queer abstraction might be most easily defined as activist art about the queer experience that does not employ representation of the human figure. Queer abstraction, along with Black abstraction, feminist abstraction, and even Arte povera are examples of 4 distinct types of sociopolitical protest work birthed in the late 1960s and early 1970s, which primarily eschew the use of figuration. In providing additional context, art critic and curator Eric Sutphin theorizes that contemporary artists practicing queer abstraction, 'are in close dialogue with their forbears, and bring to the milieu of queer abstraction a new set of social, economic, and political concerns…including a series of questions: What is the relationship between queerness and formalism? Without explicit political references, how can abstract work transmit the urgency of its content?'" In returning the conversation to the Wonderment of Otherness paintings, each painting in this body of work has been designated as a 'quilt painting' because the central visual element and topography of the works are textile pieces of Belgian linen and cotton sewn together with wire in a manner akin to quilting. It should be noted that quilting here is not a reference to the AIDS quilt, but rather an extension of the tradition of quilting as a form of political art by marginalized people. These quilts are stretched on stacks of wooden panels, so that the works retain elements to suggest being textile pieces, and also elements of being sculptures, and also elements of being paintings. This is a reference to the nonbinary. An equally important concentration within these works is to express a linear relationship between queer abstraction and queer theory. Alongside each painting has been designated a notable academic text, biography, or resource book documenting a spectrum of queer ideas and experiences. Stout noted that, "Some of these books are longtime friends, and some of the more contemporary works were read as part of my research for these paintings." Whilst these paintings are not designed to illustrate the work of these queer academics, they do hope to activate a through line, manifesting the shared goals within queer abstraction. This painting is titled, Wonderment of Otherness Quilt Painting 001, A Monument to the Work and Queer Personhood of José Esteban Muñoz (which is slightly longer than the 80 characters permitted in the online catalog) and is a monument to the work and Queer personhood of José Esteban Muñoz. Stout painted this piece after re-reading Muñoz's text, "Cruising Utopia, The Then and There of Queer Futility." A much-loved quote from this book: "Queerness is not yet here. Queerness is an ideality. Put another way, we are not yet queer. We may never touch queerness, but we can feel it as the warm illumination of a horizon imbued with potentiality. We have never been queer, yet queerness exists for us as an ideality that can be distilled from the past and used to imagine a future. The future is queerness's domain. Queerness is a structuring and educated mode of desiring that allows us to see and feel beyond the quagmire of the present. The here and now is a prison house. We must strive, in the face of the here and now's totalizing rendering of reality, to think and feel a then and there. Some will say that all we have are the pleasures of this moment, but we must never settle for that minimal transport; we must dream and enact new and better pleasures, other ways of being in the world, and ultimately new worlds, queerness is a longing that propels us onward, beyond romances for the negative and toiling in the present, queerness is that thing that lets us feel that this world is not enough, that indeed something is missing. Often we can glimpse the worlds proposed and promised by queerness in the realm of the aesthetic. The aesthetic, especially the queer aesthetic, frequently contains blueprints and schemata of a forward-dawning futurity. Both the ornamental and the quotidian can contain a map of the utopia that is Queerness." ― José Esteban Muñoz ... Process: Stacked wooden panels, on which is stretched a quilt that I fashioned from Belgian linen and cotton fabric sewn together with wire. The finished work is a
monochrome painted
...
Category
2010s Abstract Abstract Paintings
More About Christopher Stout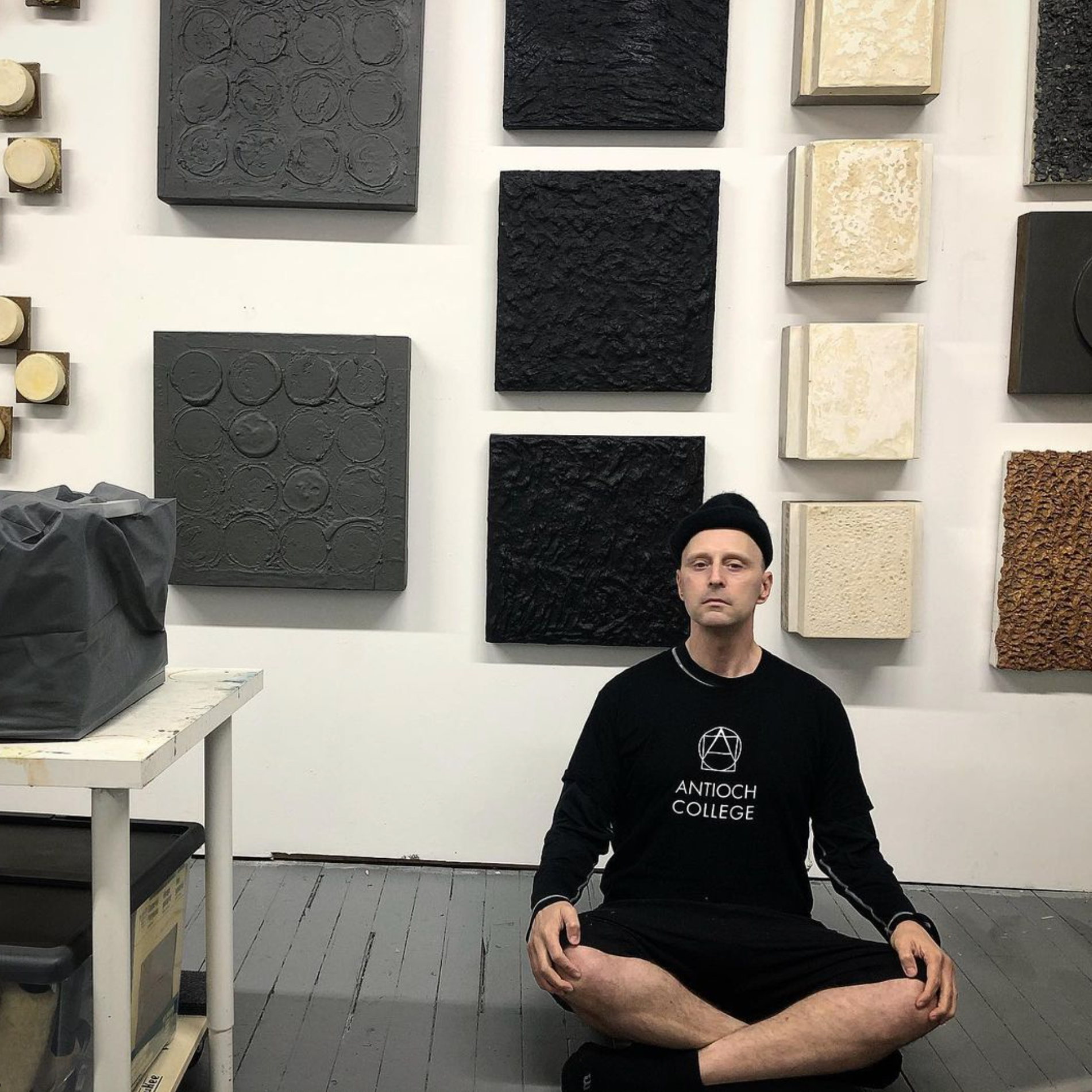 Studio portrait with a salon hanging of queer abstraction works, 2013–2020.