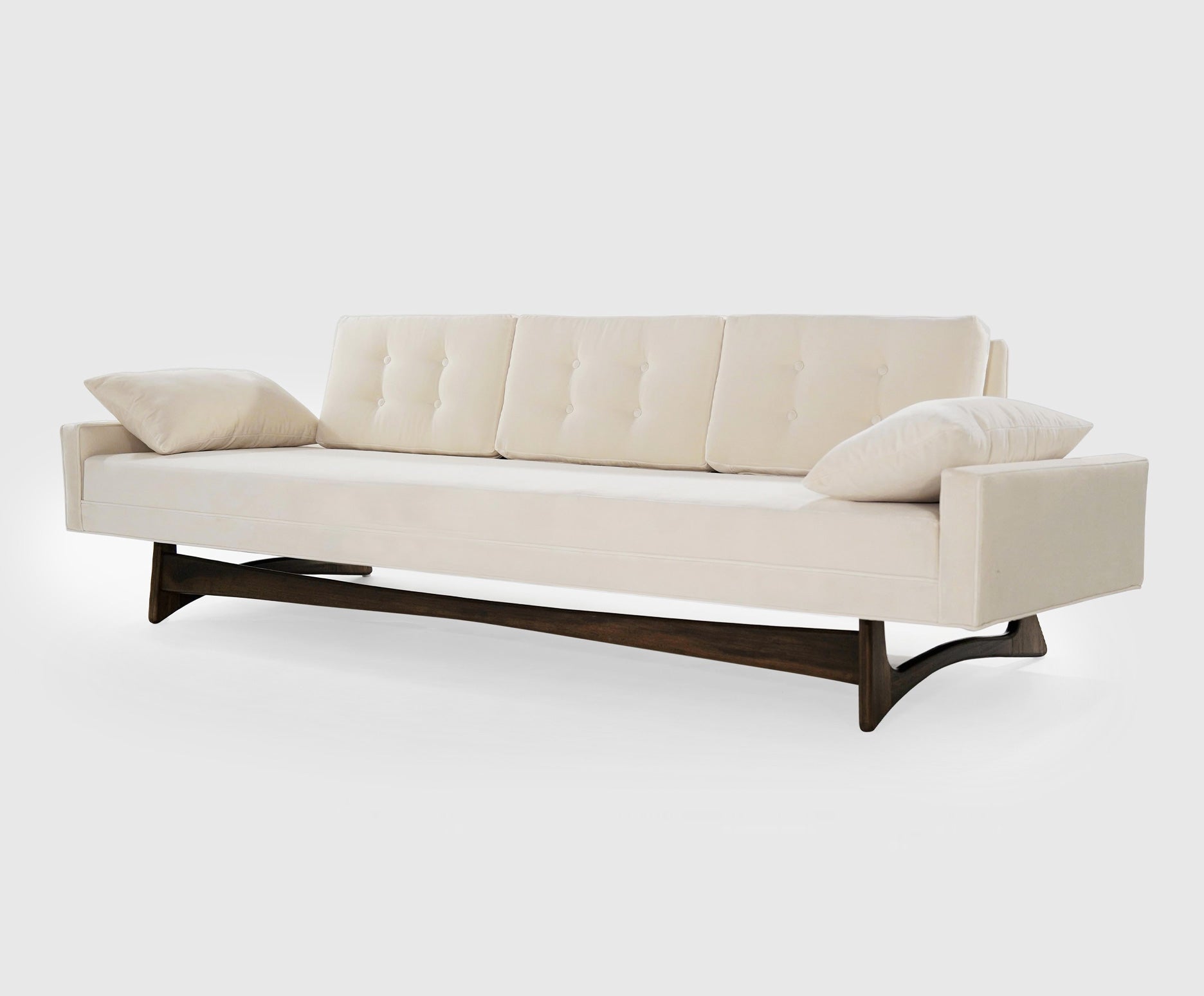 Iconic Designs
Gondola Sofa
About the Design
One look at the furniture of Adrian Pearsall (1925–2011), and it's easy to intuit that the American mid-century modern designer had a background in architecture. Although Pearsall did, in fact, earn a degree in architectural engineering from the University of Illinois in 1950, he would leave the architecture field just two years later to found his own furniture company. There, his celebrated work — such as the mid-1950s Gondola sofa — continued to retain a daring structural sensibility that nodded to his early career path.
For his most famous chairs, sofas and coffee tables, Pearsall devised cantilevered frames that mirror the imposing structural beams and silhouettes of skyscrapers. The Gondola sofa is no exception; its form has a decidedly architectural quality and also references Pearsall's lifelong love of boats. Set on two angled front legs connected to a base band of walnut, the frame has a skeletal feel. But the slanted arms and trapezoidal back — a shape that recalls the flat-bottomed boats of Venice — embrace the sitter, providing a comfortable and even enveloping seat.
Like much of Pearsall's most famous mid-century modern furniture, the Gondola was produced through Craft Associates, the furniture company he founded in 1952 with the help of his wife, Dorie, and brother, Richard. Early days saw Pearsall crafting furniture in the basement of his Pennsylvania home and selling it out of the back of a truck, but after the introduction of a few knockout pieces — among them the Cloud sofa and the Gondola — Craft Associates grew to be one of Wilkes-Barre's largest employers and sold furniture to the likes of Macy's and Wanamaker's. The designer, who died in 2011, was nominated for inclusion into the American Furniture Hall of Fame in 2008.
Pearsall's architecture-influenced style made him one of the early figures of Atomic Age design, the Cold War–era aesthetic defined by then-futuristic shapes and geometric patterns based on nuclear particles. The Gondola, with its skeletal base and geometric seat, fits into this camp but also caters to the comfort-centric ethos of the type of modernism emerging in Scandinavia at the time. Elements like the walnut frame and plush seat would become indicative of the Craft Associates style. Later, Pearsall would lean more into this aesthetic when he launched the aptly named Comfort Designs with partner John Graham in the early 1970s.
Although both Craft Associates and Comfort Designs no longer exist, Pearsall's family continues to license certain designs of his to Restoration Hardware, but many early treasures, the Gondola sofa included, are long out of production.
Previously Available Items
More Adrian Pearsall Designs