Dimensions:
Dealer Location:
Atlanta, GA
1960's Italian Silk Men's Ascot Cravat Necktie Wit...
Ashear Ascots
What should every well dressed man wear to the golf course? An all silk Italian ascot by Ashear, of course! This reversible ascot tie features golfers, clubs and balls in shades of re...
Sui GENERIS Consignment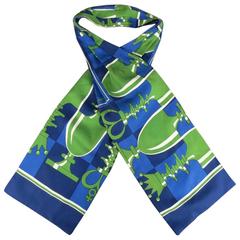 Dimensions:
Dealer Location:
San Francisco, CA
Vintage HERMES Navy & Green Chess Pieces Print Sil...
Hermès Ascots
HERMES navy and green, silk, ascot features a chess-like print against varying checkerboard squares in blue. Stains and discolorations throughout. As-Is. Made in France. Fair Pre-Owne...