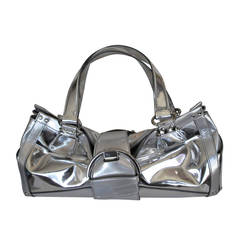 Dimensions:
H 8.66 in. W 16.14 in.
Dealer Location:
Amsterdam, NL
Sergio Rossi silver Leather handbag
Silver Sergio Rossi Tote Bags
Exclusive ordinairy Silver Leather Sergio Rossi handbag with card of authenticy.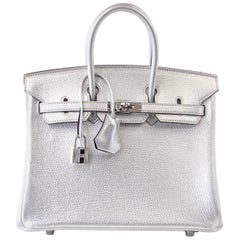 Dealer Location:
Miami, FL
Hermes Birkin 25 Ultra Rare Metallic Silver Chevre...
Silver Hermès Tote Bags
Guaranteed authentic Hermes Birkin 25 Chevre uber rare, crazy fabulous, Metallic Silver. Perfection with palladium hardware. Black chevre interior. Comes with lock, keys, clochette, sle...
Dealer Location:
New York, NY
Metallic Silver Yves Saint Laurent Downtown Bag
Silver Yves Saint Laurent Tote Bags
Product details: Metallic silver leather Downtown bag by Yves Saint Laurent. Dual carry handles. Side top zip closures with open center. Lined interior with inner zip pocket. Goldt...