Rustic Decorative Baskets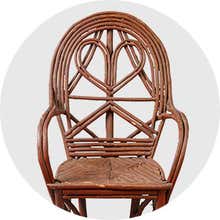 Rustic Style
For some, the phrase "rustic style" suggests a house like "La Pitchoune," the late chef Julia Child's cottage in Provence, with its exposed wooden beams and well-worn antique furniture. For others, rustic furniture and decor prompts images of a place like the Lake Placid Lodge in Upstate New York, with its stone fireplaces and knotty pine paneling. Indeed, rustic design takes many forms: twig furniture, a plank trestle table, a hand-stitched quilt, a chandelier made of deer antlers.
The rustic style originated in the late 1800s in England, where it was heavily influenced by romanticism. By the 20th century, it had spread to the United States, adopted by wealthy New Yorkers and the National Park Service alike. Although there are many categories of rustic furniture, one of the most popular and familiar manifestations of the style is the 1903 Thomas Lee Adirondack chair.
Rustic design is perhaps mostly about texture and humble materials: hand-hewn wood, woven rush seating, wrought iron, coarse stone and weathered metal. As a decor, it exudes warmth and honesty, while a single piece of countrified design adds an intriguing visual counterpoint in a sleek, modern environment. As you can see on 1stDibs, rustic wares offer no end of inspiration.
Rustikal dekorative körbe for sale on 1stDibs
Find a broad range of unique Rustikal
dekorative körbe
for sale on 1stDibs. Many of these items were first offered in the 21. Jahrhundert und zeitgenössisch, but contemporary artisans have continued to produce works inspired by this style. If you're looking to add vintage dekorative körbe created in this style to your space, the works available on 1stDibs include
dekorative objekte
,
asiatische kunst und möbel
,
serviergeschirr, keramik, silber und glas
and other home furnishings, frequently crafted with
holz
,
naturfaser
and other materials. If you're shopping for used Rustikal dekorative körbe made in a specific country, there are
Asien
,
Europa
, and
Ostasien
pieces for sale on 1stDibs. While there are many designers and brands associated with original dekorative körbe, popular names associated with this style include
Michel Caugant
,
Sarreguemines
,
Adrien Audoux and Frida Minet
, and
Inês Schertel
. It's true that these talented designers have at times inspired knockoffs, but our experienced specialists have partnered with only top vetted sellers to offer authentic pieces that come with a
buyer protection guarantee
. Prices for dekorative körbe differ depending upon multiple factors, including designer, materials, construction methods, condition and provenance. On 1stDibs, the price for these items starts at 135 $ and tops out at 5.440 $ while the average work can sell for 450 $.