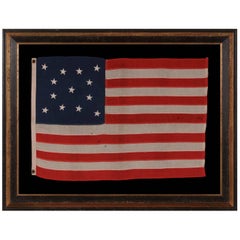 13 Stars in a Medallion Configuration on a Small-Scale Flag of the 1890-1900 Era
Want more images or videos?

Request additional images or videos from the seller
1 of 7
13 Stars in a Medallion Configuration on a Small-Scale Flag of the 1890-1900 Era
About
13 STARS IN A MEDALLION CONFIGURATION ON A SMALL-SCALE ANTIQUE AMERICAN FLAG OF THE 1890-1900 ERA: 13 star flag of the type made from roughly the last decade of the 19th century through the first quarter of the 20th. The stars are arranged in a medallion configuration, with a single, center star and four flanking corner stars. Most 13-star flags of this period have a less-desirable, staggered row design with stars arranged in counts of 3-2-3-2-3. Medallion patterns, like this one, seem to comprise about 20% of such flags that were produced during this era. On this particular flag, the stars are curiously small in scale in proportion to the size of the flag, which adds an interesting element to its visual appearance. A bit more crude than the typical example, the flag has a nice, early, and somewhat more whimsical presentation than others of its kind. These features suggest that it is among the earliest examples of small 13 star flags of this general form and construction, probably made in the 10-year time frame between 1890 and 1900. Though unsigned, like most flags of this period, I have owned examples of this peculiar variety previously. This type is sometimes found without a hoist binding, purposely meant to be tacked to a staff as opposed to tied with rope or twine, which is not the norm among wool flags with pieced-and-sewn construction in any period but is more indicative of the 19th century. Why 13 Stars? As the number of stars grew with the addition of new states, it became more and more difficult to fit their full complement on a small flag. The stars would, by necessity, have to become smaller, which made it more and more difficult to view them from a distance as individual objects. The fear was that too many stars would become one white mass and distort the ability to identify American ships on the open seas. The U.S. Navy used 13 stars on its small-scale flags for precisely this reason. This was, of course, the original number of stars on the first American national flag, by way of the First Flag Act of 1777, and equal to the number of original colonies that became states. For all practical purposes, commercial flag-makers simply didn't produce flags with pieced-and-sewn construction that were 3 to 4 feet in length before the 1890s. There are exceptions to this rule, but until this time, the smallest sewn flags were approximately 6 feet on the fly. The primary use had long been more utilitarian than decorative, and flags needed to be large to be effective as signals. But private use grew with the passage of time, which led to the need for long-term use flags of more manageable scale. Beginning around 1890, flag-makers began to produce smaller flags for the first time in large quantities, typically measuring either 2 x 3 feet (like this example) or 2.5 x 4 feet. Applying the same logic as the U.S. Navy, they chose the 13 star count rather than the full complement of stars, for sake of ease and visibility. Any flag that has previously been official, remains so according to the flag acts, so even today 13 star flags remain official national flags of the United States of America. The 13 star count has been used throughout our nation's history for a variety of other purposes. 13 star flags were hoisted at patriotic events, including Lafayette's visit in 1825-26, the celebration of the nation's centennial in 1876, and the Sesquicentennial in 1926, as well as for annual celebrations of Independence Day. They were displayed during the Civil War, to reference past struggles for American liberty, and were used by 19th century politicians in political campaigning. The use of yachting ensigns with a wreath of 13 stars surrounding a fouled anchor, which allowed pleasure boats to bypass customs between 1848 and 1980, persists today without an official purpose. Construction: The canton and stripes of the flag are made of wool bunting that has been pieced with machine stitching. The cotton stars were double-appliquéd (applied to both sides) with a zigzag machine stitch. There is a narrow canvas binding along the hoist with two brass grommets. Mounting: The flag was mounted and framed within our own conservation department, which is led by masters degree trained staff. We take great care in the mounting and preservation of flags and have framed thousands of examples. The background is 100% cotton twill, black in color. The mount was placed in a black-painted, hand-gilded and distressed Italian molding. The glazing is U.V. protective plexiglass. Condition: There is minor mothing throughout and there is minor soiling in limited areas. Many of my clients prefer early flags to show their age gracefully. Frame size (H x L): 37.25" x 47.25" Flag size (H x L): 25.25" x 36" About Jeff R. Bridgman Antiques, Inc.: As an advisor to top museums and collectors alike, Jeff Bridgman is the world's leading expert and source for antique American flags and political textiles. In this field there are many fakes, forgeries, and misrepresented items, and there is no substitute for experience. As the nation's leading buyer and seller, Jeff R, Bridgman Antiques, Inc. has handled more material than anyone in the field. He has also operated a textile conservation business for 18 years, where expert staff have conservation mounted, framed and restored thousands of examples, more than anyone world-wide.
Details
Dimensions

Height: 37.25 in (94.62 cm)

Width: 47.25 in (120.02 cm)

Depth: 2.5 in (6.35 cm)

Materials and Techniques

Place of Origin

Period

Date of Manufacture

Condition

Seller Location

Reference Number

Seller: 13j-1454

1stDibs: LU84979064733
Located in York County, PA
These prestigious sellers are industry leaders and represent the highest echelon for item quality and design.
Established in 1991
1stDibs seller since 2008
57 sales on 1stDibs
Typical response time: 6 hours
More From This Seller
View All
42 Star Antique American Flag with Stars in a Wave Configuration circa 1889-1890

Located in York County, PA

42 stars on an antique American flag with a wave configuration of lineal columns, an unofficial star count that reflects the addition of washington state, montana, and the dakotas, c...

Category

Antique Late 19th Century American Political and Patriotic Memorabilia

36 Eight-Pointed Stars in a Medallion Configuration on an Ocean Blue Canton

Located in York County, PA

36 EIGHT-POINTED STARS IN MEDALLION CONFIGURATION, ON AN OCEAN BLUE CANTON THAT RESTS ON THE WAR STRIPE; A SPECTACULAR CIVIL WAR PERIOD FLAG FROM THE TINCLAD GUNBOAT "

GENERAL GRANT

...

Category

Antique Late 19th Century American Political and Patriotic Memorabilia

31 Stars in a Medallion Pattern on an Elongated Homemade Flag

Located in York County, PA

31 STARS IN A MEDALLION PATTERN ON AN ELONGATED, HOMEMADE FLAG WITH A VERTICALLY-ORIENTED CANTON AND EXCEPTIONAL FOLK QUALITIES, PRE-CIVIL WAR, CALIFORNIA STATEHOOD, 1850-1858 31 s...

Category

Antique 1850s American Political and Patriotic Memorabilia

35 Stars in a Medallion Configuration with a Large Haled Center Star

Located in York County, PA

35 STARS IN A MEDALLION CONFIGURATION WITH A LARGE, HALOED CENTER STAR, CIVIL WAR PERIOD, WEST VIRGINIA STATEHOOD, 1863-65 35 star American national parade flag, printed on cotto...

Category

Antique 1860s American Political and Patriotic Memorabilia

34 Stars in an Outstanding Oval Medallion Configuration, Civil War Period

Located in York County, PA

34 STARS IN AN OUTSTANDING OVAL MEDALLION CONFIGURATION, ON A NARROW CANTON THAT RESTS ON THE 6TH STRIPE, ON A HOMEMADE, ANTIQUE AMERICAN FLAG OF THE CIVIL WAR PERIOD, ENTIRELY HAND-...

Category

Antique 1860s American Political and Patriotic Memorabilia

13 Star American Flag with Hand-Sewn Stars in the 3rd Maryland Pattern

Located in York County, PA

13 hand sewn stars in a circular version of what is known as the 3rd Maryland pattern, with an especially large center star, a flag with especially tiny scale among those with pieced-and-sewn construction, exceptionally rare, made circa 1890: 13 star flags have been flown throughout our nation's history for a variety of purposes. They were hoisted at patriotic events, including Lafayette's visit in 1824-25, the celebration of the centennial of American independence in 1876, and the sesquicentennial in 1926. They were displayed during the Civil War, to reference past struggles for American liberty and victory over oppression, and were used by 19th century politicians while campaigning for the same reason. As the number of stars grew with the addition of new states, it became more and more difficult to fit their full complement on a small flag. The stars would, by necessity, have to become smaller, which made it more and more difficult to view them from a distance as individual objects. The fear was that too many of them close together would become as one white mass and distort the ability to identify American ships on the open seas. Keeping the count low allowed for better visibility. For this reason the U.S. Navy flew 13 star flags on small boats. Some private ship owners mirrored this practice and flew 13 star flags during the same period as the Navy. Flag experts disagree about the precisely when the Navy began to revert to 13 stars and other low counts. Some feel that the use of 13 star flags never stopped, which seems to be supported by depictions of ships in period artwork. This was, of course, the original number of stars on the first American national flag, by way of the First Flag Act of 1777, and equal to the number of original colonies that became states. Any American flag that has previously been official remains so according to the flag acts, so it remains perfectly acceptable to fly 13 star flags today by way of congressional law. Since there was no official star configuration until the 20th century (1912 specifically, beginning with the 48 star count), the stars on 13 star flags may appear in any one of a host of configurations. Some of these are more rare and desirable than others. The stars of this particular flag are arranged in what has come to be known as the "3rd Maryland Pattern." This configuration, whether oval or circular, is appreciated both for its visual appeal and the scarcity of its use. a circular wreath of 12 with a single star in the center. The name comes from a flag that resides at the Maryland State Capitol in Annapolis, long thought to have been present with General Daniel Morgan at the Battle of Cowpens in 1781. According to legend, the flag was supposed to have been carried by Color Sergeant William Batchelor of the 3rd Maryland Light Infantry and was donated to the State of Maryland by Batchelor's descendants. The story was disproved in the 1970's, however, following an examination by the late flag expert Grace Rogers Cooper of the Smithsonian, who discovered that the Cowpens flag was, at the earliest, of

Mexican War

...

Category

Antique 1890s American Political and Patriotic Memorabilia
You May Also Like
46-Star American Flag Printed in Drum Star Configuration

Located in Colorado Springs, CO

This is an original 46-Star American parade flag, celebrating Oklahoma statehood. Each star on the flag's canton represents a state in the Union at the time. The official flag design would update every July 4th, to include any new states added to the Union in the past year. Oklahoma, the 46th state, entered the Union on November 16, 1907. As such, this 46–star flag was the official flag of the United States from July 4, 1908, until July 4, 1912. The silk flag has a dark blue canton with 46 white printed stars. The stars are printed in an 7-8-8-8-8-7 row configuration, or "Drum design." The flag design is completed with 13 alternating red and white stripes, each stripe representing one of the original thirteen colonies. The land that comprises Oklahoma today was added to the United States as part of the Louisiana Purchase of 1803. Throughout the 19th century, the U.S. government relocated Indian tribes from the southeastern United States to the area, and by 1900, over 30 Indian tribes had been moved to what was originally called the Indian Territories. At the same time, ranchers in Texas began to move into the area in search of new pasture lands. Although stipulations in the Indian Relocation Act agreed that the land would forever be Indian Territory, the promise of fertile farmland trumped the government's promise of sovereignty. On April 22, 1889, they opened the land to settlement by homesteaders, creating a land run in which settlers, called "Boomers," were allowed to cross the Texas or Arkansas border at a particular hour to claim homesteads. Settlers who illegally crossed the border earlier to stake prime land were called "sooners," which eventually became the state's nickname. Wagons and the Santa Fe railroad carried cartloads of men and women to blank town sites and building plots, creating ten thousand-people communities in a matter of days. The following year, the region was further divided into Indian Territory and

Oklahoma Territory

...

Category

Vintage 1910s American Political and Patriotic Memorabilia

38-Star Medallion Pattern Flag, Celebrating Colorado Statehood

Located in Colorado Springs, CO

This is a striking printed 38-star American flag. The 38-star flag celebrated the addition of Colorado to the Union. This flag features a triple medallion star pattern, with three ri...

Category

Antique 1870s American Historical Memorabilia

Rare Monumental 1890 Antique 42 Star United States of America Flag

Located in Dayton, OH

Monumental fifteen foot 42 star American flag, circa 1889-1890. The 42-star flag is rare because only a limited number of 42-star flags were produced after Washington became a state on Nov. 11, 1889. But it takes a more intimate knowledge of flag trivia to know just why it happened this way. White stars are added to the blue field of the star-spangled banner on the Fourth of July after a state is admitted to the union. In the fall of 1889, several western territories became states. Dakota was admitted, and then split into North and South Dakota, on Nov. 2, 1889, which made them state and star numbers 39 and 40. Montana was named the 41st state on Nov. 8, followed by Washington, on Nov. 11. Only a few flag manufacturers began producing 42-star flags before the official addition of the 42nd star on July 4, 1890. Those who tried to jump the gun by being the first to produce an up-to-date flag were surprised when Idaho was admitted to the United States on

July 3

...

Category

Antique 1890s American Classical Historical Memorabilia

38-Star Antique American Flag with Unique Canton, circa 1876-1890

Located in Colorado Springs, CO

This is a striking 38-star American flag. The flag dates to 1876-1890, when Colorado (represented by the large star in the center of the flag's canton) joined the Union as the 38th s...

Category

Antique Late 19th Century American Political and Patriotic Memorabilia

36-Star American Flag, Hand-Cut and Sewn, Civil War Era with Rare Pattern

Located in Colorado Springs, CO

This a 36-star medallion American flag, with a magnificent and rare star pattern and campaign connection. 36 stars celebrate the addition of Nevada to the Union and officially flew f...

Category

Antique 1860s American Historical Memorabilia

$27,000 Sale Price

20% Off

45-Star American Flag Printed on Muslin, 1896-1907

Located in Colorado Springs, CO

This 45-star United States flag celebrates the statehood of Utah. 45-star flags served as the official American flag from 1896-1908. The flag is printed on muslin and was flown as a ...

Category

Early 20th Century American Political and Patriotic Memorabilia