Radio Guy & Early Electrics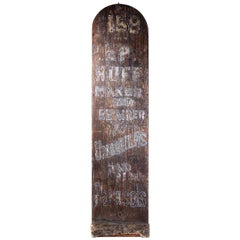 Early And Rustic Parasol and Umbrella Store Sign
Unknown
Antique Early 19th Century American Rustic Signs
I'm guessing this tomb stone shaped wood sign is early 19th century. It stands an impressive 6 foot tall and had tons of rustic character. It reads 158, EP Huff, Maker and repairer of u...
Radio Guy & Early Electrics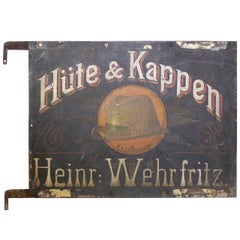 Early German Hand-Painted Hat Maker Sign
Unknown
Antique Late 19th Century German Rustic Signs
This is a beautifully painted Iron two sided sign. It was for a cap and Hat maker. One side shows a civilian hat and the other shows a military or police cap. I'm guessing it dates to t...
Monumental American Country Fish Market Trade Sign...
Antique 19th Century American Rustic Signs
Wood
Turn of the century rustic wooden trade sign carved in the form of a stylized sturgeon with two holes for suspension.