Items Similar to 'Kate Bush Drama' SIGNED, LIMITED EDITION
Want more images or videos?
Request additional images or videos from the seller
1 of 5
Gered Mankowitz

'Kate Bush Drama' SIGNED, LIMITED EDITION

1978
About the Item
'Kate Bush Drama' SIGNED, LIMITED EDITION 1978 by Gered Mankowitz Silver gelatin print - signed and numbered and stamped on the face of the print in the border below the image. Iconic and luscious close up shot of the legendary British pop singer, song writer and performer Kate Bush. Taken in London in 1978 at the height of her fame and success, by legendary Rock & Music photographer, Gered Mankowitz. GERED MANKOWITZ BIOGRAPHY: Gered Mankowitz was born in London, England, on 3rd August 1946. The first of four sons of the late author, playwright and film writer Wolf Mankowitz and his wife, the Jungian psychotherapist Ann Mankowitz. After an education of sorts at several London co-educational "progressive" schools, he left at 15, avoiding all exams and completed his education devoid of any formal qualifications. Having displayed a natural 'eye' for photography whilst on a school trip to Holland and having been inspired to take up photography by the actor Peter Sellers, his photographs were seen by the legendary photographer Tom Blau, who offered Gered an apprenticeship at his famous photo agency, Camera Press Ltd., in London. Over a period of several months Gered worked in all the various departments that made up Camera Press, finally moving to the studio and going on various assignments in and around London. In 1962, Gered went to Barbados with his family and began taking photographs professionally, producing a range of work from architectural studies for the island's top architect to the first Boeing 707 landing at Bridgetown airport for British West Indian Airways. On returning to London, Gered was offered a chance to go to Paris for the collections, working for the fashion photographer Alec Murray. In spite of the glamour and exciting atmosphere, it was clear that this particular area of work was not for him, and on returning to London he went to work for the 'show-biz' portraitist, Jeff Vickers. Gered had already photographed the Bristol Old Vic production of the American musical play "Fiorello" and his photos had been used for the front of theatre display when the show transferred to London's Piccadilly Theatre. This made him the youngest photographer to have his pictures used in this way; so working for Jeff Vickers gave him an opportunity to develop his 'show-biz' contacts and to broaden his experience in the studio, taking portraits of many actors and other personalities. During 1963, Gered met and photographed the singing duo Chad and Jeremy, who had just signed with Ember records. One of these photos was used as the cover of the duo's first album, "Yesterday's Gone", and Gered found himself working in the music industry at a time when it desperately needed new, mould breaking images. He began to work with a new generation of producers like John Barry, Shel Talmy and Chris Blackwell photographing artists who were of his own age group and who felt at ease with him in a way that had not been possible with other photographers. At the end of 1963 Gered opened his first studio, at 9 Masons Yard in the heart of London's West End. On one side was the infamous disco "The Scotch of St.James", hangout of the pop glitterati of the time, and on the other the art gallery "Indica", partly financed by The Beatles and where John Lennon met Yoko Ono. Within a few months Gered had already begun to make a name for himself, and he was approached to photograph Marianne Faithful, who had just had a big hit with "As Tears Go By". Working closely with Marianne he got to know her manager and producer Andrew Loog Oldham. In early 1965, Oldham asked him to photograph the Rolling Stones, who he also managed and produced. This was a major turning point in Gered's career, because from this first session came the cover for "Out of Our Heads" (U.S. title "December's Children"), and as a result he was asked by the Stones to go to America with them on their record breaking 1965 autumn tour. During this 9 week (48 city) tour of the U.S. Gered photographed the Stones on stage and off, and got particularly close to Keith and Charlie. There were many adventures as Gered found himself on the road with the greatest Rock band in the world at the peak of their original success. Gered continued working with the Stones as their 'official' photographer, producing photos for albums ("Between the Buttons"; "Got Live If You Want It"; "Big Hits"; and several others), press and publicity, taken at home, in the recording studio, on stage and behind the scenes until 1967, when the band broke off with their manager, Oldham. Through the 60's, Gered continued in the music world working with Oldham at his famous Immediate label, and with many other major artists including Jimi Hendrix, Free, Traffic, The Yardbirds, The Small Faces and Soft Machine. In to the 70's with Slade, Gary Glitter, Suzi Quatro, Sweet, Elton John, Kate Bush, Eurythmics, ABC, Duran Duran and many others. During this period, Gered also worked in other areas of photography, including advertising, book covers and a brief spell taking 'stills' on movies, including several months in Sardinia with Elizabeth Taylor and Richard Burton on the ill-fated movie "Boom". In 1982 Gered had a major exhibition of his work at London's famous Photographers' Gallery. This was seen by over 16,000 people, a record for the gallery at the time, and it then toured the U.K. for over 2 years. This exhibition was the first in the U.K. to focus on the world of music and was a pathfinder in this genre. In 1984 a book based on this exhibition, called "Hit Parade", was published in the U.K. and U.S.A. Also in 1984 a book of Gered's Rolling Stones photographs, called "Satisfaction", was published. Both books were very well received, and as a result there began the growing interest in the Gered Mankowitz archive. For over 22 years Gered was based at his North London studio, a converted Victorian chapel, taking prize-winning photos for the advertising industry. He has also been a regular contributor to several major publications, and still works in the music business, photographing bands and singers for album covers and magazines. He contributes regularly to The Sunday Times Magazine and Mojo magazine as well as shooting sessions with musical artists such as Oasis, Verve, Catatonia, Kula Shaker, Embrace, The Buena Vista Social Club, Snow patrol, The Bravery, Dukes Spirit as well as many others. Prints of Gered's work are purchased in galleries throughout the World including London, Manchester, Glasgow, Berlin, Amsterdam, New York, Washington DC, Los Angeles, San Francisco, Hawaii, Hong Kong, Dubai and Tokyo. In 1991 Gered teamed up with the designer David Costa to form Ink Icon Ltd. and to produce a series of limited edition silkscreen prints based on his archive. The first subject in this major project was Jimi Hendrix, and the result was so successful that it was chosen to become the flagship image for the world wide Jimi Hendrix Exhibition. It was also used as the cover for the Polygram Int. C.D. package, entitled The Ultimate Experience, which has gone on to sell well over 2 million copies. In 1993 they created three new images of Hendrix for the worldwide re-release of the great musicians' albums. Their next project was to produce a set of 4 silk screen images for The Rolling Stones' Voodoo Lounge tour, and in 1999 they produced Red Cage, a new Stones silk screen to celebrate the band's continuing Bridges to Babylon tour. Ink Icon teamed up with top California based fine art publisher FrontLine Graphics Inc to produce a set of 6 limited edition, fine art litho prints that they launched in New York at ArtExpo in March 2000. In September and November 1992 Gered had a great success with his exhibition called ENTERTAINERS at the Cromwell and Ward Gallery in Dean Street, London, and in May and June 1993 the exhibition was at the City Museum in Portsmouth as part of the City's Arts and Music Festival. In April 1994 the exhibition was enlarged to over 100 images for a four-week stay at the prestigious Gallerie Rose in Hamburg, Germany's Rock'n'Roll city, and then on to Birmingham and Perpignan. In March 1995 Genesis Books published a limited edition (1750 copies only) book of Gered's Rolling Stones photographs entitled Masons Yard To Primrose Hill and in July 1995 there was an exhibition based on the book at The Govinda Gallery in Washington DC. This book sold out within a few months and recently copies were changing hands for 850 GBP, over 7 times its original price! In early 1999 Genesis published a further book called I-Contact, which contains Gered's entire black & white Rolling Stones archive of over 3000 images reproduced as 12 x 16 contact sheets. I-Contact also sold out very quickly and currently you would be lucky to find a used copy for less than 1000 GBP! In November 1998 there was a second one-man exhibit at Govinda in Washington DC, and in December/January 1999 there was a show at Magidson Fine Arts in Madison Avenue, New York City. During this prestigious show the gallery was visited by Tommy Hilfiger who purchased prints of the entire show, becoming in one purchase, Gered's single biggest collector in the United States. Subsequently Tommy has used many of Gered's prints to decorate his flagship stores, as well as his personal offices in New York. Gered's famous photo of Hendrix also graced the cover of the Hilfiger sponsored Vanity Fair Rock Icons supplement in their December 1999 issue. Gered had several images in the Icons of Pop exhibition originally at The National Portrait Gallery in London. In March 1999 Gered went to Tokyo to open his first show in Japan, which then toured to three other Japanese cities. From February 2000 several of Gered's works are on permanent exhibit in San Francisco at the San Francisco Art Exchange, where they have become some of the galleries most consistent sellers. At the end of 2000 Gered had his first major show in The Netherlands at the highly respected Torch Gallery, and in July/August 2001 over 35 prints of his work from the 60's were seen in Lucerne, Switzerland as part of an International Blues Festival. In December 2001/January 2002 Gered teamed up with the legendary Beatles photographer Robert Freeman and presented a 64 image show in Hong Kong which was a huge success and went on to the Tres Hombres Gallery at the Hotel Tylosand in Halmstad, near Stockholm, Sweden for the whole of Summer 2002. The show was then exhibited in San Francisco in December 2002 through until the end of January 2003. This extraordinary collection that captures the 60's so brilliantly continued to tour throughout 2004/5. From May 31st 2002 Gered participated in a major exhibition of photographs of Jimi Hendrix at the Audi Forum in Piccadilly Central London, which he also helped to curate and his images of Jimi were used within one of the first interactive television commercials produced for the Audi TT at the same time. Gered published a new book of his Rolling Stones photographs in September 2002 with Vision On Publishers which was launched with an all new Rolling Stones exhibit at the Proud Camden Gallery. This same show was then presented in Hamburg as part of Universal Music's launch of the re-issued Rolling Stones catalogue of CD's. With the sponsorship of HP this exhibition toured the UK and was also shown in galleries in Paris and Milan during the latter part of 2004. In June of 2003 together with his partner David Costa, Gered launched a Jimi Hendrix limited edition Fender Stratocaster guitar that features one of Gered's original photos of the great musician and was produced with the full participation of the Hendrix Estate and Fender Guitars. In June/July 2004 Gered produced an exhibition at The Richard Goodall Gallery in Manchester of huge 6ft x 4ft Lenticular prints (see the Lenticular Gallery on this Site for more details). This exhibition has proven to be Gered's most successful with sales of over 40 pieces. The exhibition is now on permanent display in several galleries throughout North America. In June 2004 Gered undertook the most grueling assignment of his 45 year career – producing over 50 portraits in three weeks as part of the celebrations for St Lucia's 25th anniversary of independence. This extraordinary set of photographs was on display at the St Lucia High Commission in London during November 2004 and was then shown in New York and other venues during 2005 as part of the island's tourist board promotions. In 2005 one of the portraits was selected in the final 60 images to be shown as part of the Schweppes Portrait Exhibit at the National Portrait Gallery in London. (see the St. Lucia gallery) In October 2004 Schwarzkopf & Schwarzkopf of Berlin published a superb coffee table book of Gered's entire Jimi Hendrix archive which is now out of print, and in 2005 the same publishers produced a huge two volume book of Gered's photographs of The Rolling Stones titled "Out Of Their Heads". In 2012 Insight Editions of California published a delightful small volume of Gered's Rolling Stones images as part of their One On One series. Gered celebrated his 50th anniversary in 2013 with a superb Retrospective book published by Carlton Books of London, with US and French editions published in 2014. During 2013 Gered also had major exhibitions in Amsterdam, Tokyo and London celebrating his 50 years as a music photographer. The Retrospective exhibition at London's Snap Gallery consolidated Gered's long relationship with this important West End gallery, and in 2014 this relationship was greatly enhanced with the Kate Bush Exhibition which has resulted in the superb WOW! book of photographs of Kate published by Ormond Yard Press. In 2007 Gered moved to Cornwall in the beautiful South West of England and spends most of his time working from his home there, producing personal work as well as running his archive and he occasionally lectures at Falmouth University. In 2016 he was awarded the distiction of an honorary Fellowship to The Royal Photographic Society. Gered continues to produce photography for the music industry and some of his more recent work includes sessions with The Hives, Snow Patrol, The Duke Spirit, The Bravery, Blondelle, BMD, Patrick Wolf, Ren Harvieu and American blues singer and guitarist Doyle Bramhall II. He also continues to work with old friends PP Arnold and Suzi Quatro producing cover photography for their latest releases.
Creator:

Creation Year:

Dimensions:

Height: 40 in (101.6 cm)

Width: 40 in (101.6 cm)

Medium:

Movement & Style:

Period:

Condition:

Silver gelatin print - SIGNED and numbered and stamped on the face of the print in the border below the image.

Gallery Location:

Reference Number: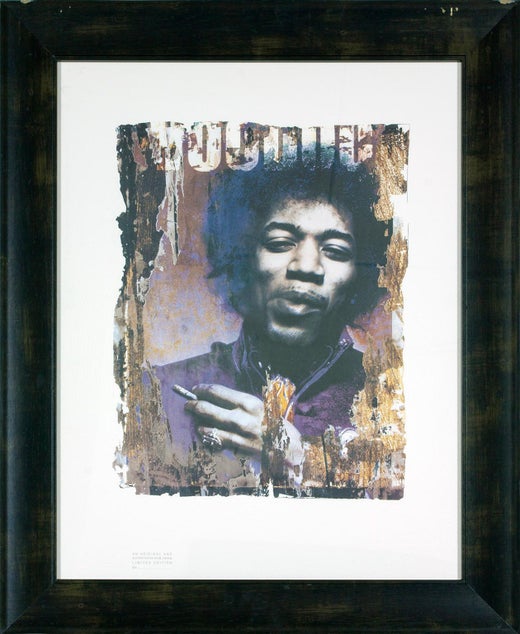 Shop All Gered Mankowitz
Gered Mankowitz
Gered Mankowitz is responsible for some of the most iconic images ever taken of music's greatest performers. He began with the Rolling Stones in the mid-1960s and never looked back. Over the course of a career spanning more than five decades, he has strengthened the cultural impact of the photographic genre he practices.
Mankowitz's work has been explored in numerous books and exhibitions and is a subject explored in 2020's docuseries Icon: Music Through The Lens, airing on British television channel Sky Arts and streaming online. But a fitting introduction to this firebrand photographer would start with an electric shock, of sorts.
In 1967, he was commissioned to photograph a 24-year-old music prodigy by the name of Jimi Hendrix. Mankowitz, three years his subject's junior, wasn't sure what to expect of the guitar sensation from Seattle, who had just settled in the United Kingdom and was already being hailed by his peers as an artistic genius. The pictures that came out of the session, along with those produced during a second shoot with Hendrix that same year, are the most widely known and regarded as the most important portraits of the seminal guitarist. They not only celebrated Hendrix's revolutionary spirit and ineffable charisma but also helped define an entire era of musical creativity.
The assignments kept rolling in, and soon Mankowitz had established a reputation as a spirited rock 'n' roll portraitist. Then came the dream job: In 1965, at just 19, he became the official photographer of the Rolling Stones, a position that he held for two and a half years and ushered him into adulthood. Mankowitz maintains that he kept a cool head on the job and a professional attitude. "The Stones and I were great friends, but I always knew my limits. I didn't feel I had to hang out with the band in order to fit in," he says, confiding, "To be honest, I had a pretty wild lifestyle without their help!" One of Mankowitz's most famous images of the Stones became the cover for their 1967 album Between the Buttons.
On 1stDibs, shop an impressively wide selection of Gered Mankowitz's work, which features some of the most significant musical artists of all time.
Shipping & Returns
Shipping

Retrieving quote...

Ships From:

London, United Kingdom

A return for this item may be initiated within 2 days of delivery.
1stDibs Buyer Protection Guaranteed
If your item arrives not as described, we'll work with you and the seller to make it right.
Learn More
Located in London, United Kingdom
These expertly vetted sellers are highly rated and consistently exceed customer expectations.
Established in 2011
1stDibs seller since 2016
595 sales on 1stDibs
Typical response time: <1 hour
More From This Seller
View All
Slim Aarons Estate Print - Jazz Scooter 1948

Located in London, GB

Slim Aarons Estate Print - Jazz Scooter Lucille Brown takes control of the Vespa scooter as her husband Louis Armstrong (1898 – 1971) displays his musical appreciation of the ancien...

Category

1940s Modern Portrait Photography

Materials

Black and White, Silver Gelatin

Slim Aarons Estate Print - Capucine 1957

Located in London, GB

Slim Aarons Estate Print - Capucine French actress Capucine, (Germaine Lefebvre) (1933 – 1990) fanning herself at a New Years Eve party held at Romanoffs in Beverly Hills. (Photo b...

Category

1950s Modern Portrait Photography

Materials

Black and White, Silver Gelatin

Slim Aarons Official Estate Print - Palm Bay Club - Oversize

Located in London, GB

Palm Bay Club A young woman at the Palm Bay Club, Miami, Florida, USA, circa 1965. Photo by Slim Aarons Silver gelatin print Paper size 60 x 40" inches / 152 x 101 cm printed 2...

Category

1960s Modern Portrait Photography

Materials

Black and White, Silver Gelatin

Bob, Mick and Pete, 1978 - Oversize Estate Edition

Located in London, GB

Bob, Mick and Pete, by Michael Putland, 1978 Limited Estate Edition Bob Marley, Mick Jagger and Peter Tosh backstage after the

Rolling Stones concert

...

Category

20th Century Modern Portrait Photography

Materials

Black and White, Silver Gelatin

Slim Aarons - Luxury Dining 1955 - Estate stamped

Located in London, GB

Luxury Dining 1955 Slim Aarons Diners in a grand ballroom during a fashion show, circa 1955. Silver Gelatin Print Produced from the original transparency Certificate of authentic...

Category

1950s Modern Black and White Photography

Terry O'Neill - Backyard Beatles - signed limited edition Oversize

Located in London, GB

The Beatles The first major group portrait of the Beatles was taken by Terry O'Neill during the recording of their first hit single and album 'Please Please Me' in the backyard of th...

Category

1960s Modern Black and White Photography

Materials

Black and White, Silver Gelatin
You May Also Like
Vintage Silver Gelatin Photograph Print Chef Julia Child Photo from Archive

Located in Surfside, FL

Julia Child

. I believe that is her husband in the photo with her. This is a vintage photo from a newspaper archive. Julia Childs makes cooking cooking fun ...

Category

20th Century American Modern Black and White Photography

Audrey Hepburn in the Pool

Located in New York, NY

Audrey Hepburn, 1967 Silver gelatin print Edition of 50 Signed, dated and numbered and comes with certificate of authenticity Available sizes Signed 16 x 20 inches 20 x 24 inches ...

Category

1960s Modern Black and White Photography

Inside Kathy's Apartment

Located in New York, NY

Chicago, 1963 / Printed 2009 Gelatin silver print (Edition of 100 + 5 APs) Signed and numbered by the artist 11 x 14 inches, sheet size 7.75 x 11.75 inches, image size This photograph is offered by ClampArt, located in New York City. In 1963, Danny Lyon spent time in a poor white area of Chicago called Uptown. Nicknamed 'hillbilly heaven', it was a very tough and deprived neighborhood. With a borrowed

Rolleiflex camera

...

Category

Late 20th Century American Modern Black and White Photography

Professional Gossip, Romanoff's Hollywood

Located in New York, NY

American actress and gossip columnist Hedda Hopper (1890 – 1966) chatting with James Stewart (1908 – 1997) during a New Year's Eve party held at the Romanoff Restaurant in Hollywood,...

Category

1950s Modern Black and White Photography

Robert Redford

Located in New York, NY

Robert Redford

, 1975 silver gelatin print 24 x 34 inches edition of 50 signed and numbered American actor and film director Robert Redford on his motor...

Category

1970s American Modern Black and White Photography

Brigitte Bardot Deauville

Located in New York, NY

Brigitte Bardot, on the set of Shalako, Deauville, 1968 Silver Gelatin Print Signed and numbered edition of 50 This

photo of French

actress Brigitte ...

Category

1960s Modern Black and White Photography