Paul Evans Building and Garden Elements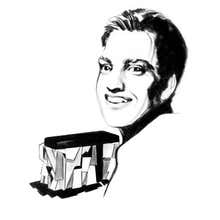 American, 1931-1987
A designer and sculptor, Paul Evans was a wild card of late 20th century modernism. A leading light of the American Studio Furniture movement, Evans's work manifests a singular aesthetic sense, as well as a seemingly contradictory appreciation for both folk art forms and for new materials and technologies.
Evans's primary material was metal, not wood, which was favored by his fellow studio designers, and Bucks County, Pennsylvania, neighbors George Nakashima and Phillip Lloyd Powell. He trained in metallurgy and studied at the Cranbrook Academy of Art, the famed crucible of modern design and art in suburban Detroit. For a time early in his career, Evans also worked at Sturbridge Village, a historical "living museum" in Massachusetts, where he gave demonstrations as a costumed silversmith.
Evans's earliest work unites these influences. The pieces that made his reputation are known as "sculpted-front" cabinets: wood cases faced with box-like high-relief patinated steel mounts laid out in a grid pattern. Each mount contains a metal emblem, or glyph, and the effect is that of a brawny quilt.
Evans's later work falls into three distinct style groups. His sculpted-bronze pieces, begun in the mid-1960s, show Evans at his most expressive. He employed a technique in which resin is hand-shaped, and later sprayed with a metal coating, allowing for artistic nuance in the making of chairs, tables and case pieces. Later in the decade and into the 1970s, Evans produced his Argente series: consoles and other furniture forms that feature aluminum and pigment-infused metal surfaces welded into abstract organic forms and patterns.
Last, Evans's Cityscape design series — a milestone in the history of brutalist design — meshed perfectly with the sleek, "high tech" sensibility of the later '70s. Evans constructed boxy forms and faced them with irregular mosaic patterns that mixed rectangular plaques of chromed steel, bronze or burlwood veneer. These, like all of Paul Evans's designs, are both useful and eye-catching. But their appeal has another, more visceral quality: these pieces have clearly been touched by an artist's hand.
Find a collection of authentic Paul Evans furniture today on 1stDibs.
Mid-Century Paul Evans Brutalist American Modern Metal Planter Box
Located in Forney, TX
Paul Evans (1931-1987) American Brutalist industrial modern welded steel and copper, mixed metals patchwork and hardwood planter with rivet accents and removable metal insert. Can be...
Category
Mid-20th Century American Industrial Paul Evans Building and Garden Elements
Materials
Metal, Copper, Steel
Previously Available Items
Paul Evans building and garden elements for sale on 1stDibs
1stDibs Paul Evans building and garden elements are available for sale. These distinctive objects are often made of
wood
and designed with extraordinary care. In our collection of Paul Evans building and garden elements, there are many options to choose from, although
brown
editions of this piece are particularly popular. In-stock we have 1 vintage editions of these items, while there is also 0 modern edition to choose from. Many of Paul Evans' original building and garden elements were created in the
Mid-Century Modern
style in the
United States
during the
1970s
. If you're looking for additional options, many customers also consider building and garden elements by David Cressey, Robert Maxwell and
Stan Bitters
and
Forms and Surfaces
. Paul Evans building and garden elements can vary in price, size, time period and other attributes. 1stDibs's price starts at US
$7,350
and tops out at US
$7,350
, while pieces like these can sell for US
$7,350
on average.