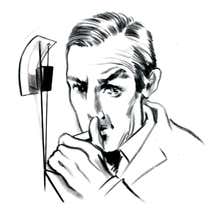 French, 1926-1995
The architect Pierre Guariche was one of the leading modern furniture and lighting designers of postwar France. Guariche can, in some ways, be thought of as the French version of Charles Eames: with his lean and angular chairs and slender, sculptural table lamps, he helped introduce a new aesthetic to the country's interiors — and he was an eager pioneer in the use of new industrial materials and production techniques that emerged in the 1950s.
Guariche studied at the École Nationale Supérieure des Arts Décoratifs in Paris (the national design academy) under René Gabriel — a designer known for his quality, mass-produced furnishings, who served as a director of the postwar Ministry of Reconstruction. Two years after graduating in 1949, Guariche opened his own design firm, and he was soon creating pieces for numerous companies, including the lighting manufacturer Disderot.
Wood and metal were rationed in the years following the war and Guariche learned to do more with less. His chairs of the early 1950s include several designs with narrow, softly angular wooden frames; others, like the Tonneau chair, feature a single piece of molded plywood set atop metal legs. His lamps of the period are likely his best-known works. They include delicate compositions of slender steel tubes, and more flamboyant pieces such as the Kite lamp, with its curved metal reflector panel.
Always on the lookout for new materials, Guariche spent several years in the mid-1950s operating a firm making furniture in fiberglass and other plastics, along with Joseph André Motte and others. After 1957 — when Guariche was named head of design for the Belgian company Meurop and given a brief to create stylish, up-to-date chairs and cabinets — he began to look to America for ideas.
In the mid-1960s, Guariche produced several lines of deeply upholstered, rounded lounge chairs inspired by the Space Age look, and gave them names like Jupiter, Polaris and Luna. While Guariche always kept pace with his times, throughout his career he showed a consistent talent for producing elegant, eye-catching forms using a minimum of materials.
Find vintage Pierre Guariche furniture today on 1stDibs.
Pierre Guariche chairs for sale on 1stDibs
Pierre Guariche chairs are available for sale on 1stDibs. These distinctive objects are frequently made of
metal
and designed with extraordinary care. In our collection of Pierre Guariche chairs there are many options to choose from, although
brown
editions of this piece are particularly popular. In-stock we have 34 vintage editions of these items, while there is also 0 modern edition to choose from. Many of the original chairs by Pierre Guariche were created in
Europe
during the
20th century
in the modern style of the mid-century. If you're looking for additional options, many customers also consider chairs by
Maison Jansen
,
Jean Prouvé
and
Pierre Chapo
. The prices for Pierre Guariche chairs can vary depending on size, time period and other attributes. The price for these items starts at $752 and tops out at $32,500, while pieces like these can sell for $3,265 on average..
Creators Similar to Pierre Guariche