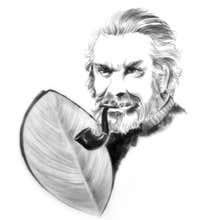 Finnish, 1915-1985
Along with architect Alvar Aalto, the designer Tapio Wirkkala was Finland's leading contributor to the Scandinavian interpretation of modernism in the mid-20th century. Prolific and innovative, Wirkkala excelled in a wide range of fields, including glass, furniture, porcelain, jewelry and tableware. The hallmark of his talent was an ability to impart a craft aesthetic based on natural forms — leaves, ice, bubbles, birds — to industrially produced designs.
A native of Helsinki, Wirkkala studied at the national School of Applied Arts and took up a career in graphic design. After serving in the Finnish army during World War II, he joined the glassmaking firm Iittala, an association that would continue to the end of his life. Wirkkala learned every aspect of glassmaking in keeping with his belief that an artist-designer should be involved in all stages of production. His best-known works for Iittala are vases and drinking vessels that resemble either carved ice or icicles. In 1956, Wirkkala began a long relationship with the porcelain maker Rosenthal, for whom he designed elegant table pieces, such as the Finlandia coffee service and the biomorphic Pollo vases. 
House Beautiful magazine declared Wirkkala's Leaf platter the "most beautiful object" of 1951. (The acclaim led to his brief employment stint with industrial designer Raymond Loewy in New York.) That platter was one of the first designs Wirkkala made using laminated sheets of plywood sanded to a smooth surface that resembles an abstract leaf. It would go on to become a motif in many Wirkkala furniture pieces — most notably in inlaid coffee tables for Asko — and in a sense these are the works most emblematic of his personal aesthetic. Wirkkala was a traditionalist in many ways, but he had a modernist's practical approach, incorporating his leaf-like spirals into simple, functional objects. That is the core attraction of Wirkkala's designs: They stand out with a striking, sculptural energy yet blend in as part of a warm and comfortable decor.
Previously Available Items
Tapio Wirkkala jewelry & watches for sale on 1stDibs
Tapio Wirkkala Jewelry & Watches available on 1stDibs. These unique items were designed with extraordinary care, often using
silver
. When you are looking for the most stylish antique or vintage Tapio Wirkkala jewelry to pair with your ensemble, you'll find that Tapio Wirkkala
diamond
jewelry & watches can add a particularly distinctive touch to your look. In this collection we have 17 pieces, as well as a number of other designs by this jeweler.
Diamond
and white
diamond
are among the most popular styles of Tapio Wirkkala watches and jewelry available on 1stDibs. While this collection reflects work that originated over various time periods, most of these items were designed during the 20th Century. If you're looking for additional options, many customers also consider jewelry & watches by
Nicolis Cola
,
Asprey
and
Lapponia
. Tapio Wirkkala jewelry & watches can vary depending upon gemstone, time period and other attributes.. 1stDibs's price starts at $554 and tops out at $22,000, while pieces like these can sell for $1,885.
Creators Similar to Tapio Wirkkala
More Tapio Wirkkala Jewelry & Watches