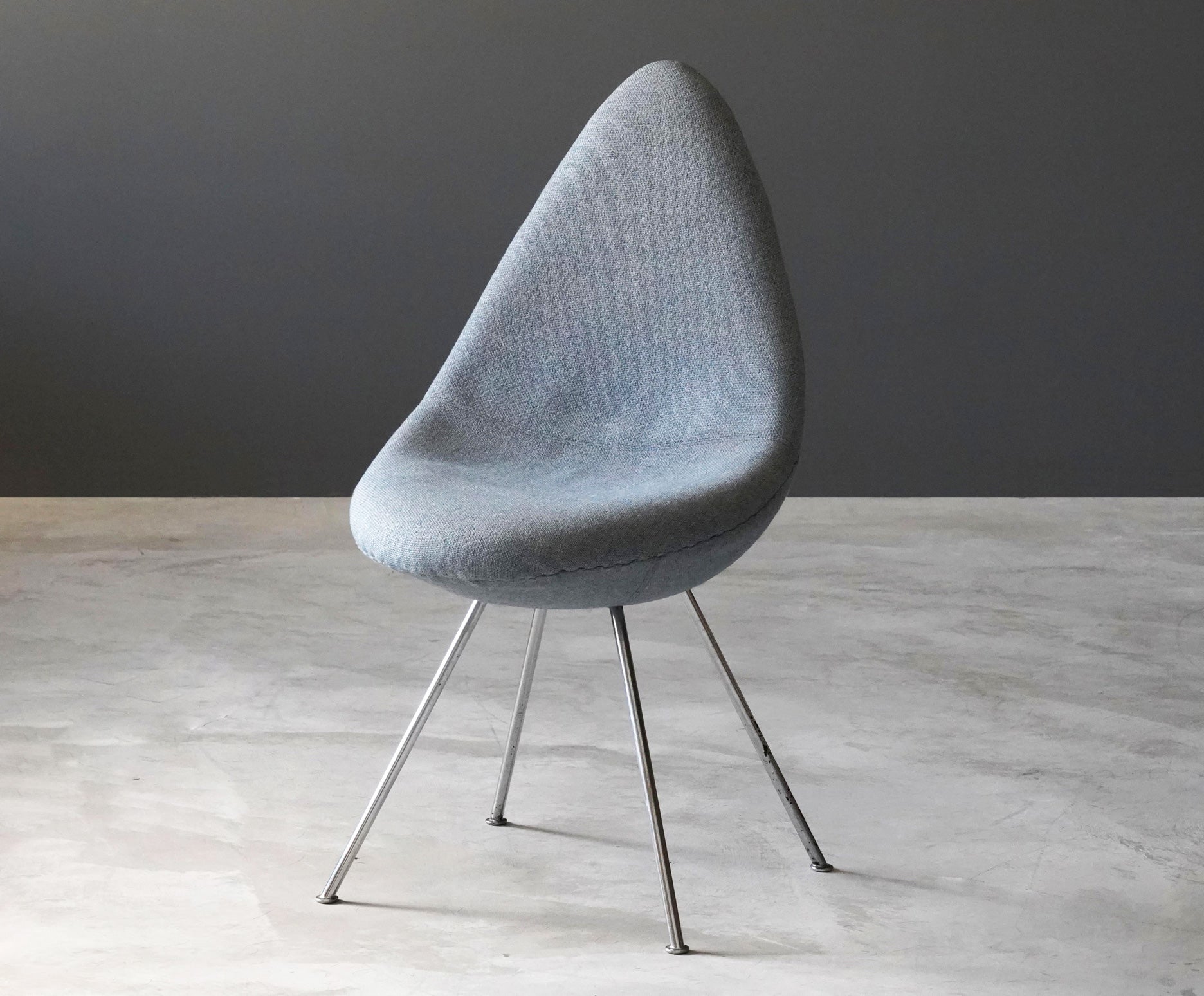 About the Design
Together with the popular Swan chair and Egg chair, Arne Jacobsen (1902–71) designed the Drop chair in 1958 for his undisputed masterpiece — the complete design of the SAS Royal Hotel in Copenhagen (now called the Radisson Blu Royal Hotel). Born in Copenhagen in 1902, Jacobsen apprenticed as a bricklayer and studied architecture at the Royal Danish Academy of Fine Arts. His travels introduced him to the work of modernist titans like Walter Gropius, Ludwig Mies van der Rohe and Le Corbusier. Jacobsen absorbed those influences and brought them back to Denmark, where he worked on a number of architectural commissions and began creating site-specific furniture and furnishings to outfit his spaces.
For Jacobsen's SAS Royal Hotel project, the Drop chair, with its molded polyurethane foam inner shell and steel tube legs, was not only the smallest of the bunch but also the least well known. There was a limited run of the piece produced exclusively for the hotel, which opened in 1960. As the name suggests, the form was inspired by the shape of a drop, but it also fulfilled a functional need. Leather-upholstered Drop chairs were used throughout the restaurant and behind a snack bar, where space was tight. The chair's tapered backrest was designed to be as space-efficient as possible. A more delicate fabric-upholstered version of the seat was placed at the dressing table inside each guest room. (The hotel has since undergone a complete redesign, but one suite has been preserved with Jacobsen's original designs, including all the chairs.)
Jacobsen conceived his design for the hotel as a Gesamtkunstwerk, a German term meaning that all of the components within a work of art contribute to creating a cohesive whole. As part of that approach, the drop motif recurred throughout the space in ornamental flourishes and in the form of cutlery, tableware and wineglasses — all of which were designed by Jacobsen.
Part of the reason Jacobsen wasn't able to put all three chairs into production with Fritz Hansen was because the molded-foam technology used to construct the seat was still very new. It wasn't until 2014 that the manufacturer joined forces with Jacobsen's grandson, designer Tobias Jacobsen, to relaunch the Drop chair. Along with the original upholstered version, the manufacturer also introduced an injection-molded plastic edition featuring a powder-coated or chromed steel base. The plastic variant of the Drop chair renders the design more accessible, but with its precise edges, it also refines Jacobsen's sculptural form even further.
More Arne Jacobsen Designs