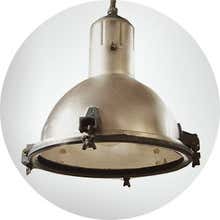 Industrial Style
It's a look that celebrates the past even as it suggests vigor, productivity and brawn. The newly chic industrial style of decor repurposes the simple, sturdy furnishings of an earlier world of commerce — brushed-metal storage cabinets and display shelves, task lamps and pendant lights with enameled shades, worktables with worn wooden tops and cast-iron bases — and couples them with aesthetic touches emblematic of energy and optimism, from bright upholstery fabrics to flowers.
     The rise in prominence of the industrial style has come hand-in-hand with the residential repurposing of former manufacturing and warehouse districts throughout the United States, Canada and Europe. In many loft apartments created in shuttered factories, the architectural envelope has been left intact. The interiors feature elements like raw brick walls, exposed steel beams and oak floors whose history is written in every pit and gouge. Patina is the keynote to a decor in sync with such surroundings. On these pages you will find designs that wear their age beautifully — and were built to last.
19th Century Galvanised Metal Milk Churn with Iron Strapping
Located in Chillerton, Isle of Wight
19th century galvanised metal milk churn with iron strapping A good large piece, with handle, made in galvanised metal with a removable lid A very good looking decorative piece...
Category
1890s Antique Industrial Pitchers
Big Majolica Beer Mug by Gerbing & Stephan, 1896
Located in Lichtenberg, AT
Majestic beer mug by Gerbing & Stephan with tin lid. The exceptional design shows medieval coats of arms with heraldic animals, all hand-painted. Its marked with "G&St" and the Mod....
Category
Late 19th Century Austrian Antique Industrial Pitchers