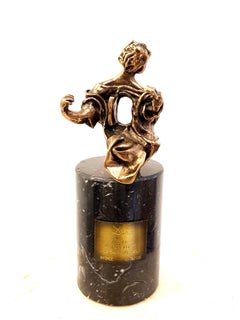 Salvador Dali - Madonna of Port Lligat - Signed Bronze Sculpture
Want more images or videos?
Request additional images or videos from the seller
1 of 11
Salvador Dalí­

Salvador Dali - Madonna of Port Lligat - Signed Bronze Sculpture

1969
About
Salvador Dali - Bronze Sculpture Madonna of Port Lligat Dimensions: 23 x 11 x 8 cm Signed and Numbered: D76/100 With certificate of authenticity Litterature: DALI, Sculptures & Objets, The Hard and the Soft" by Robert and Nicolas Descharnes, editions Eccart 2004. Page 171 illustration #432. Dali - the Prodigy Child without an Exam. Salvador Dali was born as the son of a prestigious notary in the small town of Figueras in Northern Spain. His talent as an artist showed at an early age and Salvador Felipe Jacinto Dali received his first drawing lessons when he was ten years old. His art teachers were a then well known Spanish impressionist painter, Ramon Pichot and later an art professor at the Municipal Drawing School. In 1923 his father bought his son his first printing press. Dali began to study art at the Royal Academy of Art in Madrid. He was expelled twice and never took the final examinations. His opinion was that he was more qualified than those who should have examined him. In 1928 Dali went to Paris where he met the Spanish painters Pablo Picasso and Joan Miro. He established himself as the principal figure of a group of surrealist artists grouped around Andre Breton, who was something like the theoretical "schoolmaster" of surrealism. Years later Breton turned away from Dali accusing him of support of fascism, excessive self-presentation and financial greediness. By 1929 Dali had found his personal style that should make him famous the world of the unconscious that is recalled during our dreams. The surrealist theory is based on the theories of the psychologist Dr. Sigmund Freud. Recurring images of burning giraffes and melting watches became the artist's surrealist trademarks. His great craftsmanship allowed him to execute his paintings in a nearly photo-realistic style. No wonder that the artist was a great admirer of the Italian Renaissance painter Raphael. Salvador Dali and Gala. Meeting Gala was the most important event in the artist's life and decisive for his future career. She was a Russian immigrant and ten years older than Dali. When he met her, she was married to Paul Eluard. Gala decided to stay with Dali. She became his companion, his muse, his sexual partner, his model in numerous art works and his business manager. For him she was everything. Most of all Gala was a stabilizing factor in his life. And she managed his success in the 1930s with exhibitions in Europe and the United States. Gala was legally divorced from her husband in 1932. In 1934 Dali and Gala were married in a civil ceremony in Paris and in 1958 in church after Gala's former husband had died in 1952. However from around 1965 on, the couple was seen less frequently together. But Gala continued to manage Dali's business affairs. 1933 Salvador Dali had his first one-man show in New York. One year later he visited the U.S. for the first time supported by a loan of US$500 from Pablo Picasso. To evade World War II, Dali chose the U.S.A. as his permanent residence in 1940. He had a series of spectacular exhibitions, among others a great retrospective at the Museum of Modern Art in New York. Besides creating a number of great paintings, Dali caused the attention of the media by playing the role of a surrealist clown. He made a lot of money and was contemptuously nicknamed Avida Dollars (greedy for dollars) by Andre Breton. Dali became the darling of the American High Society. Celebrities like Jack Warner or Helena Rubinstein gave him commissions for portraits. His art works became a popular trademark and besides painting he pursued other activities - jewelry and clothing designs for Coco Chanel or film making with Alfred Hitchcock. The Classic Period After World War II In 1948 Dali and Gala returned to Europe, spending most of their time either in their residence in Lligat or Spain or in Paris or France or in New York. Dali developed a lively interest in science, religion and history. He integrated things into his art that he had picked up from popular science magazines. Another source of inspiration were the great classical masters of painting like Raphael, Velasquez or the French painter Ingres. The artist commented his shift in style with the words: "To be a surrealist forever is like spending your life painting nothing but eyes and noses." In 1958 the artist began his series of large sized history paintings. He painted one monumental painting every year during the summer months in Lligat. The most famous one, The Discovery of America by Christopher Columbus, can be seen at the Dali Museum in St. Petersburg in Florida. It is breath-taking. The artist's late art works combine more than ever his perfect and meticulous painting technique with his fantastic and limitless imaginations. Salvador Dali is the only known artist who had two museums dedicated exclusively to his works at lifetime. Dali Museum in St. Petersburg, Florida The Dali Museum in St. Petersburg in Florida or U.S.A. was founded in 1971 by the Dali collector A. Reynolds Morse and his wife Eleanor. The collection was first exhibited in a building adjacent to their home in Cleveland/Ohio. In 1982, the museum was moved to St. Petersburg in Florida. It hosts 95 oil paintings including six of Dali's eighteen large-sized historical paintings. Dali Museum-Theater in Figueres, Spain. The Dali Museum-Theater in Figueres, Spain was the former Municipal Theater of Figueres. In 1918, when Salvador Dali was only fourteen years old, it had shown his first public exhibition. Since 1970 the artist had dedicated his energy to transform the former Municipal Theater into a museum and art gallery. In 1974 the Theatro Museo Dali was officially opened. 1980 Dali was forced to retire due to palsy, a motor disorder, that caused a permanent trembling and weakness of his hands. He was not able to hold a brush any more. The fact that he could not follow his vocation and passion of painting and the news of Gala's death in 1982 left him with deep depressions. After Gala's death he moved to Pubol, a castle, he had bought and decorated for Gala. In 1984, when he was lying in bed, a fire broke out and he suffered sever burns. Two years later, a pacemaker had to be implanted. Towards the end of his life, Dali lived in the tower of his own museum where he died on January 23, 1989 from heart failure.
Details
Creator:

Creation Year:

Dimensions:

Height: 9.06 in (23 cm)

Width: 4.34 in (11 cm)

Depth: 3.15 in (8 cm)

Medium:

Movement & Style:

Period:

Condition:

Gallery Location:

Collonge Bellerive, Geneve, CH

Reference Number: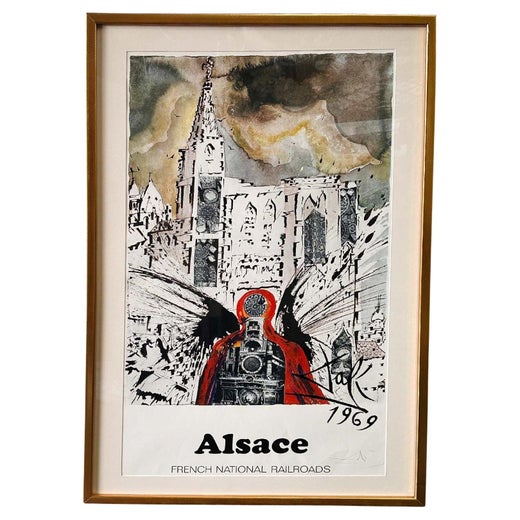 Shop All Salvador Dalí­
About the Artist
Salvador Dalí­
Instantly recognizable by his waxed, upturned mustache, the flamboyant Salvador Dalí is one of modern art's most distinctive figures. He is also one of the icons of the 20-century avant-garde Surrealist movement, whose dreamlike images, drawn from the depths of the unconscious, he deployed in paintings, sculptures, prints and fashion, as well as in film collaborations with Luis Buñuel and Alfred Hitchcock.
Dalí was born in Figueres, Catalonia, and even as a youngster, displayed the sensitivity, sharp perception and vivid imagination that would later define his artworks. In these, he conjured childhood memories and employed religious symbols and Freudian imagery like staircases, keys and dripping candles to create unexpected, often shocking pieces.
Dalí's use of hyperrealism in conveying Surrealist symbols and concepts that subvert accepted notions of reality is epitomized in what is perhaps his most recognizable painting, The Persistence of Memory (1931), in which he depicts the fluidity of time through melting clocks, their forms inspired by Camembert cheese melting in the sun. His artistic genius, eccentric personality and eternal quest for fame made him a global celebrity.
"Each morning when I awake, I experience again a supreme pleasure," he once said. "That of being Salvador Dalí."
Find original Salvador Dalí paintings, prints, sculptures and other works on 1stDibs.
Located in Collonge Bellerive, Geneve, Switzerland
These expertly vetted sellers are 1stDibs' most experienced sellers and are rated highest by our customers.
Established in 2015
1stDibs seller since 2015
868 sales on 1stDibs
More From This Seller
View All
Ian Edwards - The Hour of Darkness - Original Signed Bronze Sculpure

Located in Collonge Bellerive, Geneve, CH

Ian Edwards - The Hour of Darkness - Original Signed Bronze Sculpure Dimensions: 40 x 31 x 31 cm Edition of 8 Edwards' practice expresses the power and determination of human endea...

Category

2010s Contemporary Nude Sculptures

Pollès - Bronze Sculpture - Chrysolithe

Located in Collonge Bellerive, Geneve, CH

Pollès - Bronze Sculpture - Chrysolithe Bronze 3/4 Created in 2012, casted in 2013 22 x 10 x 13 cm Signed and Numbered BIOGRAPHY Pollès was born in Paris in 1945 Like Leonard de Vinci in an anatomical search of perfection, of representation of movement,with an almost scientifical or medical glance, Pollès holds the utmost passion of anatomy: he learns about the human body, the complicated hank of muscles, movements of members and all the bodily mechanics. That's why in 1964 he starts medicine school and along side goes to the Charpentier Academy where he follows art lessons. In 1966, he encountered sculpture in London where he was invited by his friend Enzo Plazota. This final step teaching him all the bases of sculpture. Pollès then decides to go to live in Italy, in Carrare, an important art place. He moved in 1970 and settled in Pietrasanta where he still lives. ​ His sculptures, by creating a vision of the moving being, polished and smoothed, break the pureness of aestheticism. He just knows one theme, one model: the female form. According to Pollès, this is the most beautiful one, the most harmonious one. "When we are looking at a feminine body, it is splendid, it is musical". His love of women, the sensuality, the complexity, the shapes and passions, brought him to explore the female form. Since the beginning he has created a singularly stylized cubist form; this becoming his signature form. ​ All are cast in bronze by Pollès himself and made in a series of four with one artist's proof. His masterliness of the patina is considered unparalleled. The world's recognition of his craft is evidenced by the many awards he has won, the unique places he has shown and the prestigious private collections he is in, including that of Princess Caroline of Monaco. ​ Pollès was recently honored in an exhibition outside Paris, sponsored by the French Government, called "Sculptors From Rodin to The Present". He was one of the few living sculptors to be so honored; the others include Abakanowicz, Arman, Saint-Phalle & Wesselmann. Maurice Rheims, a respected Art Critic, and a member of The French Academy, has said "I consider Pollès to be one of the outstanding sculptors of our time." His show in the Bagatelle Gardens in Paris in 1998 was a major honor as he was one of only two artists who have ever been allowed to present their work in the Bagatelle. The other artist is Henry Moore. Main Exhibitions 2018 : Exposition Sculptures Monumentales – Place du Louvre, Paris 2001 : Le corps mis à nu: sculptures de Rodin à Vanessa Beecroft, Donjon

de Vez

...

Category

2010s Contemporary Nude Sculptures

Pollès - Unique Bronze Sculpture - Abysse

Located in Collonge Bellerive, Geneve, CH

Pollès - Unique Bronze Sculpture - Abysse Bronze 1/1 Created in 1990, casted in 2000 28 x 13 x 14 cm Signed and Numbered BIOGRAPHY Pollès was born in Paris in 1945 Like Leonard de Vinci in an anatomical search of perfection, of representation of movement,with an almost scientifical or medical glance, Pollès holds the utmost passion of anatomy: he learns about the human body, the complicated hank of muscles, movements of members and all the bodily mechanics. That's why in 1964 he starts medicine school and along side goes to the Charpentier Academy where he follows art lessons. In 1966, he encountered sculpture in London where he was invited by his friend Enzo Plazota. This final step teaching him all the bases of sculpture. Pollès then decides to go to live in Italy, in Carrare, an important art place. He moved in 1970 and settled in Pietrasanta where he still lives. ​ His sculptures, by creating a vision of the moving being, polished and smoothed, break the pureness of aestheticism. He just knows one theme, one model: the female form. According to Pollès, this is the most beautiful one, the most harmonious one. "When we are looking at a feminine body, it is splendid, it is musical". His love of women, the sensuality, the complexity, the shapes and passions, brought him to explore the female form. Since the beginning he has created a singularly stylized cubist form; this becoming his signature form. ​ All are cast in bronze by Pollès himself and made in a series of four with one artist's proof. His masterliness of the patina is considered unparalleled. The world's recognition of his craft is evidenced by the many awards he has won, the unique places he has shown and the prestigious private collections he is in, including that of Princess Caroline of Monaco. ​ Pollès was recently honored in an exhibition outside Paris, sponsored by the French Government, called "Sculptors From Rodin to The Present". He was one of the few living sculptors to be so honored; the others include Abakanowicz, Arman, Saint-Phalle & Wesselmann. Maurice Rheims, a respected Art Critic, and a member of The French Academy, has said "I consider Pollès to be one of the outstanding sculptors of our time." His show in the Bagatelle Gardens in Paris in 1998 was a major honor as he was one of only two artists who have ever been allowed to present their work in the Bagatelle. The other artist is Henry Moore. Main Exhibitions 2018 : Exposition Sculptures Monumentales – Place du Louvre, Paris 2001 : Le corps mis à nu: sculptures de Rodin à Vanessa Beecroft, Donjon

de Vez

...

Category

2010s Contemporary Nude Sculptures

Pollès - Bronze Sculpture - Athanor

Located in Collonge Bellerive, Geneve, CH

Pollès - Bronze Sculpture - Athanor Bronze 1/4 Created in 2013, casted in 2013 19 x 16 x 14 cm Signed and Numbered BIOGRAPHY Pollès was born in Paris in 1945 Like Leonard de Vinci i...

Category

2010s Contemporary Nude Sculptures

Ian Edwards - Creation of Self - Original Signed Bronze Sculpure

Located in Collonge Bellerive, Geneve, CH

Ian Edwards - Born of Fire - Original Signed Bronze Sculpure Dimensions: 30 x 32 x 32 cm Edition of 12 Edwards' practice expresses the power and determination of human endeavour. He draws inspiration from natural forces, with his powerful masculine figures often bearing the surface texture of time enduring landscapes. Edwards uses this external inspiration to explore very internal themes of fortitude and self-discovery. Edwards' sensitive hand as a sculptor incorporates classical ideas about the sculpting process. In both Self Made Man and

Creation of Self

...

Category

2010s Contemporary Nude Sculptures

Pollès - Bronze Sculpture - Zinzolibdène

Located in Collonge Bellerive, Geneve, CH

Pollès - Bronze Sculpture - Zinzolibdène 2015 128 x 68 x 64 cm Edition: 1/3 Signed and Numbered BIOGRAPHY Pollès was born in Paris in 1945 Like Leonard de Vinci in an anatomical sea...

Category

2010s Contemporary Nude Sculptures
You May Also Like
Gianmario Italy 1987 Polychrome Cast Bronze Proof of Author

Located in Brescia, IT

Paolo Cassarà

, this Italian artist, usually utilized painted terracotta in real human dimensions for his Surrealist artworks. It was exceptional the use...

Category

20th Century Surrealist Figurative Sculptures

West Water World Sushi Bar

Located in West Hollywood, CA

ABOUT THE ARTIST - Aaron Sheppard was born in 1976, York, Nebraska, He lives and works in Joshua Tree, California. "Fragmenting static ideas of sexuality and gender identity, he use...

Category

2010s Surrealist Figurative Sculptures

Four Surrealist Skeletal Figures Unique Painted Mini Folding Screen

Located in Long Island City, NY

A very cool and stylish mini folding screen of carved figures hand painted by an unknown artist. It is likely from around 1970, the figures are a bit surrealist and match in a stiff ...

Category

1970s Surrealist Figurative Sculptures

Aestus- 21st Century Contemporary Bronze Sculpture of a Nude Boy with a Shell

Located in Nuenen, Noord Brabant

Aestus Bronze Sculpture Higth bronze 53 cm with pedestal of marble (included) 60 cm Wim van der Kant's sculptures are in bronze. Wim van der Kant does everything in the process its...

Category

2010s Contemporary Nude Sculptures

Aquila- 21st Century Contemporary Bronze Realistic Sculpture of a Nude Boy

Located in Nuenen, Noord Brabant

Aquila Bronze Sculpture on pedestal of marble Hight bronze 57 cm with pedestal of marble (included) 68 cm

Wim van der Kant

's sculptures are in bronze...

Category

2010s Contemporary Nude Sculptures

Open Arms - 21st Century Contemporary, Nude Woman Sculpture, Bronze

Located in Nuenen, Noord Brabant

Andries Velting is a new artist at Gallerie Bonnard. His moving sculptures of dancers are a special addition tot our existing collection. Velting says: "Ever since childhood I've be...

Category

2010s Contemporary Nude Sculptures