The average cost of an antique A. Aucoc Furniture is $12,594. The price can vary from $3,581 and $21,607 based on the condition, age, materials and aesthetic value for a specific A. Aucoc Furniture.
A La Vieille Cite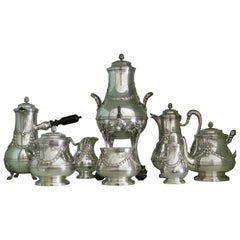 Antique Sterling Silver Complete Chocolate Tea and...
A. Aucoc
Early 20th Century French Louis XVI Tea Sets
Sterling Silver
In typical Marie-Antoinette taste, sterling silver set comprising eight pieces. Baluster-shaped on small piedestal with applied, a very exquisite engraved laurel guirlands hanged with ...
Atena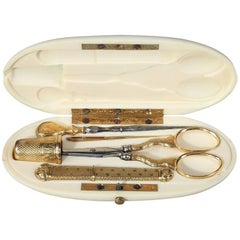 19th Century Gold and Ivory Sewing Box by Maison A...
A. Aucoc
Antique 19th Century French Napoleon III Boxes
Gold, Steel, Ivory
Late 19th century oval ivory sewing box decorated with crowned monogram. The case contains five gold and steel sewing utensils embellished with small flowers. Labeled on the inside: "AU...