The average cost of an antique Fendi Belts is $237. The price can vary from $125 and $350 based on the condition, age, materials and aesthetic value for a specific Fendi Belts.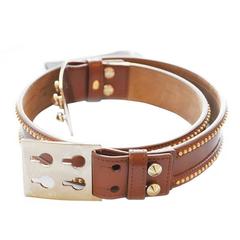 W 3.5 in.
Dealer Location:
Los Angeles, CA
Fendi Studded Brown Leather Belt (Size 90)
Fendi Belts
Fendi Studded Leather Belt, Brown Define your silhouette in immaculate style with Fendi brown leather belt with gold embellishment. Wear it to cinch the waist of everything from fall...
Dealer Location:
New York, NY
Fendi Black patent leather trim clear plastic belt...
Fendi Belts
Fendi clear belt has black patent-leather trim and details. Buckle has brass hardware, along with the "FF" logo. Buckle measures 3 1/4" x 3 1/4". The belt measures 36" x 1 1/2" in heigh...