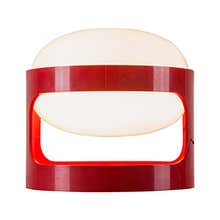 The Italian design giant Kartell transformed plastic from the stuff of humble household goods into a staple of luxury design in the 1960s. Founded in Milan by Italian chemical engineer Giulio Castelli (1920–2006) and his wife Anna Ferrieri (1918–2006), Kartell began as an industrial design firm, producing useful items like ski racks for automobiles and laboratory equipment designed to replace breakable glass with sturdy plastic. Even as companies like Olivetti and Vespa were making Italian design popular in the 1950s, typewriters and scooters were relatively costly, and Castelli and Ferrieri wanted to provide Italian consumers with affordable, stylish goods.
They launched a housewares division of Kartell in 1953, making lighting fixtures and kitchen tools and accessories from colorful molded plastic. Consumers in the postwar era were initially skeptical of plastic goods, but their affordability and infinite range of styles and hues eventually won devotees. Tupperware parties in the United States made plastic storage containers ubiquitous in postwar homes, and Kartell's ingenious designs for juicers, dustpans, and dish racks conquered Europe. Kartell designer Gino Colombini was responsible for many of these early products, and his design for the KS 1146 Bucket won the Compasso d'Oro prize in 1955.
Buoyed by its success in the home goods market, Kartell introduced its Habitat division in 1963. Designers Marco Zanuso and Richard Sapper created the K1340 (later called the K 4999) children's chair that year, and families enjoyed their bright colors and light weight, which made them easy for kids to pick up and move. In 1965, Joe Colombo (1924–78) created one of Kartell's few pieces of non-plastic furniture, the 4801 chair, which sits low to the ground and comprised of just three curved pieces of plywood. (In 2012, Kartell reissued the chair in plastic.) Colombo followed up on the success of the 4801 with the iconic 4867 Universal Chair in 1967, which, like Verner Panton's S chair, is made from a single piece of plastic. The colorful, stackable injection-molded chair was an instant classic. That same year, Kartell introduced Colombo's KD27 table lamp. Ferrierei's cylindrical 4966 Componibili storage module debuted in 1969.
Kartell achieved international recognition for its innovative work in 1972, when a landmark exhibition curated by Emilio Ambasz called "Italy: The New Domestic Landscape" opened at New York's Museum of Modern Art. That show introduced American audiences to the work of designers such as Gaetano Pesce; Ettore Sottsass, founder of the Memphis Group; and the firms Archizoom and Superstudio — all of whom were using wit, humor and unorthodox materials to create a bracingly original interior aesthetic.
Castelli and Ferrieri sold Kartell to Claudio Luti, their son-in-law, in 1988, and since then, Luti has expanded the company's roster of designers. Kartell produced Ron Arad's Bookworm wall shelf in 1994, and Philippe Starck's La Marie chair in 1998. More recently, Kartell has collaborated with the Japanese collective Nendo, Spanish architect Patricia Urquiola and glass designer Tokujin Yoshioka, among many others. Kartell classics can be found in museums around the world, including MoMA, the Victoria and Albert Museum and the Cooper Hewitt, Smithsonian Design Museum. In 1999, Claudio Luti established the Museo Kartell to tell the company's story, through key objects from its innovative and colorful history.
Applied Filters
92 results
Kartell Table Lamps for sale on 1stDibs.
Kartell Table Lamps are available on 1stDibs for sale. These distinctive items are frequently made of
Plastic
and are designed with extraordinary care. In our collection of Kartell table lamps, there are many options to choose from, although
black
editions of this piece are particularly popular. We have 7 vintage editions of these items in stock, while there are also 81
modern
editions to choose from. Many of the original Kartell table lamps were created in
Europe
during the
20th century
in the
modern
style. Many customers also consider Table Lamps by Ferruccio Laviani,
Leucos Design Lab Table Lamps
and
Sabrina Landini Table Lamps
if you are looking for additional options. The prices for Kartell table lamps can vary depending on size, time period and other attributes. The price for these items starts at $155 and tops out at $1,856, while pieces like these can sell for $485 on average.
Creators Similar to Kartell